Arkansas 6A Championship Game Preview: No. 5 Pine Bluff vs. No. 3 Greenwood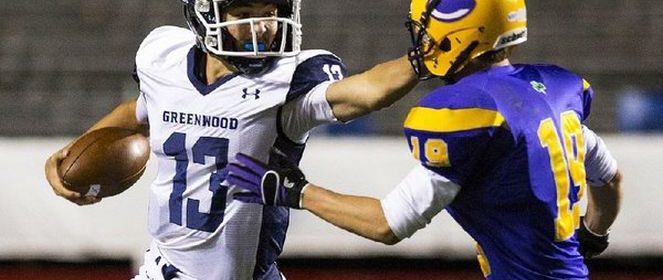 Written by Ryan Wright
Twitter: @RyanWrightRNG
The long road to Arkansas' 6A classification championship game comes to an end on Friday night when the No. 5 Pine Bluff Zebras (11-1) square off against No. 3 Greenwood Bulldogs (12-0). The pairing pits two explosive offensive teams with stingy defenses in the first meeting of the season between two of the state's best teams.
The start to the Zebras year may have given an indication of anything but a championship run. Pine Bluff hosted 7A Cabot in the season opener falling 20-12. As it turns out, the game was a wakeup call for the team showing weaknesses allowing for adjustments to be made spurring an 11-game winning streak. Pine Bluff has rolled through the playoffs topping defending champs Russellville (40-21) and Searcy (34-14) after earning a first round bye.
The Bulldogs have been dominating on the field since the opening snap going up a level for two 7A games to start the year, verses Fort Smith Northside and Southside. Greenwood also earned an opening round bye then took down Arkansas (38-0) and West Memphis (45-14) claiming a spot in the championship game.
Both teams may go about their business on the field differently, but the similarities are there with a lot of points going on the board for the offenses while the defenses limit the opposition from lighting up the board. Pine Bluff marched to the title game averaging 39 points per contest while holding teams to 16 points a game. Greenwood kept the refs' hands raised putting up an average of 43 points with a nasty defense holding squads to 11 points a game.
Pine Bluff got into the championship game after defeating Searcy for the second time this season. The spotlight was drawn to sophomore quarterback Tyler Foots after he threw for three touchdown passes covering 151 yards and rushed 24 times for 170 yards with another score posted. Foots' primary target in the semifinal was Jyrimee Thompson. Thompson pulled in seven passes for 111 yards securing all three of Foots touchdown tosses. Also coming up big for the Zebras was running back Braylon Moody. Moody rushed 11 times for 100 yards. The Zebras defense did a good job of containing prolific Searcy quarterback Mason Schucker. The senior completed 21-of-37 passes for 283 yards with a score but was frustrated into two interceptions and a fumble.
Greenwood strolled into the final on the legs of running back Kenny Wood and the arm of Connor Noland. Against West Memphis, Wood rushed for two scores and hauled in two touchdown passes while Noland completed 21-of-30 passes for 220 yards with four touchdowns tossed.
Game Notes
Pine Bluff has been in the championship game five out of the past six seasons winning three of their last four. The Zebras won the last state title meeting against the Bulldogs in 2015 taking home the trophy with a 28-21 victory.
Greenwood has been to three consecutive state finals winning their last title in 2012.
Against the same teams – both teams played Fort Smith Northside this season with Pine Bluff winning 14-7 and Greenwood winning 34-7.
Greenwood got Russellville in the regular season winning 38-13 while Pine Bluff got their "W" in the playoffs with a 40-21 victory.
Bulldogs senior quarterback Connor Noland has hit 205-of-296 passes for 2,494 yards with 31 touchdowns and has rushed 80 times for 225 yards with five scores on the ground. Noland's top target is junior receiver Peyton Holt. Holt has 87 receptions, 1,154 yards, and 15 touchdowns on the year.
Kenny Wood has carried the rock 234 times for 1,617 and 27 touchdowns and has pulled in 32 passes for 457 yards with six more trips to the end zone.
Bulldogs senior linebacker Nick Vota is the main man on defense with 143 total stops, 38 tackles for a loss, eight sacks, 13 QB hurries, an interception, a fumble recovery, and a forced fumble.
Game Details
Date: Friday, Dec. 1, 2017
Time: 7:00 p.m. CT
Location: War Memorial Stadium in Little Rock
Please help keep RecruitingNewsGuru.com a national site aiding in bringing exposure to amazing student-athletes!
If RNG has helped you, a friend, or a family member through an article, video, or stylized interview with our countless hours of free promotion for high school, junior college, and college athletes – please donate. Any amount is appreciated!
Photo credit: WholeHogSports; No. 13 Connor Noland stiff-arms a LR Catholic defender