St. John Bosco vs. Mater Dei CIF Southern Section Championship Game Preview and Player Quotes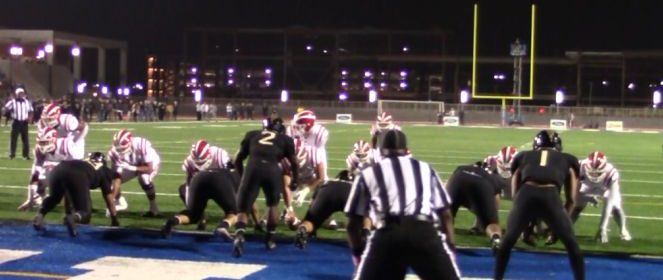 Written by Ryan Wright
Twitter: @RyanWrightRNG
The game of the year in California high school football is set to kickoff on Saturday, Dec. 2, when the No. 3 nationally ranked St. John Bosco Braves (11-2) collide with Trinity League rival No. 2 ranked Mater Dei Monarchs (13-0). Rosters on both teams are filled with future college football talents ready to showcase their skills on the way to capturing a CIF-Southern Section title with state title aspirations to come. All adds up to an exciting win or go home game with everything on the line.
The national powerhouse teams met on the gridiron on Oct. 13 battling to a 31-21 Mater Dei win. The Monarchs went up 14-0 in the first quarter before Bosco raced back to close the gap to a 28-21 score at halftime. Mater Dei got a field goal in the third posting the final score of the game.
Monarchs junior quarterback JT Daniels was spot-on against Bosco hitting 18-of-24 passes for 326 yards with two scores while rushing eight times for a team-high 97 yards. Glenn Harper rushed 12 times for 66 yard posting Mater Dei's only rushing score. Amon-Ra St. Brown was seemingly unstoppable displaying his game changing speed with eight passes caught for 206 yards and two touchdowns.
For the Braves, rising star quarterback, sophomore DJ Uiagalelei, completed 12 passes for 257 yards with two scores hitting juniors Josh Delgado and Colby Bowman. Delgado had a team-high 105 receiving yards off three receptions while Bowman's touchdown reception was his only of the game, a 73-yard strike. Junior tailback George Holani ran 14 times for 81 yards moving the chains for the Braves.
On defense, five Bosco players tied for a team-high six tackles; Ralen Goforth, Alfred Edwards, Spencer Gilbert, Jaiden Woodbey, and Stephan Blaylock. For Mater Dei, senior Nathan Logoleo paced his squad with eight tackles and 1.5 tackles for a loss. Class of 2018 linebacker Solomon Tuliapupu came up big win it counted for the Monarchs with five total tackles of which 4.5 were for a loss including 2.5 sacks.
This showdown is nothing new for either squad, in fact the same scenario happened last season. Mater Dei won the regular season game 26-21 but Bosco got revenge in the same CIF-Southern Section finals winning 42-28 going on to topple De La Salle 56-33 for a California state championship and a No. 2 end of season national ranking (MaxPreps).
Ahead of the big game, RNG reached out to some of the players on both squads for their thoughts on the game of the year…
Player Quotes – St. John Bosco vs. Mater Dei
Mater Dei
2019 WR Nikko Remigio – "They're a good team but we are definitely going to do everything in our power to prevent a repeat of last year."
2019 K/P Nick Lopez – "This time we will not be denied."
2018 WR Amon-Ra St. Brown – "Can't wait!"
St. John Bosco
2019 CB Chris Steele – "They're a really good team but we look really focused, I think we're ready."
2018 ATH Eli DeRoon – "The team as a whole is excited to face Mater Dei and avenge our loss earlier in the season."
2019 TE Jude Wolfe – "Really excited to get another shot at Mater Dei. They're a great team and having the opportunity to play them twice is incredible. We've had a great week of practice and have high hopes for the game."
2019 DE Cole Aubrey – "We're ready. This is nothing new to us, we've played in big games before from coast to coast. Our team has improved so much since last we saw them and one things for sure, you don't want to miss what's about to go down Saturday night."
2020 DL Kobe Pepe – "As a football player in SoCal, you want to test your abilities against the best. Playing against the No. 1 team in the nation, it doesn't get any better than that… that's why I chose to play for St. John Bosco!"
2019 CB Level Price – "I'm highly excited to play Mater Dei again. I know they are a disciplined team and they are really tough. It is going to be a battle until the last quarter, but with our game plan this week, I believe we're ready this time and I feel like we will come out with the win."
2019 WR Colby Bowman – "We've worked hard all year and have grown tremendously as a team. We are more than prepared and have to get on them early in the game to gain the momentum. They are a terrific team and it should be another great game!"
Photo credit: recruitingnewsguru.com; St. John Bosco vs. Mater Dei Oct. 2017