2018 National Signing Day Rankings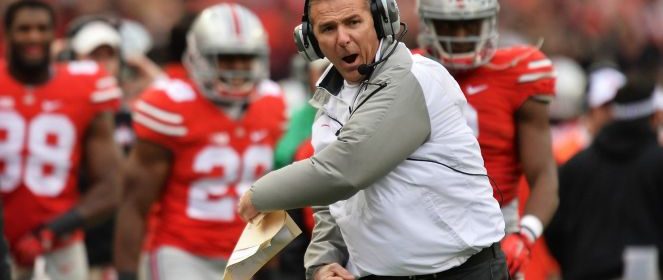 Written by Ryan Wright
Twitter: @RyanWrightRNG
National Signing Day is where a lot of college coaches make their money. Finding top talent to fit an offensive or defensive scheme is no easy task. Adding to the process, recruits need to feel that said school is a perfect fit offering a top-notch education. Pulling together a Top 20 class does not ensure conference titles or an appearance in the College Football Playoff, but it sure helps. Which team will win the overall recruiting battle and which teams will win their respective conference recruiting wars?
Heading into National Signing Day, on Signing Day Eve if you will, Ohio State leads the back with Georgia nipping at their heels. Alabama is ready to mount a charge forward along with Clemson and USC. LSU has already suffered one lost commit with 3-star safety ArDarius Washington heading out of the Sportsman's Paradise for school opting for TCU. Other last-minute deflections so far includes 4-star receiver Gabriel Douglas decommitting from Texas Tech and 4-star linebacker Eli'jah Winston opting to leave his home state school of Oregon for USC.
How will it all end up? This is where we are starting from, comeback on Wednesday to see how it all finalizes.
2018 Team Recruiting Rankings (247Sports)
Ohio State
Georgia
Texas
Penn State
Miami
Alabama
Oklahoma
Clemson
Notre Dame
Auburn
USC
Washington
LSU
Oregon
Florida State
Michigan
UCLA
Florida
South Carolina
Tennessee
TCU
Virginia
Tech
Texas A&M
Baylor
Nebraska
Maryland
C. State
Ole Miss
Michigan State
Oklahoma State
Mississippi State
Louisville
West Virginia
Minnesota
North Carolina
Kentucky
Iowa
Vanderbilt
Missouri
Washington State
Wisconsin
California
Indiana
Purdue
Stanford
Colorado
Syracuse
Illinois
Pittsburgh
Georgia Tech
Rutgers
Cincinnati
Northwestern
Utah
Iowa State
Arkansas
Boise State
Arizona
Duke
Kansas
Wake Forest
Virginia
Texas Tech
South Florida
Kansas State
Boston College
Oregon State
Toledo
Houston
Western Michigan
Florida International
Louisiana Tech
Tulane
Central Florida
Arizona State
Colorado State
Temple
BYU
Nevada
Western Kentucky
Arkansas State
Northern Illinois
Southern Mississippi
Texas-San Antonio
Georgia State
Marshall
East Carolina
Troy
San Diego State
Memphis
Bowling Green
Alabama-Birmingham
Tulsa
Hawaii
SMU
Georgia Southern
San Jose State
Florida Atlantic
Photo credit: thsportingnews.com; Ohio State head coach Urban Meyer