2019 Arkansas TE Marcus Whitaker Emerging as an Every Down Next Level Prospect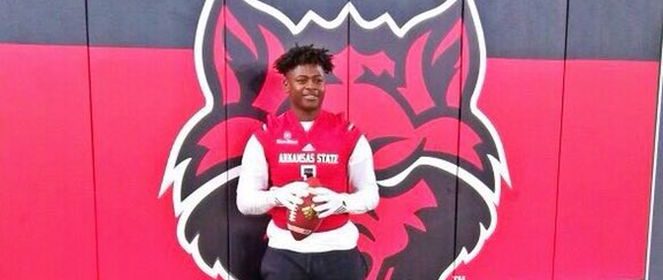 Written by Ryan Wright
Twitter: @RyanWrightRNG
College coaches preach versatility and athleticism especially at key positions. A receiver who can line up on the inside and outside, plus take back kicks or punts – said recruit becomes a very valuable piece to any recruiting class. As more college offenses morph from a pro-style set to a spread attack, tight ends too are evolving, because they must. Not every offensive coordinator wants a hand in the ground end. Some are looking for an athlete that can play H-back and/or line up on the inside to create mismatches on passing downs. Whatever a college coach wants at tight end, Marcus Whitaker will be able to provide the end result.
Whitaker is a throwback tight end capable of playing in the modern game. At West Memphis High School, the offensive coordinator lines him up on the outside at receiver, down tight as a blocker and as a pass receiving threat off the line. At 6-5, 230 pounds, Whitaker is just beginning to test the limits of his physical capabilities with a ton of upside, and room on the frame to add more weight if needed to fit the scheme.
In a Recruiting News Guru exclusive interview, I sat down with the under the radar Arkansas product to gain insight on his junior season, offseason workouts, and newly growing recruiting interest.
Interview
Marcus, you are that rare athlete with size and speed that can line up on the outside at receiver or go down tight and play tight end. What do you do well on the field at both positions that allows you to be so productive in the passing game?
"I'm a playmaker. I turn small plays into big plays. I can make something out of nothing with the ball in my hands."
Do you have a preference between playing tight end or receiver?
"I prefer playing receiver, but at tight end, I think that is where I fit."
What are some of your strengths playing receiver?
"My height, my footwork, and my ability to get off the press."
What do you feel you do well lining up at tight end?
"Going up against defensive ends, I am usually bigger than them. I have that advantage. When I am blocking, I get up under them and move them. On routes, I came up as a receiver, that is easy for me to break the linebackers."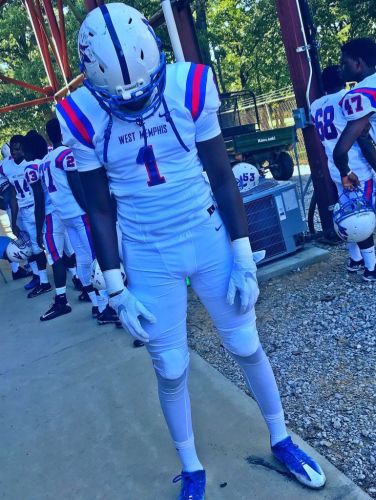 Might you play some defense in 2018 as well?
"I'm thinking about it. Whatever I need to do to help the team win, I will do."
Which game last season was your best on offense, and why do you consider that to be your best?
"The Blytheville game was my best. I had my longest reception and most yards as a tight end in that game. I think I had a 60-yard reception in that game."
What are you working on this offseason?
"I'm trying to get stronger in my arms and legs. I feel like I have soft hands. I feel that I have the best in Arkansas at tight end."
Are you playing 7v7 ball?
"Yes, sir. I am playing with Fast Arkansas."
How is 7v7 ball helping improve your overall game?
"It is like a workout for me. They are helping me get faster and improving my agility. Playing 7v7 helps me stay in shape to get ready for the season."
Are you attending any camps or combines?
"I am planning on attending a Rivals camp, the a Nike Opening Regional, and my high school coach is taking us to New Orleans for a 7v7 event. I want to add more. With college camps, I am planning on attending camps at Arkansas State, Memphis, Texas State, and Arkansas – so far."
Are any schools showing recruiting interest in you but have not offered yet?
"Yes, sir. Memphis, Texas State, Arkansas, Tulane, Yale, Indiana, Auburn, and Louisiana-Monroe are showing interest."
Have you taken any unofficial visits yet?
"Yes, sir. I went to an Arkansas State Junior Day on Saturday and I went to a Memphis game last season."
How did the Arkansas State visit go?
"It went great. When they told me that student-athletes get a meal card that you can use as much as you want, I was all-in (laughs)."
Do you have any other potential visits coming up?
"I am going to Arkansas next Saturday for a Junior Day event."
What has you excited about visiting the Hogs?
"This will be my first time going to a Power Five Conference school for a visit. I know the atmosphere will be amazing. The visit should be great."
What are college coaches telling you they like about your playing abilities?
"They like my catching abilities. They want me to get a little bit stronger. But, they like that I am big and physical."
What goals have you set for yourself for the offseason?
"One of my goals is to be prepared as a team for the 2018 season, mentally and physically prepared. My personal goal is to increase my overall strength in the weight room. I'm improving quickly already."
When your football career at West Memphis is over, how do you want people to remember you on the field?
"Mr. West Memphis. I want to be that kid that always made stuff happen on the football field."
Marcus, thanks for your time today and good luck with your visit to Arkansas on Saturday.
"Thank you."
Please help keep RecruitingNewsGuru.com a national site aiding in bringing exposure to amazing student-athletes!
If RNG has helped you, a friend, or a family member through an article, video, or stylized interview with our countless hours of free promotion for high school, junior college, and college athletes – please donate. Any amount is appreciated!
Photo credit: Whitaker family; Marcus Whitaker at Arkansas State and pre-game