Interview: 2019 CB Victor Tademy Giving Division-I Programs a Good Reason to Head to Arkadelphia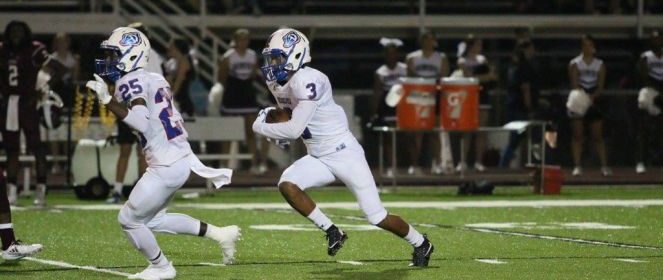 Written by Ryan Wright
Twitter: @RyanWrightRNG
An idiom in football that has been proven correct time and time again – defense travels. After playing his sophomore season with Thompkins High School in the Katy (TX) area, Victor Tademy took his defensive skillset to Arkadelphia High School coming up with a standout junior season. His 41 tackles, six interceptions, and eight passes broken up were a big part of the Badgers putting together a 13-1 season highlighted by a 4A Arkansas state title. Now, Division-I football programs near and far are heading to southwest Arkansas scouting the 6-0, 170 pound, do-everything corner.
In a Recruiting News Guru exclusive interview, I sat down with Tademy to learn more about his junior campaign and new recruiting interests.
Interview
Victor, you had a standout junior season all the way around. What allowed you to be so productive?
"I think being focused on giving my best every game and not taking any plays off allowed me to be very productive. We had Dillion Scott opposite of me, he had a good season in 2016. I knew a lot of balls were coming my way. I had to give it my best on every play."
What was the 4A championship title run like for you in 2017?
"It was crazy. We had not won a state title in 30 years. I had just moved here last year. I did not know how good we were. We were blowing everyone out throughout the season. The whole town came together to support us. It was a great season."
You seem to have great play recognition, what do you attribute that uncanny knack to break up a play to on the field?
"I think it comes down to watching film. On Thursdays, I would watch every pass play and formation of the team we were about to play. I would pick up on tendencies. One team we played, if they were in trips, 80 percent of the time it was a bubble screen to No. 3. Recognizing that, I was able to make that play against them."
On your 70-something yard pick-six, once you jumped that route, there was no one in front of you. What was going through your mind as you were racing to the end zone?
"I did not know there was no one chasing me. When I was getting close to scoring, I felt my hamstring tighten. I was scared for a second that I would cramp up and fall before I scored (laughs). That is what was going through my mind."
You ended up with six interceptions last season, was there a point during the year when they stopped throwing your way?
"Until the last drive of the Warren game, I had most of the targets. Other teams knew about Dillion from last season. They were not going his way."
After the first couple of picks, and the ball was still going to your side of the field, were you surprised?
"I was surprised. In the Mena game, I had one pick and then two picks. I had three in that game. After first and second interceptions, I didn't think they would keep coming my way but they did. I had the mindset that every play the ball was coming my way."
You have another skill at high pointing the ball or coming down with the 50-50 ball, what else do you feel you do well as a corner on the field?
"I think one thing my film does not show well is my man coverage. I take pride in that. I take pride in locking up the guy in front of me. I was not targeting a lot in man. We were in zone a lot. That is one of my best attributes – reading a receiver's hip in man and then making a play on the ball."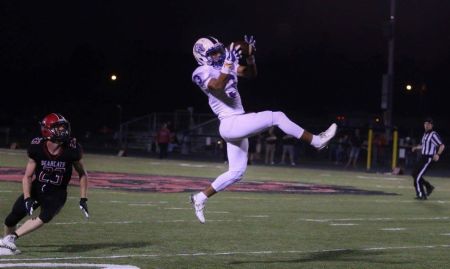 What are you working on this offseason?
"I am working on getting bigger, faster, and stronger. I want to get my squat up and my bench up. I also want to get my 40 down. There is always room for improvement."
Are you playing 7v7 ball?
"Yes, sir. I am playing with Fast Arkansas."
How is playing 7v7 ball helping your overall game?
"We are going up against some of the best competition in the country. We are playing man and zone. That will be fun to get out there and compete. I'm excited to play against the best out there."
When and where is Fast Arkansas' next tournament?
"February 17-18 in New Orleans."
Are you receiving any recruiting interest?
"Yes, sir. I went to Arkansas State last Saturday. On March 17, I am going to Louisiana Tech. On March 21, with Fast Arkansas, we are going to visit Houston too. North Texas DM-ed me and Harvard, Princeton, and Yale are all showing interest. There are a lot of coaches are following me on Twitter as well."
How did the invite to Arkansas State's Junior Day come about for you?
"Blake Anderson, the head coach for Arkansas State, came by school to invite me to their Junior Day."
Impressive. How did the visit to Arkansas State go for you?
"It was nice. I loved the campus. That one was really nice. I liked the facilities and loved the coaches. I hope to go back up there sometime soon."
What goals have you set for the 2018 offseason?
"As mentioned, getting my bench and squat up, and lowering my 40 time. I want to get quicker and faster and be a better all-around athlete for next season."
Have you set any camps and/or combine dates yet?
"North Texas invited me to a camp, but I am not sure which other camps I will attend."
Are you playing any other sports for Arkadelphia?
"Basketball."
How is the season going?
"The season is kind of rough. I feel I am doing well. We have our district tournament next week, I think we will do well in that tournament."
Do you know your stat line for the season?
"I think I'm at about 16.5 points, 5 assists, and 3 rebounds per game.
Nice. Have you gotten a poster dunk on anyone this season?
(Laughs) "No, sir. Not yet."
Last question. Is there a person at the college or NFL level you watch to learn more about the game?
"I really like watching Jalen Ramsey (Jacksonville Jaguars). I love hiss competitiveness and the way he plays. I try to play like that. Whoever I am assigned to, my goal is to lock them down and get in their head so they know they are not catching the ball against me."
Victor, I appreciate your time today. Good luck with the upcoming basketball and 7v7 tournaments.
"Thank you."
Please help keep RecruitingNewsGuru.com a national site aiding in bringing exposure to amazing student-athletes!
If RNG has helped you, a friend, or a family member through an article, video, or stylized interview with our countless hours of free promotion for high school, junior college, and college athletes – please donate. Any amount is appreciated!
Photo credits: Arkadelphia Badger Foundation on Facebook; No. 3 Victor Tademy in action