Interview: 2019 Oklahoma QB AJ Newsome Brings Array of Talents to Putnam City Pocket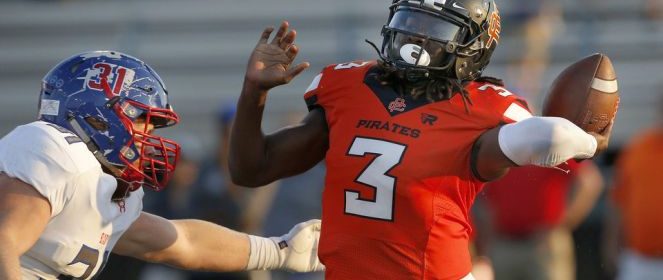 Written by Ryan Wright
Twitter: @RyanWrightRNG
Every Friday night over the past two years, there is a fantastic show going on in Oklahoma City during the fall season. The show is full of excitement, anticipation, athleticism, and exceptional high school football plays. The show on the gridiron is the Putnam City Pirates led by quarterback Amareion "AJ" Jarrett-Newsome.
Newsome is that prototypical athlete that can line up at any skill position spot on the field and walk off with his head held high as one of the best players in any given contest. With all his physical gifts, he applies his trade at quarterback making Putnam City High School one of those squads other 6A Oklahoma teams do not want to face.
A young Pirates team took some lumps on the field during the 2016 schedule posting a 4-6 record. Newsome showed signs of a quarterback gaining a greater understanding of the game in 2016 completing 92-of-193 pass attempts for 1,738 yards with 18 touchdowns going up on the board. Adding a little dual-threat to his game, Newsome covered 409 yards on the ground with three additional scores during his sophomore season.
The anticipation for the Pirates 2017 season rested largely on the growing talents of their 5-11, 180 pound, rising star… and Newsome lived up to the hype and then some. The Pirates improved on the field with a 7-4 record reaching the playoffs with their quarterback connecting on 191-of-383 passes for 3,000-plus yards with the refs' arms going up 33 times. Relying more on his arm and his playmakers, Newsome scaled back his running efforts, but still showed he could run when needed, adding 305 more yards to the stat sheet with five additional touchdowns.
An offer from Howard is on the table with interest spreading out from Central Florida to SMU and Central Arkansas to Air Force and others. In a Recruiting News Guru exclusive interview, I sat down with Newsome to get the inside scoop on his junior season and growing recruiting interest.
Interview
AJ, you got a lot of snaps in against some very good Oklahoma competition in 2017, how did your game evolve over the course of the 2017 season?
"My game evolved by better understanding how to read defenses, knowing the offense, and knowing where to go with the ball. Sometimes the play breaks down, knowing what to do with the ball when that happens made a big difference this year."
The Pirates took a big step forward on the field bumping up from four to seven wins from 2016 to '17, what was the big difference on the field for you guys this year?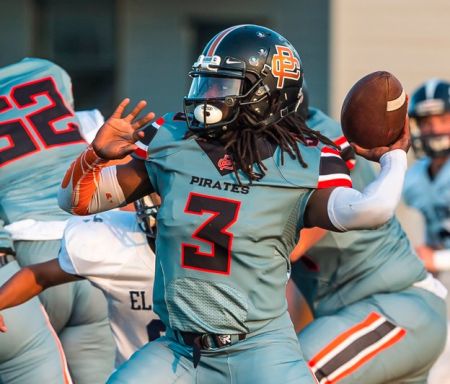 "We worked very hard. We had players showing up every day in practice. My sophomore year, not everyone showed up in practice. That was a big difference this year and made a difference in us winning games. My sophomore year we lost a lot of close games. This year, we lost two games by a touchdown or less. The games were even closer this year."
Which game was your toughest in 2017 and why was that game challenging for you?
"My toughest game was not the hardest team, but it was against Stillwater (lost 39-32). I was injured before the second half, and did not play the same the rest of the game. But I was trying to help us win the game. It was tough to keep playing, but I knew I could still play. Trying to perform at that same level was tough. We started the game hot. The game came down to a final play. It was a tough game."
What did you learn from that contest that will make you better in 2018?
"What I learned that will help me, keep fighting. The play I missed on at the end of the game to keep the game going for overtime, I did not step into the last throw. You have to keep fighting. I took a lot of hits in that game. That last play, I moved to not get hit, and threw off-balance. If I get that opportunity again, I will step into the throw and fight through it. That was not normal for me."
Which game was your best in 2017 and why do you consider that game your best?
"Bixby (won 37-35) was my best game. I was hot that game. I had a great connection with my receivers. It seemed like we could not miss. When the moments counted we made the plays."
Based on how the roster looks today, what do you expect from the Pirates in 2018?
"The roster looks great. We are loaded with talent. We have some sophomores that will step up this year. On defense, Collin Clay, he will be the leader of our defense. Our defense will be set. The juniors will come in strong and they are working hard. They learned from our seniors. We had a great senior class in 2017. With us making the playoffs, that showed the way for the rest of us. The guys on the team believe in it. We are not satisfied with just making the playoffs. On offense, we will get Sam De la Pena, our offensive tackle, back. He was injured before the season (ACL). He'll be back. I'm looking forward to having him back on the line."
What do you consider the strengths of your game?
"My strengths … I can take hits and make throws with guys in my face. I can throw on the run. Against us, defenses are set up to stop the pass. I can read defenses well and find windows. I have great arm strength. I did not have to make plays with my legs this year. My sophomore year I did more running. I know the offense better now. We were on schedule this year. We were moving the ball on first and second down setting up short yardage third down plays in 2017."
What will be the focal point of your offseason workouts?
"I am focused on track. I will still work with Coach (Tom) George working on throwing. We are throwing over a 10-foot net every time out to simulate getting the ball over the line. I'm working on making throws into windows – stuff like that. I'm also watching a lot of film to increase my football IQ. I am also watching film on myself to see where to improve my game. I'm looking to see plays I could have made this year."
You mentioned working with quarterback coach, Coach George, other than throwing over the net and small window accuracy, what other drills are you doing to set yourself up for success in your senior year?
"During every session, we work on roll outs, sprint outs, and play-action. We work on footwork and sometimes we work on speed."
What are college coaches telling you they like about your game?
"They like that I am not quick to roll out of the pocket. They like that I'll stay in the pocket to make the throw. But they also like that I can make plays with my legs. They like that I have command over the offense, knowing where I am going with the ball. The like my maturity with my game and the offense from sophomore to junior year."
Which colleges are showing interest in you but have yet to offer?
"Air Force, Texas State, Central Arkansas, Abilene, SMU, Tulsa, and Central Florida are showing interest."
Do you have any offers yet?
"I have an offer from Howard."
Did you take any unofficial visits in 2017?
"Yes, sir. I took visits to SMU, Tulsa, Abilene, and UCA (Central Arkansas)."
How did the Tulsa visit go?
"It was very nice. I liked it. They had a great game day atmosphere There. I was there for their game against Houston. That was an exciting game. That was their homecoming game. The crowd was into it. It was a good experience."
What about SMU, how did that go?
"That was another good game. They blew out UConn. I think that was their homecoming too. I liked the atmosphere at SMU. I went into the locker room, met Coach (Chad) Morris (former head coach/Arkansas) and talked to guys on the team."
Do you have any Junior Day visits lined up in 2018?
"Not yet."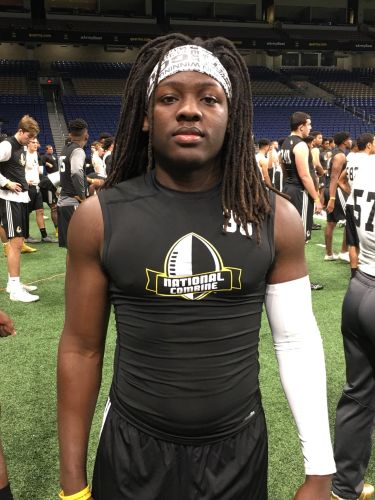 Are there any camps or combines you might attend this spring or summer?
"Depends on how everything goes with recruiting. I might go to Under Armour Camp."
We are conducting this interview while you are at the U.S. Army All-American Combine, how is that going?
"It is going great. We got a lot of gear. We saw the Alamo and we went to Lulus – that was great. I am enjoying it. I am ready to compete and see the game (Saturday)."
Are you playing any other varsity sports for Putnam City?
"Track."
Which events do you plan on running?
"My coach wants me to run the high jump, relays, and the 200."
How is everything in the classroom?
"I have a 3.6 weighted GPA."
Have you taken the ACT or SAT yet?
"No, sir. I am taking my first test in February."
What is your favorite subject in school?
"English."
Last question. What is one off the field interesting thing about you that many people might be surprised to learn?
"I like to paint and I write a lot. I write stories a lot."
AJ, thanks for your time today and good luck with the camp and combine season.
"Thank you."
Please help keep RecruitingNewsGuru.com a national site aiding in bringing exposure to amazing student-athletes!
If RNG has helped you, a friend, or a family member through an article, video, or stylized interview with our countless hours of free promotion for high school, junior college, and college athletes – please donate. Any amount is appreciated!
Photo credits: NewsOK; No. 3 AJ Newsome gets the pass off under pressure