Interview: 2019 WR/DB Chris Roland-Wallace Spent Season Showcasing Talents on Both Sides of the Ball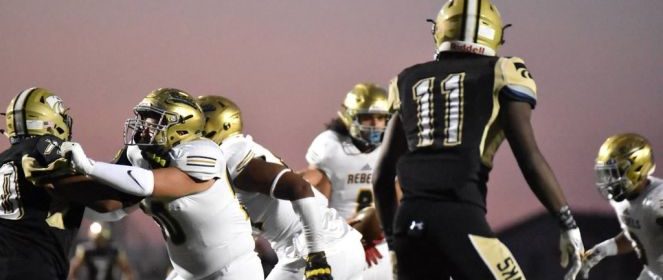 Written by Ryan Wright
Twitter: @RyanWrightRNG
In another case of statistics plus reel equal the real deal, growing Class of 2019 talent Chris Roland-Wallace spent his junior season flying around the field at receiver, safety, and corner showcasing his ability to make the opposition pay every time he steps foot on the field. All the conclusion of the 2017 season does for fans of Knight (Palmdale) High School football is make one wonder what Roland will do next.
The production graph on Roland is trending quickly in the right direction. By the end of his sophomore season he made his mark pulling in 23 passes for 365 yards with four scores and even ripped off a 36-yard run on his only hand-off taken of the 2016 campaign. When the ball was flipped, he put his heart and soul into a 41 tackle, 5.5 sack, 7 tackle for a loss, 5 passes defended, and 5-pick season.
The young Hawks team took lumps in 2016 ending the year 4-5-1. With all that young talent coming back, hopes were high entering 2017, and by and large the team did not disappoint. The team record improved to 7-3 with their 6-0, 180 pound, do-everything athlete besting his second team All-League sophomore year with 31 tackles, 23 solo, one fumble recovery, and four interceptions and 42 receptions for 611 yards with 10 scores along with five carries for 48 yards in stats posted through only nine games.
Spring of 2018 will prove to be invaluable for Roland. With Junior Day visits, the spring evaluation period, and camps of all kinds running into the late summer, Roland will have ample opportunity to demonstrate what he can do on the field and the type of character he possesses to next level coaches.
In a Recruiting News Guru catch-up interview, I sat down with one of California's rising stars in the 2019 class covering his season on the field.
Interview
Chris, the Knights had some tough teams on the schedule this season squaring off against high-profile teams like Quartz Hill, Antelope Valley, and Palmdale. How did facing that kind of competition help make your game better this season?
"The coaches had us coming in focused and following the game plan. I knew I had to capitalize on every opportunity. I love competing, especially against top schools. That makes me work harder. When I play against people that are as fast as me or better, that pushes me to compete harder and improve my game."
Which game was your best this season?
"I had a few good games, but I'd say the Quartz Hill game was my best. I had a good game against them. I gave my all in that game."
Is there a receiver that pushed your talents forward making you better in the long run?
"Yeah. Davon Jones at Quartz Hill and Devon Williams at Antelope Valley. Playing against those guys, I wanted to guard them. It helped me improve because they are fast, can get out of their breaks well, and they can catch. I had to make sure I was on it from the start. All those schools have high-tempo offenses. No time for a break against those guys."
You were a ballhawk on defense this year coming up with a team-high four picks. At what point in the season did quarterbacks stop going your way?
"I don't think they stopped trying. I think they thought they were better than us and could get away with it. They were aware of me, they did not challenge me a lot. I did not have a lot of balls thrown my way but every now and again they would try."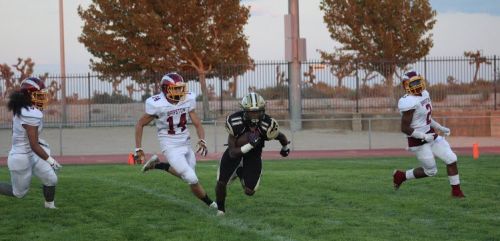 Where all did you play on defense this season and what schemes did the Knights execute?
"We played man, at times I would guard the slot. Then the coaches would move me from corner to safety, but primarily I played up top this year."
You also led your team in receptions, receiving yards, and touchdown receptions, how were defenses covering you throughout the year?
"One on me and one over the top. They were aware of me on offense. They made sure a linebacker shaded to me if I was in the slot."
Which pass route do you like the best?
"I like running fades. I feel like I run those best. The route is pretty simple but I like it."
Which areas of your game improved this year?
"On offense, my route running improved a lot, my hands – I can catch it well but I improved, and my blocking. On defense, my vision improved a lot, my technique, and being a ballhawk. Stopping the run, coming downhill, that improved a lot as well."
Which areas are you wanting to work on this offseason?
"This offseason, my speed, technique, and my vision."
Are you going to play 7v7 this spring?
"Yes, sir. I'm playing for Formula 4 Speed."
Which schools are showing recruiting interest in you now?
"Fresno State, I've been in contact with them. Colorado and Wyoming came to our school, they're showing interest."
Have you taken any unofficial visits yet?
"I've taken one to Fresno State."
How did the visit go?
"It was cool. I enjoyed it. I enjoyed talking with Coach (Scott) Thompson (tight ends). We went up there for the UNLV game. It was a good game."
How is everything going in the classroom?
"I have a 3.5 GPA."
What is your favorite subject in school this year?
"Spanish II."
With another year of varsity experience under your belt, is there anything you plan to do differently next season be-it with your offseason workouts, in-season preparation, or with your practice habits?
"I want to focus in even more. I want to lead my team to a place they have never been to before and set an example for the team as a leader. During the offseason, I want to work even harder on my routes."
Chris, thanks for your time today and good luck with your offseason workouts.
"Thank you."
Please help keep RecruitingNewsGuru.com a national site aiding in bringing exposure to amazing student-athletes!
If RNG has helped you, a friend, or a family member through an article, video, or stylized interview with our countless hours of free promotion for high school, junior college, and college athletes – please donate. Any amount is appreciated!
Photo credits: Antelope Valley Press; No. 11 Chris Roland-Wallace