Interview: 2020 California QB Jaden Casey Kept Calabasas a Well-Oiled Offensive Machine in 2017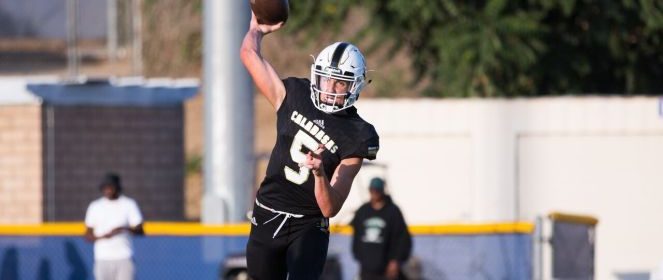 Written by Ryan Wright
Twitter: @RyanWrightRNG
Photo credits: Raymond Joyce Photography
Twitter: @RJPSports
When the 2016 California high school football season had ended, Calabasas was one of the top teams in the state running a record of 14-1 falling 60-53 in dramatic fashion to Madison High School in overtime in the Division-II regional final. The Coyotes offense hummed along averaging 45 points per game led in the pocket by then senior Tristan Gebbia. The University of Nebraska signee dazzled throwing for 5,338 yards with 61 touchdowns. That kind of production and shoes that big are really tough to fill, but somehow sophomore quarterback Jaden Casey stepped in filling the void continuing to make Calabasas one of those teams no one wants to face.
Casey is an anomaly in and of himself earning playing time on the Coyotes 2016 squad as a freshman. Scattered among the five- and four-star talents like Darnay Holmes (UCLA), Brendan Radley-Hiles (IMG), Keyshawn Johnson Jr. (Nebraska), Nikko Hall (2018), and Gebbia, Casey dared to step in the huddle completing 14-of-21 passes for 277 yards with five touchdowns tossed never throwing an interception.
Completing 67 percent of his passes and averaging 20 yards per completion as a freshman was impressive, but there were doubters unsure if he could command the offense and move the Coyotes up and down the field in head coach Casey Clausen's scheme. The offense may have dipped slightly in total production with only Nikko Hall returning on the roster, but the fireworks and long bombs were still on full display. The offense averaged 37 points per game taking on tough teams like Dorsey, Valencia, Sierra Canyon, Newbury Park, Moorpark, Notre Dame, and Heritage, all California playoff teams. Through a 10-2 season, Casey completed 221-of-349 passes for 3,394 yards with 32 touchdowns tossed and posted three rushing scores.
The 6-1, 185 pound, sophomore gave a glimpse of what the Coyotes offense will look like over the next two seasons, and with rising stars Mycah Pittman (2019), Johnny Wilson (2020), and Julien Stokes (2021) all coming back, Calabasas could once again make a title run in 2018.
In a Recruiting News Guru first interview with Casey, we sat down for a lengthy conversation covering his sophomore campaign and offseason workout goals.
Interview
Jaden, you got that very rare opportunity to get varsity snaps as a freshman. How did playing time in 2016 help you in 2017?
"It helped me a lot. Watching film with Tristian (Gebbia), seeing him breaking down stuff, helped me a lot."
How did you prepare for each game during the season?
"Scout team in practice was a big thing for me. We did not watch a lot of film this year. Coach Clausen would put 12 guys on defense, because defenses were dropping nine into coverage against us. Coach Clausen said practices would be harder than the games and that the games would be easy for me."
How did your game develop this year?
"In our first game against Dorsey, Coach Clausen did well getting me into the flow of the game. We started out with screens and slants before going deep. He allowed me to get used to the speed of the game. Snap after snap, it got easier and easier and my reads got better."
What do you consider the strong points of your game in the pocket?
"I am tough in the pocket. I got hit a lot this year, my line did well this year. You have to expect getting hit some throwing the ball as much as we do in each game. Buying time in the pocket, I can help my receivers get open with my throws. My deep ball got better this year, but I need to work on my quick game."
Which game was your best this season and why do you consider that your best?
"The Valencia game was my best (won 65-63). I threw for 558 yards and eight touchdowns in that game. I took a lot of hits against Valencia. In the first quarter, No. 40 (Reilly Royce) hit me really hard. Being a leader, you have to get up after the hard shots and keep going. My teammates respected me, even as a sophomore, because of my toughness. I can talk all I want but going out there and showing you have their backs, that is what earns their respect. That was my best game."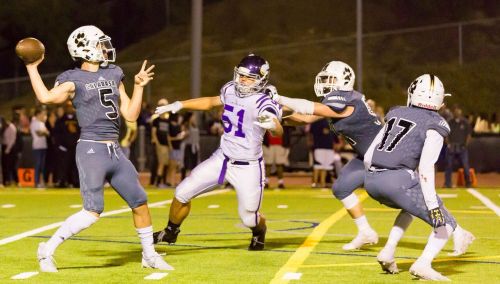 You got meaningful playoff knowledge under your belt this year with games against Notre Dame and Heritage, what learning experiences did you take away from the playoff games that will help you during your junior season?
"Against Notre Dame, I learned you cannot turn the ball over. In the playoffs, we got the ball once a quarter. You have to score on every possession in the playoffs and you have to capitalize on third downs. You have to score in the playoffs because you may not get the ball back for a while and you have to take the pressure off the defense."
What will you focus on with your mechanics and/or abilities in the offseason?
"My quick game and my footwork. Next year I will try to run more if we have a backup. In eighth and ninth grade, I was a dual-threat. What JT Daniels (Mater Dei) is doing, he is extending his game with his running abilities. I want to do that for my team next year."
Are you playing 7v7 ball this spring?
"I'm planning on it, I'm just not sure which team I will play for yet."
Have you already started an offseason workout program?
"Yes. I am trying to gain weight with a program from the strength coach at Thousand Oaks. My QB coach is Rudy Carpenter and my speed coach is Paul Pratt this year."
How did you develop chemistry with your receivers this season?
"Johnny Wilson, he has been my best friend since sixth grade. We had that chemistry already. Mycah Pittman and I, we have a good chemistry. We have thrown together a lot. We throw a lot outside of practice. During the season, we would get to school at 6:30 or 7:00 for throwing sessions before school."
Are you going to do anything differently through the spring and summer leading into fall camp to further develop the chemistry on the field with your skill guys?
"I think we can extend what we are already doing to develop even better chemistry. I want to get out of the pocket and practice throwing on the run. This week we worked on that. If the play is not open, I want to work on getting my guys open on short routes. I need to work on that with my teammates."
The process is really early for you, but are you drawing any college interest?
"I was from Florida State when Coach (Jimbo) Fisher was there. FSU seemed really interested in me. Arizona State has shown a little bit along with Indiana and Utah."
Did you get to take any unofficial visits this fall?
"Not this fall, but I took one to Florida State this summer."
How is everything in the classroom?
"I have a 3.8 GPA."
Favorite subject in school?
"Math is my favorite subject."
Last question. The Coyotes have a lot of young talent coming back, based on the roster as is, what kind of year are you expecting in 2018?
"I am expecting an undefeated season. I think we can do that. Julian Stokes (running back), he's a freshman, but he's working hard to get better. We need to be more disciplined as underclassmen. All our seniors will be gone. We need the 2020 and 2019 guys need to step it up, but I think we can do it."
Jaden, great talking to you today. Good luck with your offseason workouts.
"Thank you."
Please help keep RecruitingNewsGuru.com a national site aiding in bringing exposure to amazing student-athletes!
If RNG has helped you, a friend, or a family member through an article, video, or stylized interview with our countless hours of free promotion for high school, junior college, and college athletes – please donate. Any amount is appreciated!
Featured Photo: No. 5 Jaden Casey vs Dorsey (2017)
Photo: No. 5 Jaden Casey vs. Valencia (2017)