Interview: 2020 Michigan ATH Jeremiah Piper is Turning Raw Talents into Dual-Threat Playmaker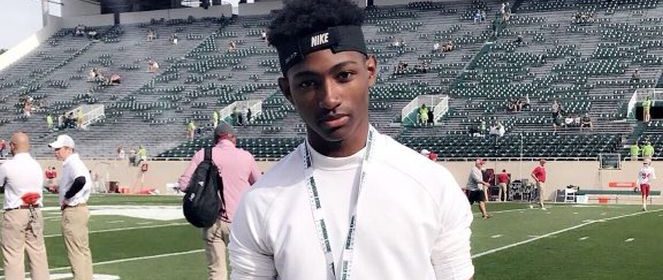 Written by Ryan Wright
Twitter: @RyanWrightRNG
After a sophomore season as field general for Southfield A&T (arts and tech), Jeremiah Piper was many things for the Warriors least of which was a budding playmaker. The Class of 2020 athlete is growing into his role as a pocket passer but is already way ahead of the curve as a running quarterback drawing Big Ten recruiting attention.
When the pigskin is in Piper's hands, excitement is soon to follow. The 6-0, 165 pound, Southfield area product had an estimated 1,600 total yards of offense in 2017 splitting the yardage somewhere near even on passing and running yards. The Warriors were a young team in 2017 posting a 4-5 record against a challenging Michigan high school football schedule. For Piper's on the field efforts, he has been ranked as a three-star prospect by QB Hit List with game day visits to Michigan State and Michigan.
In a Recruiting News Guru exclusive interview, I sat down with the quick-on-quick rising talent covering his sophomore season on the field and his recruiting interest off the gridiron.
Interview
Jeremiah, how did the 2017 season go for you on the field?
"It went pretty well. I feel like I could have done better. But from a lot of people's perspective, I did well but I know I can do better. I led the team well and I was clutch in tough game situations. I feel like I did well out there this year."
What type of offense do the Warriors run?
"We run a Pistol and we spread it out. We got into a one-back system about 50 percent of the game. We also run the Bull offense, a one-back, one tight end, and a fullback set – a heavy set."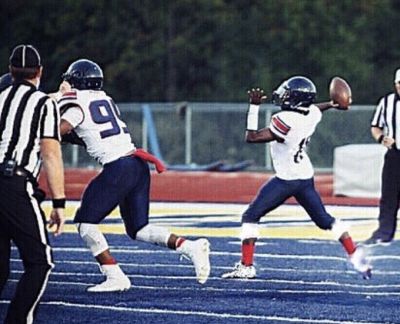 How does the Pistol offense fit your abilities?
"It magnifies my running threat. With the run-pass option, I can pull it if the hole is not there for the running back or give it to him. If I keep giving it to the running back, it will open up other parts of the game with me passing the ball or running it."
Which game was your best this season, and why do you consider that your best game?
"For me the Davison game was my best. I had two early scores in the first half. We passed the ball well in the second half. It was an exciting game."
Which areas of your game saw the most improvement during your sophomore year?
"My ability to read defenses, going through my progressions, and improving as a passer were all areas that improved a lot for me this year."
All quarterbacks love to talk about their arm and footwork, but you have exceptional speed that helps set you apart from others. What is the fastest 40-yard dash time you've posted?
"At a N.C. State camp during my freshman year going into my sophomore year, I ran a 4.57."
Have you ever juked a player out of his shoes?
"Oh yeah. On my freshman highlights, three times I made people fall or they slid off one of my moves."
Which areas of your game do you consider strengths in the pocket?
"I'd say my strengths are running and understanding the game. Ahead of the play, I am thinking about what the players are doing and trying to figure out what I will do before they do it. Being a quarterback is more mental than physical."
What will you focus on with your workouts this offseason?
"Footwork. I went to a lot of camps last year and they all stressed footwork. Michigan State was my first camp last year. I worked on my footwork there. Playing 7v7 helped me with reading defenses and coverages. I will work on my release, arm angles, and all the basics. The basics are important. You have to have your mechanics down to be successful at quarterback."
Which schools are showing interest in you?
"Morgan State, Michigan State, and Michigan have all shown interest. At the Vanderbilt camp, their quarterback coach took down my jersey number."
Have you had a chance to take any unofficial visits yet?
"Yes, sir. I have been to Michigan and Michigan State."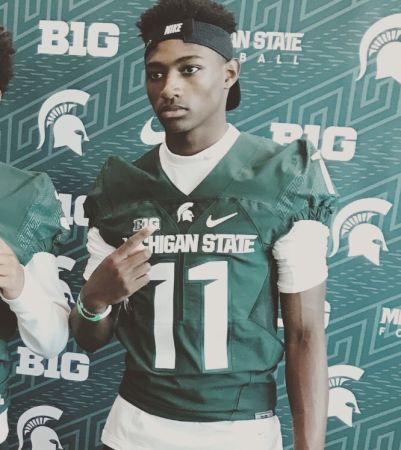 How did the Michigan State visit go?
"It went perfect. I love the staff at Michigan State. Coach (Mark) Dantonio (head coach) is a down to earth person. Going to their camps, you see that he is a good coach. MSU fans bring the energy, even on Twitter. Their social interaction has a home feeling. I was there for the Penn State game, that was great. The electricity in the crowd was great and when they hit the field goal to win the game (27-24), the electricity in the crowd was even greater."
How did the Michigan visit go?
"It was really good. They have been a big school for me growing up. I was in the front row for the game, that was cool. Seeing the players warm up close up, that was great too."
Are you going to any camps or combines this spring or summer?
"Yes, I am going to a lot of camps. I'm planning on going to around 14 camps."
Are you playing 7v7 ball this spring?
"I am playing with Rising Stars."
How is 7v7 action helping improve your game?
"Playing 7v7 has helped me with reading defenses better. It gives me a look at defensive backs, seeing everything they are doing. The secondary is doing everything they would in a real game, that is great for a quarterback to practice against."
Are you playing any other varsity sports?
"Indoor and outdoor track."
Which events?
"The 100, 200, and 400. Last year, my main event that got me to county was the 300 hurdles."
Impressive. Jeremiah, thanks for your time today and good luck with your offseason workouts.
"Thank you."
Please help keep RecruitingNewsGuru.com a national site aiding in bringing exposure to amazing student-athletes!
If RNG has helped you, a friend, or a family member through an article, video, or stylized interview with our countless hours of free promotion for high school, junior college, and college athletes – please donate. Any amount is appreciated!
Action photo credit: Southfield A&T HS; Jeremiah Piper finds a target 2017
MSU photo credits: Piper family; Jeremiah Piper at Michigan State