Interview: 3-Star 2019 Bishop Gorman DE Treven Ma'ae Updates Offseason Workouts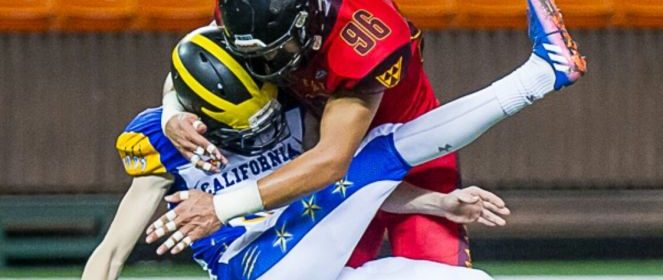 Written by Ryan Wright
Twitter: @RyanWrightRNG
Quarterbacks in Hawaii took a big sigh of relief when news was reported that Kapolei High School defensive end Treven Ma'ae had transferred to national powerhouse Bishop Gorman. While quarterbacks over in paradise might be a little bit safer, the terror off the edge from Hawaii is ready to inflect his backfield chaos on the mainland when the 2018 season kicks off bringing a whole other set of anxious quarterbacks on the worrisome list.
The school mascot for Kapolei was appropriate with Ma'ae coming off the edge in 2017. Exact stats on Ma'ae were not released, but a view of his highlight reel tells all. The consistent presence in the opposition's backfield for the Hurricanes led to a conservative estimated stat line of 30 tackles, 16 tackles for a loss, and eight sacks. Ma'ae used his 6-4, 230 pound, frame and raw talents putting relentless pressure on the quarterback while sealing the edge against the run drawing national attention to his game.
Transferring to Nevada to play for the Gaels will only help enhance Ma'ae's recruiting status by allowing mainland college scouts easier access to see him in person. Adding to the resume, the Gaels never back down from playing top national teams before entering in-state action. The full schedule has not been released yet, but Bishop Gorman gets defending national champs Mater Dei at home this year and travel to California to take on 2017 state title runner-up De La Salle. Showing out against top competition should help Ma'ae expand his current 13 scholarship offers further broadening his scope of interest into the Big 12 and SEC. Some of the schools already hoping to have Ma'ae on their roster in 2019 includes Nebraska, Duke, Cal, Arizona State, Air Force, Hawaii, Utah State, Virginia, Utah, Navy, and USC.
In a Recruiting News Guru exclusive interview, I sat down with Ma'ae covering his transfer to Bishop Gorman, offseason workouts, and his recruiting process.
Interview
Treven, how did your junior season go for you on the field?
"I did better than my sophomore year, way better. I still have stuff to improve on. But, during my junior season I had more standout plays."
What were some of the gains you made with your skillset last season?
"My overall game IQ grew a lot. I was better at reading plays and more explosive off the ball."
Was there an area of your game that you felt was dominating last season?
"My constant pressure on the quarterback. I also did better against the run. I did better against tackle, not being pushed back and holding the line of scrimmage."
You had a scoop-and-score last year. What was that like for you getting to score a touchdown?
"That's the second time it has happened for me. The last time was in eighth grade. When I picked the ball up, I was shocked that it was happening. I wasn't thinking about it until I had the ball and scored. It was only 10 yards, but I felt on top of the world."
When did you transfer to Bishop Gorman?
"In late January, early February."
How has the transfer gone so far?
"Good. The transition is going well. I have a lot of family in Vegas, it is not too rough of a transition. I live with my uncle and cousin until my sister & family arrive this summer, which makes it easier."
What have you been working on with your game during the offseason?
"For me, finishing plays and getting stronger. I am working on pushing around offensive linemen and getting the sack."
Is there a specific goal you want to accomplish with your workouts this spring and summer?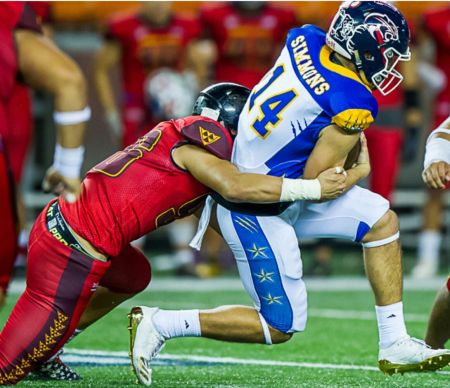 "I do want to be at 245 pounds for the season. Adam Plant, the defensive end at Bishop Gorman before me, had 10 sacks last year, I want 12 sacks. That is my goal for the upcoming season."
Have you attended any already or do you plan on competing at any national camps or combines this offseason?
"I went to Adidas last weekend (March 4). I plan on going to the Three-Stripe camp and the Opening Regional in Dallas (April 29)."
How many offers do you have now?
"I have 13 offers?"
Are you receiving interest from schools that have not offered yet?
"TCU, Arizona, and Army are showing interest but have not offered yet."
Have you taken any unofficial visits yet this year?
"Not this year. Last year I visited UCLA and USC."
Do you have any planned visits coming up?
"I am going to Cal-Berkeley next month. I want to visit Oregon to watch their spring game and I would like to visit Virginia."
Treven, thanks for your time today and good luck with the rest of your offseason workouts.
"Thank you."
Please help keep RecruitingNewsGuru.com a national site aiding in bringing exposure to amazing student-athletes!
If RNG has helped you, a friend, or a family member through an article, video, or stylized interview with our countless hours of free promotion for high school, junior college, and college athletes – please donate. Any amount is appreciated!
Photo credits: scoringlive.com; Treven Ma'ae in action