Interview: 3-Star 2019 California WR Deavyn Woullard Talks Co-Polynesian Combine WR MVP Honors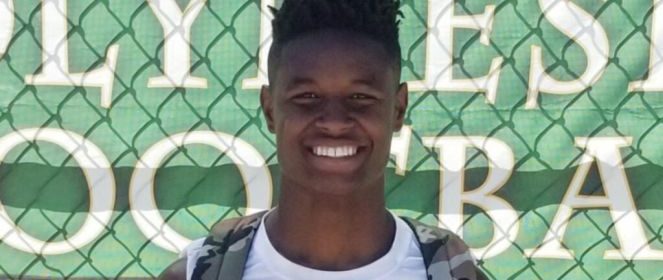 Written by Ryan Wright
Twitter: @RyanWrightRNG
There must be something in the waters of La Habra, California, that help receivers on the gridiron. The Highlanders featured a trio of Class of 2019 receivers that put up impressive numbers during the 2017 season led Deavyn Woullard. This offseason, Woullard has taken his impressive stat line putting it to the test against other top talents from around the country adding some swagger to his walk after taking home co-MVP wide receiver honors at the Polynesian Combine in Las Vegas over the weekend.
With a 1,300-yard senior running back tearing it up for the Highlanders last season, the La Habra offense did not rely on their passing game like most high school squads. In fact, the Highlanders only averaged 16 pass attempts per game last year, but when the ball came out of senior Zach Fogel's hand, he had targets ready to go to work. The trio of 2019 players included Kalani Washington (25 rec./461 yards /4 TDs), Mitch Anderson (27/568/8), and Woullard. Woullard was truly dynamic on the field hauling in team-highs of 30 passes for 719 yards with 10 trips into the end zone. The trio each carried ridiculous yard per catch averages, but Woullard nudged ahead sporting an impressive 24-yard average.
The abilities Woullard brings to the field has not been lost on college coaches. Thus far, the 6-0, 180-pound, receiver has landed six offers with interest piling up. In a Recruiting News Guru exclusive interview, I sat down with the co-MVP receiver to learn more about his camp honor and growing recruiting prospects.
*Click link for Jan. 31, 2018, RNG interview with Deavyn Woullard
Interview
Deavyn, how are your offseason workouts going?
"They're going pretty good. I have been focused on my speed training this spring."
Where are you seeing the biggest gains with your offseason workouts?
"I'm seeing big gains in practice with our 7v7 team. I can see my speed showing up more and more. My releases are better. I'm seeing that against defensive backs gaining better separation. That is really coming into place, better than last season."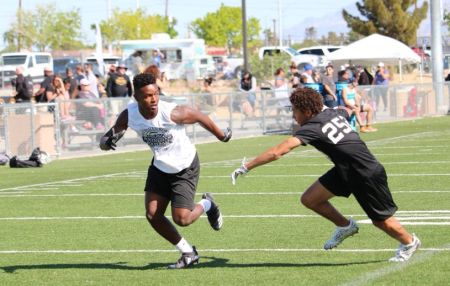 You competed at the Polynesian Bowl Camp over the weekend, how did it go?
"The combine was great. I went against some of the best in the country."
What was your goal entering the camp?
"I wanted to show I was coachable and deliver what was expected of me."
What did you do well at the camp?
"I showed my overall skillset and that I am an athlete that can play outside or at the slot. I was explosive with my routes and got good separation. I ran tight routes, was physical catching the ball in traffic, and I gave good fakes to get open. I worked hard with the coaches there to show I am coachable beyond working with my high school coaches."
Did you win any awards?
"They announced the top athletes of the day, I was one of the top players of the day. I was selected as one of the top receivers at the camp earning co-MVP honors as a receiver."
With you working on your speed, what is the best 40-yard dash time you've posted?
"Working with my speed coach, I ran a 4.63 laser 40."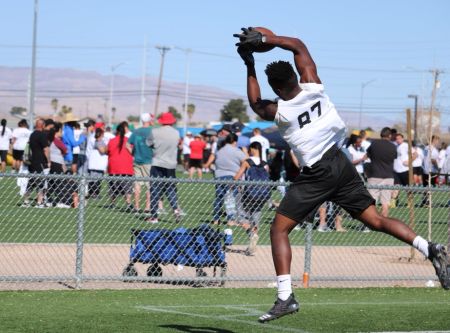 Since our last interview, you've taken off on the recruiting trail. Which schools are showing interest?
"Illinois – they have been showing interest. They are supposed to come by our school this spring. Harvard is showing a lot of interest. Oregon State, Arizona State, Utah, Cal, UTEP, Sacramento State, UC-Davis, BYU, Wyoming, Penn, Hawaii, Northern Arizona, UNLV, and Boise State are all showing interest."
That's a lot. Another thing that has changed is your offer list. How many do you have now?
"I have six offers. Air Force, Army, Cal-Poly San Luis Obispo, Columbia, Brown, and Cornell have all offered."
Congratulations.
"Thank you."
Which schools have you visited recently?
"I have visited Cal-Poly and UNLV."
Do you have any upcoming visits planned?
"I will most likely visit all the schools that have offered. I plan on also visiting Illinois, Cal, Oregon State, Stanford, Utah, and maybe Arizona State."
Do you plan on competing at any college camps this summer?
"Yes. I am scheduled for camps at UCLA, Cal, Utah, Stanford, and a Sac State satellite camp."
Deavyn, thanks for your time today and congratulations, again, on your MVP honors.
"Thank you."
Please help keep RecruitingNewsGuru.com a national site aiding in bringing exposure to amazing student-athletes!
If RNG has helped you, a friend, or a family member through an article, video, or stylized interview with our countless hours of free promotion for high school, junior college, and college athletes – please donate. Any amount is appreciated!
Photo credit: Woullard family; Deavyn Woullard Polynesian Combine action