Class of 2016 Fayetteville OL looking to muscle his way to the next level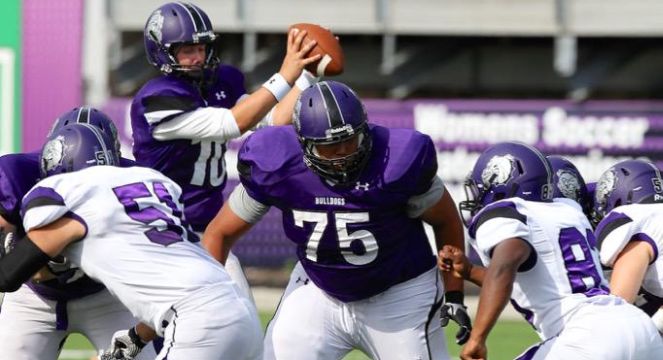 One thing that cannot be coached at any level his massive size or elite speed. One thing Fayetteville offensive lineman Noah Johnson has is great size and good speed, especially for a player his size. Watching the 6'3", 320 pound, offensive lineman work one can tell he is still putting it all together on the field. The other important thing that can be scouted is he has all the raw materials to be a Division-I player.
Johnson started as a junior at offensive guard for Fayetteville's 13-3 team that made a run to the state championship in 2014. Another offseason of instruction, weight lifting, conditioning, and a full season of working on his game against the toughest competition in the state of Arkansas should help pull out all the potential in the world that Johnson has this early in his football career.
Showing Johnson's versatility as a lineman, Bulldogs head coach Daryl Patton is putting his senior anchor on the line at center in 2015.
In a Recruiting News Guru one-on-one interview, we caught up with Noah in between an unofficial visit to Vanderbilt and Mississippi State to catch up on recruiting, college camps, and offseason workouts.
Noah, to quickly catch our readers up tell us about how the 2014 season went for Fayetteville High School. How did the season start off and what helped the Bulldogs to the state championship game?
"We started out with three returning starters along the offensive line. I started the last game of my sophomore year and my entire junior season. We had a sophomore QB (Taylor Powell) and senior tight end CJ O'Grady (Arkansas Razorbacks) that helped out the offense. The offense was young, but pretty good. Our defense was mainly seniors but they were really good. The defense helped us out a lot last year.
"We had a great run during the season but lost to Bentonville (45-2, Nov. 7) towards the end of the season, that hurt. We had already made the playoffs though. When we met them in the finals they scored in the last seconds to win (24-21). Bentonville had a really good run game. We couldn't just load the box because they were well balanced on offense."
How did the season go for you?
"My foot speed was a little slow but I got better throughout the year."
Will you stay at guard or move to another position next season?
"I took all of my snaps at guard last year but the coaches are moving me to center this year."
How do you feel about the position change?
"I don't really care either way. Playing center will show my talents to play multiple positions to college coaches."
How is the snapping coming along?
"I snap everyday. It is becoming easier for me."
Are you a righty or a lefty?
"I snap with my right."
How are you coming out of your stance after the snap?
"At first it was tough but I'm getting better with my explosiveness."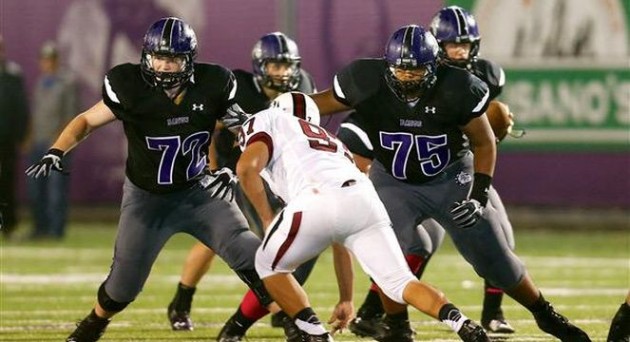 How does Fayetteville look going into next season?
"I think we'll be pretty good. Losing CJ hurts but we are moving a couple of guys around to put in different positions. We have both of our corners coming back and a strong group on defense, we'll be okay on defense again. I think we'll have a pretty good year again."
What are your strengths on the field as a blocker?
"I like to pull, but my run blocking is my strength. Pass blocking – I'm not as strong. My punch is strong and I can drive my feet when I lock onto a defender."
How many pancake blocks did you get last year?
"The coaches never really told us. I don't know. I'm guessing probably 20 or more."
Did you earn any individual honors last year?
"I was All-State. I'm going to banquette for Arkansas athletes coming up. I won the outstanding offensive lineman award for Fayetteville. I was on a couple of other All-Media Award teams and a couple of other all-state lists."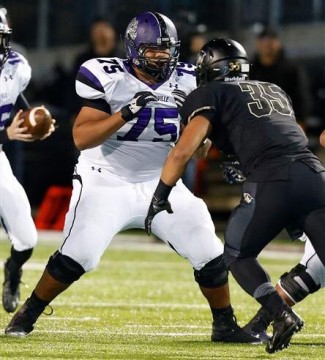 Which schools are showing interest in you right now?
"I'm getting interest from Arkansas, Vanderbilt, Mississippi State, UCLA, Princeton, Cornell, Northwest Missouri State, Appalachian State, Southwest Missouri State, Arkansas Tech, and Central Arkansas."
Are you going to any college camps this summer?
"I'm going to as many camps as I can."
Any scheduled yet?
"None scheduled yet. I'm going to Junior Day at Mississippi State next week."
Are you going to any other Junior Days?
"I just finished attending Vanderbilt's and I'll go to Arkansas' Spring Game."
How was your visit to the Vanderbilt campus?
"It was good. I really liked the campus and their school. We took a tour of the school, the campus, and the classrooms. Then we ate and then took a tour of the facilities, the locker room, the weight room, and then went to their spring game."
What are your thoughts on Vanderbilt?
"It would be a really hard school to get into. It's a SEC school and a high ranking academic school. It would be a great school to attend. Football is not forever, school and work is."
When talking to the different coaches what are they telling you they like about your abilities?
"They say they like my highlight tape and they'd like to have me come down for a one-day camp."
What are you doing in the offseason to prepare for your senior season and the college one-day camp circuit?
"I do offseason workouts with my team and then I work out with Jermaine Petty. He used to play at Arkansas (linebacker). With Petty he is working on my foot speed and my endurance, core, things to help me be faster, and help me on my hips to help me stay lower."
What type of workouts are you doing with the team?
"With the team we do mostly weight lifting with some speed workouts."
Do you have any goals you are trying to reach with your workouts in the offseason?
"I'm trying to lose weight and get down around 310 before the season starts. I'm at 320 now. I want to keep gaining on my bench; I've already gained 20 pounds on that. I've jumped my squat max up 30 pounds too.
When choosing a college to attend what will influence your final decision?
"The school's proximity to home, their academic program, and if I like their head coach and my position coach. That would be the main factors."
Which NFL players do you like watch play the game?
I like to watch Travis Fredrick, he's the center for the Dallas Cowboys. I play with him on Madden. He's a big mauler. I liked watching Travis Swanson (Detroit Lions) when he was at Arkansas. He could snap and pull, and he was a great blocker. I try to play like him. Denver Kirkland (Arkansas Razorbacks) is one of my favorite players to watch."
Who has made the biggest impact on your football career?
"My family has made the biggest impact on my career, without them I would not be able to go to any camps or get the knee braces I needed my sophomore year. Without them I would not be near the player I am today."
What is your favorite part of playing football?
"My favorite part is when I'm run blocking and getting a pancake. I like standing over the guy when he's on the ground. I like blocking and seeing one of our running backs run for a touchdown or seeing our quarterback getting a lot of time in the pocket for a big gain or a touchdown."
When talking to Noah one gets a quick understanding of what a good young man he is. When hearing him talk about standing over guys after a pancake block, in football terms, you want a player with that competitive-mean streak grinding it out in the trenches.
Johnson already has accolades appearing on several all-state teams, next up is the deserved recognition from college coaches in the form of scholarship offers. Yet there is still work for him to accomplish.
The soon to-be Fayetteville senior is putting in the time and effort off the field to become a better player on the field. One can only imagine how far along he will be after his senior year and perhaps a redshirt freshman season. In three years the culmination of his already college sized body mixed with weight lifting, conditioning, and experience should make him a key player for any Division-I football program.
Written by Ryan Wright
Photo credit: Johnson family; No. 75 Noah Johnson in action.