Interview: Division II Schools Taking Closer Look at 2018 California OL Avante Robbs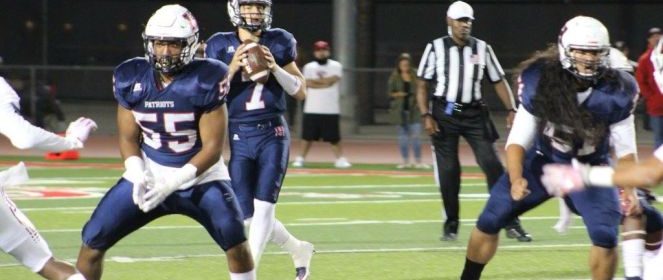 Written by Ryan Wright
Twitter: @RyanWrightRNG
Most college and high school football seasons have come to an end across the country putting an emphasis at both levels on the recruiting trail. With the NCAA's contact period open, college programs are hitting the pavement across the country seeking the players to fill their recruiting class that will help post wins for years to come. One California senior lineman getting extra looks by Division II programs is Avante Robbs.
Robbs cracked Heritage High School's varsity roster as a sophomore becoming at first a key contributor in the trenches to a 13-1 season in 2015 but has gone on to help the Patriots post a 22-3 record as a starter including an 11-2 finish against California Division II talent this year. The Patriots took on tough teams in 2017 squaring off in the regular season against Orange Lutheran and Paloma Valley and in their three-game playoff run lined up against La Mirada, Calabasas, and Valencia. The 6-2, 265 pound, guard/tackle combo helped pave the way for an offense that averaged 45 points a game with 3,799 yards and 48 scores on the ground and 1,1812 with 25 more touchdowns in the aerial attack.
College coaches may be hesitant on Robbs because of his size, but his reel shows a grinder in the trenches that can pull and trap and get to the second level to take on linebackers helping spring running backs like Sherod White free. On passing downs, Robbs does a good job of setting up his pass protection with quick feet helping keep senior quarterback Devan Freedland's jersey clean. The big man reports weight room maxes of 515 on squat and 275 on power clean. Two offers have been extended to Robbs thus far, from Dixie State and Howard.
In a Recruiting News Guru exclusive interview, I sat down with Robbs covering his senior season and recruiting process.
Interview
Avante, when did you crack the varsity level?
"My sophomore year. I played JV and varsity my sophomore year and then started my junior year."
Where all have you played along the offensive line during your high school career?
"During my sophomore year, I played tackle. Then the coaches told me I was too short to play tackle so I went to guard during junior year. Then the offense was switched – we ran an off-balanced offense, so during my senior year I was playing outside tackle."
What were areas of your game you worked on before the 2017 season started?
"I worked on my pass sets, I worked on physicality, speed, technique, and footwork. I worked on everything and put together."
How did those areas improve over the course of your senior year?
"I was able to get off the ball faster, get under guys, and get pancake blocks. In the passing game, I think I only gave up one sack all year. In the passing game, I was really good. I think I dominated well on run and pass blocking."
What other areas improved this season?
"I pulled a lot on our power plays. My kicks and punches came together. My knowledge for the game, knowing who to block and how to pick apart defensive linemen and linebackers, it all got better as the season went along."
Which game was your best in 2017?
"I'd say the Great Oak game (won 42-0). That was the first game of the season. Then you are ready to go out and play. You are fired up and tired of hitting your own teammates. The Week 4 game against Redlands East Valley (won 50-29), that was a good game also."
Is there a defensive lineman that challenged you this year making you better in the process?
"I went against a lot of good guys. The Orange Lutheran guys were strong. They caused some problems for us. I faced a lot of guys that made me better and saw a lot of different moves and schemes. I'd say all the teams had someone that was fun to go up against, but I was able to overcome the challenges to get the win. "
Have you earned any post-season honors?
"I was named first team All-League for the second time this year."
Are you planning on playing any spring or winter sports?
"Yes, track and field. I'm going to throw the shot and discus. This year will be my second year on varsity track."
Which is your best event and what is your best toss?
"In the beginning, it was discus and my best was 125-feet. Towards end of last season I got better at shot. My best was 45-feet. This season I'm ready to get into the 50 range on shot and 140 on discus."
You have two offers on the table from Dixie State and Howard, have you taken any visits yet?
"I took an unofficial to Dixie State (St. George, Utah) at the end of Oct."
Do you have any upcoming visits planned?
"I'm trying to plan an official to Dixie State sometime in December."
What offseason goals have you set for yourself?
"I'm working on getting heavier with muscle and working on getting stronger. I'll go into a different type of offense at the next level. I want to learn the plays get my IQ up for camp. I also want to get more agile for 2018 season."
Looking back on the 2017 season, what are you most proud of as a personal or team accomplishment?
"Personally, taking on that position change. I was looking at playing guard again, but the coaches asked me to play tackle. I think that was a big accomplishment for me to play tackle and do as well as I did. As a team, making it as far as we did. We had a lot of people doubting us after all the guys we lost from last season. I'm glad we came together to do what we did. We went undefeated in league."
Avante, thanks for your time today and good luck on the recruiting trail.
"Thank you."
*Click link to see Avante Robb's Hudl highlight reel
Please help keep RecruitingNewsGuru.com a national site aiding in bringing exposure to amazing student-athletes!
If RNG has helped you, a friend, or a family member through an article, video, or stylized interview with our countless hours of free promotion for high school, junior college, and college athletes – please donate. Any amount is appreciated!
Photo credit: Amber Garcia; No. 55 Avante Robbs in action