Greenwood Captures Arkansas 6A Championship over Pine Bluff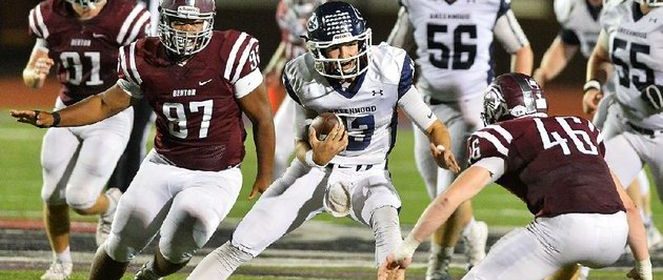 Written by Ryan Wright
Twitter: @RyanWrightRNG
The Greenwood Bulldogs (13-0) closed the 2017 season with a dominating 52-14 victory topping the Pine Bluff Zebras (11-2) for an Arkansas 6A championship on Friday night in Little Rock.
From the opening snap, the game had the appearance of a potential shootout. Pine Bluff scored first on a 43-yard pass play from Tyler Foots to Jyrimee Thompson with the Bulldogs responding quickly on a 75-yard Kenny Wood run. The separation on the scoreboard did not take long, Greenwood held the Zebras on their next possession then drove down into the red zone settling for a 30-yard Grant Ennis field goal adding momentum to their championship drive.
Another three-and-out by Pine Bluff in the first quarter gave the ball back to Greenwood setting up another Wood touchdown run, this one from five-yards out going up 17-7. On the following possessions, Pine Bluff and Greenwood traded interception passes just before the end of the first quarter.
The second quarter belong to Greenwood's defense setting up the offense with great field position. Early in the second quarter senior quarterback Connor Noland hit Peyton Holt on a 49-yard strike pushing the score to 24-7. Another Greenwood pick, this one from Nick Vota, gave the Bulldogs the ball on the 39-yard line. Three plays later, Noland hit Josh Barlow on a 22-yard touchdown pass for a 31-7 margin.
Pine Bluff mounted a drive in the closing minutes of the second quarter working down to the Bulldogs' 15-yard line, but two sacks and another interception stopped the Zebras scoring effort. As the ball bounces, Zebras defender Dyllan Ashley picked off a Greenwood pass taking the ball down to the Bulldogs' 25-yard line. A Tyler Foots 1-yard touchdown run closed the gap before halftime to 31-14.
The Bulldogs came out of the locker room at halftime fired up scoring 21 points in the third before calling off the attack. Jackson Webb ripped off a 57-yard touchdown run, Noland completed a 45-yard touchdown pass to Kenny Wood, and Noland hit Holt again on a touchdown score, this time from the 10-yard line, as part of the onslaught.
Greenwood quarterback Connor Noland, an Arkansas Razorback commit, is credited with completing 20-of-27 for 304 yards with four touchdowns leaving the game early in the runaway win. Kenny Wood carried the ball 11 times for 103 yards with two scores and pulled in two passes for 50 yards with another trip to the end zone. Peyton Holt led all receivers with 14 receptions for 197 yards with two touchdowns.
Pine Bluff quarterback Tyler Foots is credited with 23 carries for 81 yards and a score while completing four passes for 80 yards and another touchdown.
Greenwood captured the 6A title with a playoff run that included wins over Arkansas (38-10) and West Memphis (45-14). Pine Bluff earned the championship berth with wins over Russellville (40-21) and Searcy (34-14); both teams secured first round playoff byes.
*Click link for 6A championship game preview
Please help keep RecruitingNewsGuru.com a national site aiding in bringing exposure to amazing student-athletes!
If RNG has helped you, a friend, or a family member through an article, video, or stylized interview with our countless hours of free promotion for high school, junior college, and college athletes – please donate. Any amount is appreciated!
Photo credit: Arkansas Democrat-Gazette; No. 13 Connor Noland rushes against Benton