Interview: 2019 California QB Scott Harris Talks Western League Offensive MVP Season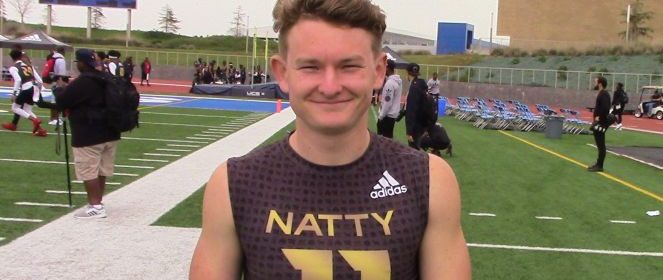 Written by Ryan Wright
Twitter: @RyanWrightRNG
Any athlete at any level who has put in the time and effort to improve their game just wants a shot when the lights turn on to show what they've got. A change in schools from Notre Dame High School to Fairfax in 2017 gave Class of 2019 quarterback Scott Harris his shot to display his abilities from the pocket. The results were impressive seeing the Lions go 9-3 winning the Western League with their 6-0, 185-pound, rising talent hitting 138 of 266 pass attempts for 2,000 yards with 18 touchdowns. Showing his dual-threat abilities on the way to Western League Offensive MVP honors, Harris added 253 yards on the ground with seven trips into the end zone.
In a Recruiting News Guru exclusive interview, I sat down with Fairfax's overlooked quarterback to learn more about his game, MVP season, and recruiting process thus far finding another high-achieving athlete in the classroom along the way.
Interview
Scott, how did the 2017 season with Fairfax play out on the field?
"After transferring to Fairfax, we expected to win the Western League, and we did for the first time in 15 years. We had a great season."
How did your season go personally?
"It went really-well. I planned on being a top quarterback in our league. I won offensive MVP, was named All-League, and was first team LA City Section. I had the most passing yards in our league and we went 5-0 in league. We were successful and it all went the right way. I am happy about that."
What type of offense do the Lions execute?
"We run a spread offense. We pass a lot. Our coaches trust us on the field. We were effective in the run game with a senior running back, he was very good for us last year."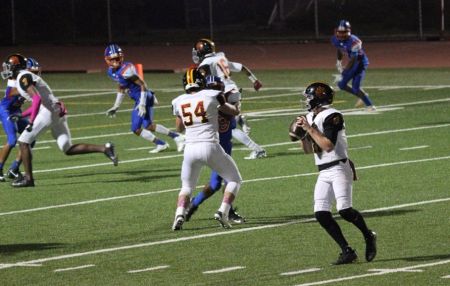 How did your game grow as a passing quarterback last season?
"It grew off my training. Before the season begins, I am already ready to go. My passing and my running improved from the years before. Our first game was my first snap with the team in live action, it was new for me with the receivers. As the year went on I knew which guys were able to do what. I became more and more comfortable with each receiver on each play. I became more comfortable with the speed of varsity defenses. In our first game, we played Loyola, the were a quick defensive team. I trusted my ability all season long. I knew I was prepared. Loyola may have been the toughest competition we played last season. That helped me for the whole year."
What do you feel are the overall strengths of your game?
"I'm a good leader. When there is an opportunity for me to score in a tight game or when I am under pressure I feel my game is better. I am ready to go even if things are not going well. My arm strength is an asset. I trust my ability to throw to any route from underneath routes to 60 yards down field. I can make those throws downfield with accuracy. Another big thing is my ability to run and make plays if a play is broken down. My allusiveness is a strength."
Is there an area of your game you feel gets overlooked?
"My height. I think people look at that as a disadvantage. I think that works to my advantage. The other teams take me for granted."
What are you working on this offseason?
"I am working on getting faster, stronger, and bigger. I am getting ready for the 2018 season."
Will the Lions offense change at all in 2018?
"We will have the same passing and run schemes, but I might run more this year. I showed my speed some last year, but I did not have as many yards as I think I could have had. I think I will surprise some people this year."
Are you working with a quarterback coach this offseason, if so, what are you guys working on specifically?
"With my quarterback coach Steve Clarkson, a lot of it is doing 7v7 playing against defenses. Playing in 7v7 tournaments, I am seeing top athletes, like in the Adidas tournament. I am seeing a different speed and playing against different top talent. I am taking that on and performing well against them."
Have you competed at any camps this spring?
"I performed at a 7v7 camp with Cathedral's team. We competed against a lot of top teams in the area and national teams. We are competing in USC's 7v7 Tournament coming up. With camps – I went to Rivals camp in LA and in San Francisco, I made it to the Sunday camps for both. I was invited to the Nike Opening, but I could not make it."
Do you plan to compete at any college camps this summer?
"I plan on competing at camps with UCLA, USC – I've been to that camp over the past three years, I was invited to Penn and Princeton's camps. I plan to add more. We'll see."
Which schools are showing recruiting interest in you?
"Princeton, Penn, Northern Arizona, USC, and UCLA."
Do you have any planned visits set?
"I have a planned visit with USC in June."
What is your cumulative GPA?
"My cumulative GPA is a 3.45; last semester I got a 4.1."
Have you taken the ACT and/or the SAT yet?
"Yes. I scored a 33 on the ACT."
What type of leader are you on the field for the Lions?
"I'm a leader who leads by example. Whenever anyone is down, if my teammates have their head down, I'm there to pick them up. I am ready to flip the game around and lead us to a win. I have a burning desire to win. I hate losing. I am a big competitor."
If a college coach reads this interview and wants to start recruiting you, what type of student-athlete are they investing time in to potentially bring into their program?
"They are recruiting a hard-working, dedicated player, who has always been overlooked. If they give me that opportunity, they are getting someone who will compete to be the starting quarterback job. I will compete against any QB on the roster. I don't give up. I keep going."
Scott, thanks for your time today and good luck with the upcoming college camps.
"Thank you."
Please help keep RecruitingNewsGuru.com a national site aiding in bringing exposure to amazing student-athletes!
If RNG has helped you, a friend, or a family member through an article, video, or stylized interview with our countless hours of free promotion for high school, junior college, and college athletes – please donate. Any amount is appreciated!
Photo credit: recruitingnewsguru.com; Scott Harris
Photo credit: Harris family; Scott Harris in the pocket for Fairfax