Interview: 2021 QB Brayden Zermeno Groomed to be Next in Line at Orange Lutheran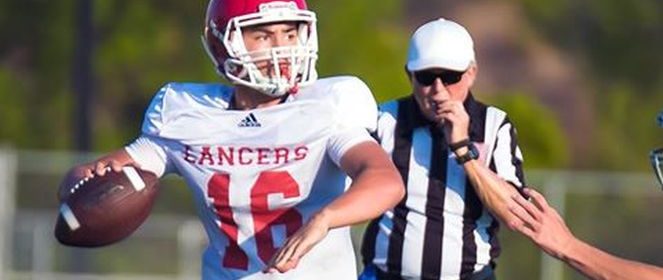 Written by Ryan Wright
Twitter: @RyanWrightRNG
For those of you outside of southern California, remember, you heard it here first, that is the name Brayden Zermeno. The Class of 2021 quarterback is in a fantastic position to learn behind one of the nation's top signal callers in four-star 2019 talent Ryan Hilinski during the upcoming season allowing a natural on the field progression before being thrown to the wolves in the highly competitive Trinity League the following year. As his progression on the field continues to improve, we can expect great things from Zermeno when his number is called for the Lancers.
Zermeno already has the look of a seasoned varsity quarterback standing in the pocket at 6-3, 208 pounds. His skillset and mechanics in the pocket are ahead of the curve contributing to a 1,200-plus yard passing season with 23 scores tossed against his freshman peer group for the Lancers in just eight games. Zermeno received some additional in-season tests during the 2017 season lining up against the starting varsity squad in practice taking scout team reps from time to time.
Playing in the Trinity League, with great size, good mechanics, and a strong arm, helps draw a crowd. Early recruiting interest is already coming in for Zermeno. To learn more about his budding talents on the field and his growing recruiting interests, I sat down for a one-on-one interview with the Lancers seemingly heir apparent replacement for Mr. Hilinski in the coming years.
Interview
Brayden, if you will walk me through your freshman season?
"We kind of did the same as our varsity squad last season. We started out strong going 4-1. We won our first game 63-7 over La Mirada – I think I had five touchdowns and 300 yards passing in that game. We played well until the St. John Bosco game. We matched up well with them but we lost. We lost to JSerra and Servite and then lost to Mater Dei and Santa Margarita by a touchdown. We had a good season, just lost some tough games."
What type of offense did you guys execute?
"We ran more of a spread offense. We did not do a lot under center. We were mostly in the shotgun spreading the ball around with a lot of downfield routes. We ran some outside zone and read option as well."
How do your skills in the pocket work well within the offense?
"I think they work well because I am a dual-threat quarterback, and I can throw it downfield. With the read-option, I can do well with my speed and arm."
How did you improve your game last season?
"My mechanics improved a lot from my eighth-grade year. My eighth-grade year, I did not know a lot about mechanics. Over the offseason and throughout the year, I went to a quarterback coach to tightened up my throw. My quarterback IQ has improved a lot. I am learning the correct reads, learning how to read defenses, and breakdown plays better."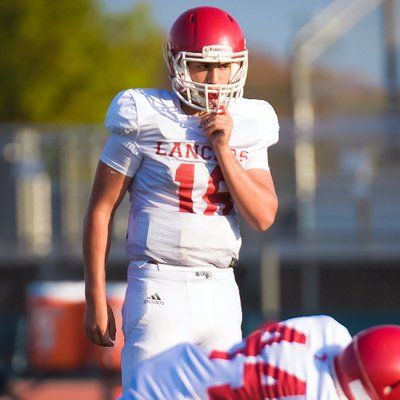 Did you get any time in with the varsity last season in practice?
"Yes, sir. From the first game I was with varsity. In practice, I would go from the freshmen team to varsity. I got some scout reps and 7v7 reps against the varsity. I got to meet all the guys and started to build that bond."
Are you working with a private quarterback coach, if so, is there anything specific with your mechanics or game that is the focus of your work?
"This offseason I am working with Danny Hernandez (quarterback coach) a lot. We are working on off-platform throws – that will be helpful if I get varsity reps next season. We are working on throwing on the run and we are always working on my mechanics. I feel like I have gotten tight with my throws over the last year. I feel confident with my consistency. I do drop the ball some and make a J-motion. When I do that, there is more room for error instead of going straight back and up with the ball.
"Adam Dedeaux, at 3-DQB, he works with pros like Tom Brady and Drew Brees, is working with me on my foot placement to my target. I am fixing that. I am also working with Taylor Kelly as well as John Beck with Adam Dedeaux."
Do you have an offseason goal you want to accomplish?
"My goal for the offseason is to increase my speed. No one expects it from me, but I've always been one of the fastest guys on the team."
Are you playing 7v7 ball this spring?
"Yes. I am playing with OLU (Orange Lutheran). We just competed at a Passing Downs tournament a couple of weeks ago and did well."
How is that helping improve your game?
"It really helps building the bond with the guys and getting the timing down with receivers like Logan Loya and Kyle Ford. I didn't get a lot of reps with them last season. Playing 7v7 is helping me mesh with them and building the bond."
Are you receiving any recruiting interest?
"Yes, sir. Last month Iowa State's quarterback's coach, Coach (Jim) Hofher, came to talk with me. They want me to come to one of their camps this summer. I have also talked to two coaches from Georgia."
Do you have any unofficial visits planned for this spring or summer?
"I am going to the Adidas Three-Stripe Camp in San Francisco this weekend. When I am up there, I plan on visiting Cal and possibly San Jose State. I am competing in the Polynesian Bowl Combine on April 9. When I am in Las Vegas for that combine, I plan on visiting UNLV."
Last couple of questions, but back on the field stuff. The Lancers have a terrific quarterback on the roster in Ryan Hilinski, you mentioned a little about this earlier, but have you had a chance to work with him or learn from him yet?
"I have. He is an amazing QB to learn from. A couple of times a week we will throw with the guys, I have learned a lot from him."
What has he taught you about the game and/or the Lancers' offense?
"He has taught me a lot, as well as Coach Crawford, our offensive coordinator. He is helping me read defenses and giving me pointers on the offense."
What is the plan for you during the 2018 season? Are you planning on backing up Hilinski and starting for the JV team?
"My goals for the season are to backup Ryan and be in a competition with Jack Fierro for second-string. Jack, he's a good quarterback. It will be a tough competition. He'll be a senior this year. My plan is to learn from Ryan and hopefully fill his shoes next year."
Brayden, thanks for your time today and good luck with the upcoming camps and visits.
"Thank you."
Please help keep RecruitingNewsGuru.com a national site aiding in bringing exposure to amazing student-athletes!
If RNG has helped you, a friend, or a family member through an article, video, or stylized interview with our countless hours of free promotion for high school, junior college, and college athletes – please donate. Any amount is appreciated!
Photo credit: socimage.com; No. 16 Brayden Zermeno in the pocket (2017)
Photo credit: Twitter.com; No. 16 Brayden Zermeno pre-snap (2017)