Interview: 4-Star 2019 WR Tarik Luckett Updates Recruiting and Camps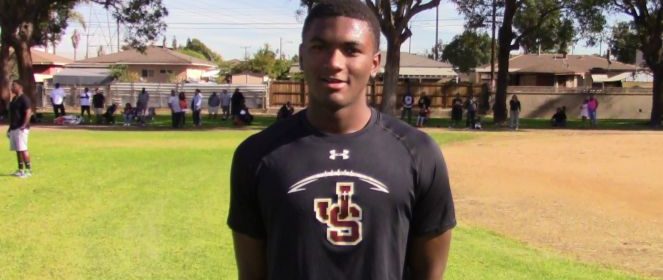 Written by Ryan Wright
Twitter: @RyanWrightRNG
Now that the 2018 recruiting class is signed, all the focus on the recruiting trail shifts dramatically to the seniors to-be – the 2019 class. One four-star who is worthy of his status but is still under recruited is Tarik Luckett; pronounced Ta-reek for all college coaches and recruiting fans out there. With offers already on the table from San Jose State and Colorado State, expect Luckett's name to be mentioned repeatedly over the spring and summer months coupled with the words scholarship offer.
Luckett transformed his God given abilities on the gridiron in 2017 into a beast. The 6-3, 187 pound, target was near unstoppable for JSerra (Gardena, CA) pulling in 54 passes for 922 yards with eight scores. The writing was on the wall for his breakout season after a sophomore year with 26 secured receptions for 391 yards with three scores.
As interest builds with teams like Utah, Washington, Michigan State, Colorado, Washington State, and Arizona State for Luckett, I sat down with the prolific athlete for a quick one-on-one interview covering his workouts and recruiting prospects.
Interview
Tarik, how are your offseason workouts going so far?
"They are going well. I am training every day I can possibly train to work on everything I can so I can perform even better during the season."
What are you working on specifically?
"I am working on getting faster and being more aggressive with my releases. I'm working on all the little things that can help my overall game. I want to tweak things to make my game even better."
How is 7v7 ball with Premium going for you?
"Our team – it will be real fun playing with these guys. It has been great so far. I can't wait to see what we can do this year."
How is playing with Premium pushing your talents on the field?
"They are always pushing me, and always on me to get better. They never let me slack off. They want me to get better. They have a great staff and an all-around great program to help me get better."
Have you set any camps or combine events yet?
"I will be at the Nike Opening Regional (LA) and at the Under Armour Camp (LA). I've been invited to the Adidas camp as well."
How is everything going on the recruiting trail?
"I got an offer on Tuesday from Colorado State. Arizona State is showing a lot of interest right now."
How did CSU offer you?
"My quarterback went on a visit up there. They asked him who is No. 4 on his highlight reel. They ended up contacting me and extended an offer. That was pretty cool."
Have you taken any unofficial visits this year yet?
"I've been to Utah and Washington."
Do you have any upcoming visits planned?
"I will be going to Arizona State's Junior Day on the 24th."
What has you excited about visiting the Sun Devils?
"That is another great opportunity to meet with a top program. They have a great campus and a great coaching staff. It will be a great opportunity for me to go and meet everyone and see their facilities. It is a blessing to see ASU."
Have you set any college camps yet?
"No, but I will be soon. I plan on attending a lot this year."
As National Signing Day played out, what were some of the things you watched or took note of throughout the day?
"Seeing where all my old friends signed. I also looked at different schools to see if I were to get an offer from them how I would fit in so I could weigh my options."
Do recruiting rankings me anything to you when you look over a signed class?
"It is all about your talent. I am blessed to be a 4-star, but I know I can do more to develop my game. There might be others out there that are not rated a four-star but they might be as good as you. You have to put the stars aside to get better and help your team win."
Well said. Tarik, thanks for your time today and good luck with all the upcoming camps.
"Thank you."
Please help keep RecruitingNewsGuru.com a national site aiding in bringing exposure to amazing student-athletes!
If RNG has helped you, a friend, or a family member through an article, video, or stylized interview with our countless hours of free promotion for high school, junior college, and college athletes – please donate. Any amount is appreciated!
Photo credit: recruitingnewsguru.com; Tarik Luckett at a Premium 7v7 workout