Interview: Big Opportunities Ahead for 2019 Scat-Back Stanley Dixon and his 4.47 Speed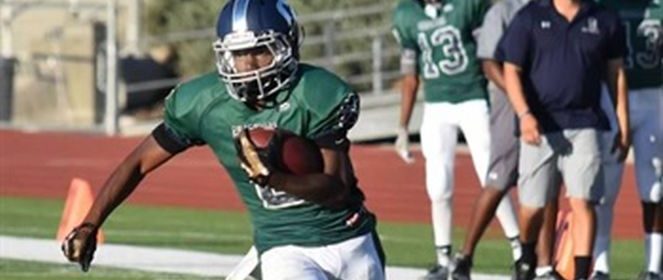 Written by Ryan Wright
Twitter: @RyanWrightRNG
On the football field, speed kills and Stanley Dixon is killing it. The 5-9, 160-pound, scat-back and slot receiver took advantage of limited touches with Chaparral High School during his junior season producing 239 receiving yards off 19 passes pulled in with one score and rushed for 78 yards with two more entrances into the end zone. Another area where his 4.47 speed was put to great use was on kick returns. Dixon reeled off 219 special team yards off six returns taking one back 94-yards for a score.
In a Recruiting News Guru quick offseason interview, I caught up with Dixon covering his growing skillset and offseason plans.
Interview
Stanley, watching you play, I automatically think field vision and speed. What else am I missing that you do well as a playmaker on the field?
"I think I read the field well. My route running is getting crisper and my hands are getting better."
I mentioned speed. You have that breakaway gear. What is the fastest 40-yard time you've posted?
"A 4.47."
Where did you run that?
"I did that at school."
Do you also run track?
"No."
I beat the track coach has talked to you a time or two.
(Laughs) "Yeah."
Back to football. What was the biggest difference in your game between your sophomore and junior season?
"Being up on the varsity is one thing, but grew more as a player and physically. I was mainly playing JV my sophomore year. I feel like my speed was better during my junior year, I was able to breakaway.  I feel immune to contact on the field because of my speed."
Where all might we see you line up during your senior year?
"I will mostly be at slot and some at running back, but I will also do kick returns and maybe punt returns."
What are you working on this offseason to help push your game forward?
"I am working on getting my hands better. I want to catch more in-game passes. I struggled some with that last year. I want to gain some speed this offseason too."
Are any colleges showing recruiting interest in you?
"Pennsylvania is showing interest."
Have you visited any schools yet?
"I took one to APU (Azusa Pacific) three weeks ago."
How did that go?
"It was a good visit."
Have you made plans for any college camps this summer?
"I plan on going to some of the Redlands (satellite) camps and one to APU."
Last question. What do you love about football?
"I like how you have to work hard to be successful. I like the bond you have with your teammates, the brotherhood. The game teaches you how to be a man and teaches you discipline."
Stanley, thanks for your time today and good luck with the rest of your offseason workouts.
"Thank you."
Please help keep RecruitingNewsGuru.com a national site aiding in bringing exposure to amazing student-athletes!
If RNG has helped you, a friend, or a family member through an article, video, or stylized interview with our countless hours of free promotion for high school, junior college, and college athletes – please donate. Any amount is appreciated!
Photo credit: hudl.com; Stanley Dixon in action