Interview: California OT David Ibarra Prepping for Big Senior Season
Written by Ryan Wright
Twitter: @RyanWrightRNG
One thing that can never be taught on the football field is size. Either you have it or you don't. But, having size alone does not necessarily give way to success especially in the trenches. Finding an offensive lineman with size and want-to is not always easy, but Oak Hills High School's lineman David Ibarra has it.
Ibarra and fellow Class of 2019 tackle Jason Rodriquez made terrific bookend anchors for the Bulldogs during the 2017 season. Taking turns road-grading and humiliating opposing Division III California defenders play after play and game after game was made into a competition. It was more common than not to see Ibarra using his 6-foot 5-inch, 310-pound, frame to knock defensive linemen and linebackers on their backside keeping his quarterback's jersey clean and opening gaping holes for his running backs.
The offseason is a time for growth and fine-tuning in any sport, and Ibarra is taking the spring and summer months to its fullest doubling down in the weight room and on the practice fields. The extra hard work will pay dividends when his senior season comes around and with planned summer camps hoping to draw the eye of college football recruiters.
In a Recruiting News Guru exclusive interview, I sat down with one of the Golden State's top under the radar 2019 offensive linemen covering his skillset on the field and his offseason workouts.
Interview
David, how did your junior season on the field go overall?
"I started off a little slow. Last year, I was getting used to our new coaches after they came in late spring. We started getting everything rolling by the fifth game of the season. Overall, it went really well."
How did your game develop playing right tackle last season?
"I started off with slow feet and my kick-steps were bad. As the season went on, I had a better connection with my coaches and I got better with kick-step and punch."
Was there a defensive lineman that challenged you on the field last year, if so, how did that challenge help make you better?
"Yeah, there was. One of Palmdale's defensive linemen. He was built like a receiver and was fast; he ran a 4.6. He kept making me work on my kick-step throughout the game. I kept working on it after the game because he showed me my kick-step was not as fast as it should be out there."
Which game was your best last year?
"The Serrano (Phelan) game was my best. I put every opponent on their butt at least five times in that game. That was my most physical game."
Did you track your pancake and/or knockdowns last year?
"Me and Jason Rodriquez (left tackle) had a competition for the most in each game. I had at least 15 in the Serrano game. We didn't track it last season, but it was a nice season with a lot of knockdowns and pancake blocks."
If you will breakdown the strengths of your game as a run blocker and with your pass-protection.
"On my run blocking, I get low and I like being physical. With my pass blocking, if I punch you, it will hurt you."
What are you working on this offseason with your game?
"Getting faster and my pulling."
Are you staying at right tackle for your senior year or will we see you at a different position?
"I'm staying at right tackle."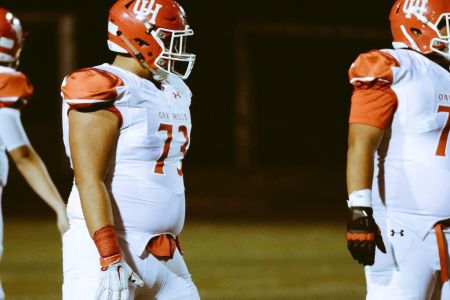 Have you maxed out in the weight room this spring?
"Yes. My last bench was 295 and my squat was 405."
Have you attend any camps or combines this spring?
"I have been going to the MITT (Men In The Trenches) workouts on Saturdays."
With recruiting, which schools are showing interest in you?
"Yale sends letters from their head coach, Cal has been messaging me, and Fresno State is showing some interest as well."
Do you have any planned visits coming up?
"I am wanting to visit UCLA."
Might you attend any camps this summer?
"Yes. The head coach at Fresno State, Coach (Jeff) Tedford), wants me to camp with them and there is a Super Lineman Camp I plan on attending.
Do you play any other sports for Oak Hill?
"Track and field."
Which events?
"I throw the shot and discus."
What do you do for fun off the field?
"I usually workout or go out with friends to a movie. Sometimes I play my Xbox for fun."
What do you love about the game of football?
"I love the physicality. I love being physical. I love the bond you make with your teammates, that is irreplaceable."
David, thanks for your time today and good luck with the rest of your offseason workouts.
"Thank you."
Please help keep RecruitingNewsGuru.com a national site aiding in bringing exposure to amazing student-athletes!
If RNG has helped you, a friend, or a family member through an article, video, or stylized interview with our countless hours of free promotion for high school, junior college, and college athletes – please donate. Any amount is appreciated!
Photo credits: Abi Ochoa; No. 73 David Ibarra in action