Interview: Italian Export Dario Gentiletti Lacing Them Up at Santa Monica College at Saftey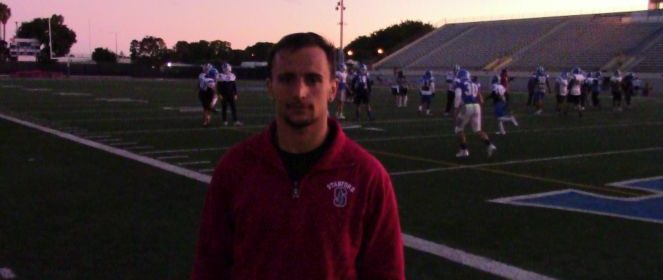 Written by Ryan Wright
Twitter: @RyanWrightRNG
Athletes catching a "football fever" is rapidly expanding beyond the U.S. The expansion of NFL games in other countries has helped introduce the sport we all love to others but the gateway game for most has been rugby. The similarities are there between the two sports prompting curiosity globally to make a move, and for some a very drastic move. For Dario Gentiletti, it was a big move from Italy to the U.S. forging a passion and desire all football players at every level can relate to, the drive to keep playing the game as long as possible.
Gentiletti got his first taste of American football in the spring of 2016 at Santa Monica College in California. The junior college ranks proved to be a great leaping off point allowing the 5-11, 185 pound, athlete to find his fit on the gridiron in a helmet and shoulder pads. First starting out at running back, a move was made before the start of the 2017 season to safety finding his niche.
The work in the weight room showed up on the field as Gentiletti progressed through the transition of a novice with heart and determination to a junior college football player. With a bench press max of 275, squat of 405, and deadlift at 405, Gentiletti showcased his 4.6 time in the 40-yard dash coming up with 13 tackles, a pass breakup, a forced fumble, and a fumble recovery in stats posted through six games. The stats may not overwhelm, but put into perspective, not bad for a freshman much less a freshman playing organized football for the first time in his life.
Although a freshman on the field, Gentiletti is a graduated sophomore in the classroom thus having to move on from the JUCO ranks to a four-year program. In a Recruiting News Guru exclusive interview, I sat down with the California JUCO player from Napoli, Italy, to get his perspective on playing football in the states with an update on his recruiting process.
Interview
Dario, where did you grow up?
"I grow up in Napoli, Italy, for most of my life. After high school I moved first to London, then to Thailand, and now I'm in the U.S.A."
Where did you graduate from high school, or the equivalent in your country?
"I graduated from Liceo Classico G. Garibaldi High School in Napoli, Italy, on June 2014."
How did you begin a love for American football?
"While in Italy, I played rugby since I was in middle school. I was part of one of the best teams in the state, Partenope Rugby, and I was a leader in all the stats for my position. However, during a final game of a tournament, I broke my clavicle and I couldn't play for six months. In this time, I started researching about American Football and my passion started to build up.
"When I moved to the U.S.A., I had the fire and the passion to become the best as I was on my rugby team. I started to study at Santa Monica College and decided to give football a try. I emailed the football coach to ask if I could tryout. He liked me and convinced me that I had to play football. After that, it simply became everything that I wanted to and I fight for in life."
How long have you been in the U.S.?
"I arrived in the U.S in June of 2015, so it has been now slightly more than two years."
Which schools have you attended in the U.S.?
"Only Santa Monica College."
When did you start playing football in America?
"I started playing football in America during my first spring semester in Santa Monica College, spring 2016."
How did you end up at Santa Monica JUCO?
"When I first moved in the U.S., I wanted to get a bachelor's degree in Business Administration, and the best program that fit my personality and qualities was Haas School of Business. I found out that Santa Monica JUCO has the best transfer rate for that, so I decided to apply there in order to succeed and be accepted in the Haas program. However, after I started football, my life and my goals completely changed."
Which positions have you played on the gridiron?
"I started as a running back during my first spring training, because of my rugby background, but then the year after, when I decided to play for the team, I moved to defensive back where I have played cornerback, strong safety and free safety."
How has your game improved over the course of the 2017 season?
"During the 2017 season, my game has exponentially improved like never before. Coach Ledwith, head coach of Santa Monica College, believed in my potential and really helped me to grow in all the aspects of the game. I set myself to be completely coachable and ready to listen to every single little suggestion or detail. As a defensive back, my biggest improvement this season was the maintaining of the cushion, the study of the offensive concepts, and the quarterback's read progressions."
Which areas of your game will you continue to work on in the offseason?
"My 2018 offseason will be mainly focused on two aspects: weightlifting and 40-dash training. I'm starting a nutrition and six-day training program where I will be focused on reducing my body fat and developing core strength in order to improve drastically my speed overall."
What is your school status or classification, are you a freshman or sophomore?
"Academically, this is my third year at SMC. I have already completed all my general education and major required classes, and also got an Associate Degree. However, this has been my first official year playing football, so athletically I'm still considered a freshman."
Are you receiving any four-year school interest?
"Yes, I received some interests by multiple schools in this first two weeks, but I'm still grinding and waiting in order to find the best fit for my goals."
Have you taken any unofficial or official visits yet?
"I did some unofficial visits, mainly focused in the SoCal and NorCal universities, but I'm looking forward to visit other states."
What would be your ideal fit in both school and football program?
"What is really an ideal fit for me is a school that has a high ranked business/entrepreneurship program and a football team where the coaches, especially the DB coach, are really committed to be the best. But what is most important, they have the mindset and the attitude to grow and develop a player, to make them become the best athlete they could ever be."
Dario, thanks for your time today and good luck on the recruiting trail.
"Thank you."
*Click link to see Dario Gentiletti's Hudl reel
Please help keep RecruitingNewsGuru.com a national site aiding in bringing exposure to amazing student-athletes!
If RNG has helped you, a friend, or a family member through an article, video, or stylized interview with our countless hours of free promotion for high school, junior college, and college athletes – please donate. Any amount is appreciated!
Photo credit: recruitingnewsguru.com; Dario Gentiletti at SMC