Louisiana: Interview with Loyola College Prep Class of 2019 Quarterback Jacob Allen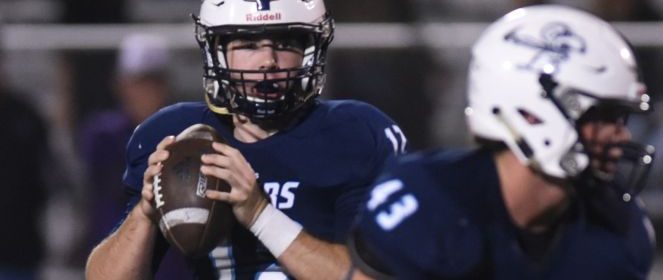 Written by Charlie Beuttel
Twitter: @charlie_cds3 
Loyola College Prep, located in Shreveport, won a second straight district title for first time since 1973-74. The district champion Flyers were led all season by dual-threat quarterback Jacob Allen who had a standout campaign by throwing for 1,152 yards, rushing for 531 yards and scoring 17 total touchdowns during the regular season. Unfortunately, Loyola's season came to an end in the first round of the playoffs in a heartbreaking loss to Teurlings Catholic.
The 5'9", 185 pound, playmaker used his unique ability to make huge plays all season long including throwing a walk-off touchdown pass on the road at North Webster to clinch the 3A-1 District title in the regular season finale. After the season, Allen won several individual honors including All-State honorable mention. Due to his play on the field, the Class of 2019 prospect is drawing interest from several schools in Arkansas and Louisiana.
Not only is this star quarterback a leader on the football field but also in the classroom where he has 3.3 GPA and plans on studying kinesiology in college.
In an exclusive Recruiting News Guru interview, I sat down with Jacob to discuss his career at Loyola College Prep and his recruiting process.
Interview
What were your thoughts on the 2017 season overall?
"Overall this year was a great year to push me harder and become a greater leader."
What were your thoughts on your individual performance in your junior season?
"I thought my performance was pretty good. I advanced a lot in different areas of my game, but I can always improve."
What was your most memorable moment during the season?
"My most memorable moment of my junior season was throwing a walk-off touchdown pass to John Williams to beat North Webster for the district championship."
Did you receive any individual honors?
"This season I received first team All-District, All-District Offensive MVP and Honorable Mention All-State."
Are you receiving any interest from colleges?
"I'm receiving a lot of college interest from smaller schools around the Louisiana and Arkansas area."
Do you have any college offers?
"No sir."
Have you been to any college camps?
"I have been to camps at Louisiana College, Arkansas-Monticello and Arkansas Tech."
Have you made any unofficial college visits?
"I have made a visit to Louisiana-Monroe."
What is your biggest strength on the football field?
"My biggest strength on the field is my aggressiveness on the field. I play with an anger and it pushes me even more on the field to run someone over, make a better throw and just dominate over the defense."
Who has had the biggest influence on your football career?
"My dad has been my biggest influence. He has been coaching me since I was little and has always helped me in my football career."
What is your current GPA?
"3.3."
What do you want to study in college?
"Kinesiology."
Do you have any hobbies outside of football?
"I like to workout and run."
Do you have a favorite Bible verse?
"My favorite verse is John 3:16."
Do you have any early goals for your senior season?
"My goals for my senior year are to go undefeated in the regular season and make a run for it in the playoffs."
Thank you for your time and good luck in your senior season next year.
"Thank you, sir."
Please help keep RecruitingNewsGuru.com a national site aiding in bringing exposure to amazing student-athletes!
If RNG has helped you, a friend, or a family member through an article, video, or stylized interview with our countless hours of free promotion for high school, junior college, and college athletes – please donate. Any amount is appreciated!
Photo credit: USA Today High School Sports; Loyola College Prep QB Jacob Allen
Photo credit: The Shreveport Times; Loyola College Prep QB Jacob Allen