Interview: Under the Radar 2019 Arkansas OL Jared Laughlin Updates Camp Circuit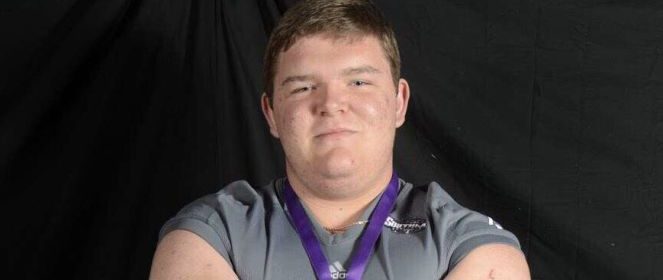 Written by Ryan Wright
Twitter: @RyanWrightRNG
The game of football encompasses so many things, but at the core size, speed, strength, technique, knowledge, and heart reign supreme. At the high school level, a player possessing the core elements will dominate the competition rising to the top. When watching Hamburg High School take the field, Jared Laughlin always stands out as a dominating offensive lineman showcasing the core elements.
Laughlin has been playing varsity level football for Hamburg since his ninth-grade year when he got the call up and snaps on the field during the Lions playoff run. Experience over the last three seasons has paid off for Laughlin becoming one of those nasty players in the trenches defenders hate but teammates love. At 6-5, 323 pounds, Laughlin is a one-man gang imposing his will against opposing Arkansas competition racking up knockdowns and pancake blocks along the way.
The high-level play has started to attract a crowd from next level scouts with schools like Arkansas, Iowa State, Louisiana Tech, Central Arkansas, and Louisiana-Lafayette, among others, taking a closer look. Another feather in Laughlin's cap with college coaches, he has already scored a 22 on the ACT.
In a Recruiting News Guru exclusive interview, I sat down with one of the Natural State's toughest Class of 2019 linemen to learn more about his game and recruiting process to date.
Interview
Jared, I mean this as a compliment, you are nasty in the trenches looking to finish off plays. Before the snap of the ball, what is your mentality on each play?
"That's a good one. I go through my check list of what to do before every play. The goal is to beat the guy in front of you, I will do it as fast and as hard as I possibly can."
For your grade classification and size, your pad level is good, is that something you work on constantly throughout the year?
"Definitely. My position coach works on that with me every day. We go through the chute working on getting and staying low. If you are not low with your pad level, a guy can beat you. That is a big part of our training."
What else do you work all the time to help improve your game?
"I am working on my pass pro, getting my foot in the ground so I can see what is coming. I am working on getting my speed up on pulling plays and pulling low to create more power. I am also working on my hand placement and flexibility. I am always working in the weight room so I can take my overall form convert that to power and the whole process into good looking plays."
What do you consider the strengths of your overall game?
"I'd say I am a very good run blocker. I get up and hit someone in the mouth. I am good at pulling with the weight I am carrying. With pass pro, I feel like I do well with being aggressive. Some guys sit back and get soft on pass pro, I don't believe how that is done. You can still be mean and nasty with pass pro."
What are a couple of things you are focused on with your technique above the others before your senior year?
"I am working on my footspeed. I am working on chopping my feet before contact and getting a good base. Hand-placement – I am working on inside hands, you have to get that inside hand on them, and keeping gap integrity during pass pro."
Are you working with a private lineman coach this offseason, if so, what are you guys focused on then?
"I am working with Coach David Dyson. We talk about getting my form down and getting my technique perfect to show my power on the field. We cover a lot of technique work."
As mentioned, you get after it when the ball snaps, do you know how many pancake and/or knockdown blocks you got last season?
"No, but if I had to guess, thinking eight or ten a game."
Have you had a chance to showcase your talents at a camp or combine yet this year?
"I went to the Rivals Three-Stripe camp (Dallas). We did pass pro and one-on-ones. I went undefeated up there. I beat a 21-offer defensive lineman there. I felt good about that."
Do you have any other camps scheduled?
"I am planning on going to the Under Armour All-American Camp in Chicago."
Nice. Going to recruiting. Which schools are showing interest in you but have not offered yet?
"UCA (Central Arkansas), UT-Martin (Tennessee), South Alabama, Western Missouri, UMass (Massachusetts), ULL (Louisiana-Lafayette), Louisiana Tech, Samford, and Texas State."
Do you have any offers?
"I have an offer from Arkansas-Pine Bluff."
Have you taken any unofficial visits?
"I have been to Arkansas on a couple of game visits and I visited UCA for a Junior Day even on Saturday."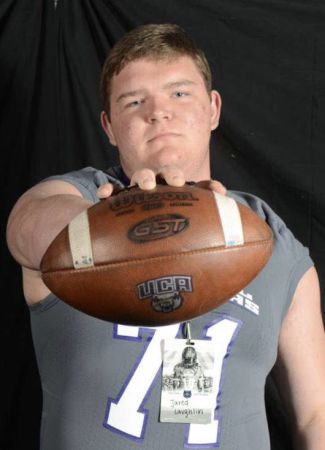 How did the UCA visit go?
"It was great. I've been up there for a practice before – it is awesome there. I love the energy on the campus. I enjoyed."
Do you have any other planned visits lined up?
"On April 14, I may go to UT-Martin."
What are college coaches telling you they like about your game?
"They like my size and the strength I bring to the table."
Do you plan on competing at any college camps?
"Iowa State invited me to their camp, I'm looking forward to that, I will also be at the Memphis Mega camp, and Samford's Mega Camp."
Is there one play of yours from last season that is your favorite?
"We ran a trap against Dumas, that is probably my favorite play. Trapping, you gotta get mean when you are trapping."
I imagine that your ability to overwhelm defensive linemen and linebackers has led to some funny exchanges on the field. What is the funniest thing an opposing player has said to you during a game?
(Laughs) "A Dumas player, said I was so strong after I hit him. I had to laugh."
When the ball is teed up on Friday nights in the fall, what motivates you to go out there and give it your all?
"My drive is playing college football. That is a dream of mine. My family, my dad and I, we love football. That drives me to make my family proud."
Last question, Jared. If a college coach wants to start recruiting you after reading our interview, what type of student-athlete would he be recruiting?
"They'd be recruiting a student-athlete with an unmatched drive. When I get on the field, I am a different person. My love for football separates me from others. I love this game, and there is no quit in me."
Jared, thanks for your time today and good luck with all the upcoming camps.
"Thank you."
Please help keep RecruitingNewsGuru.com a national site aiding in bringing exposure to amazing student-athletes!
If RNG has helped you, a friend, or a family member through an article, video, or stylized interview with our countless hours of free promotion for high school, junior college, and college athletes – please donate. Any amount is appreciated!
Photo credit: Laughlin family; Jared Laughlin at Central Arkansas