Interview: Varsity Season for 2021 QB Chayden Peery has Pac-12 Coaches' Attention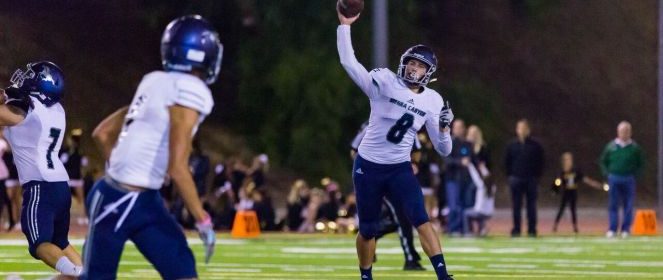 Written by Ryan Wright
Twitter: @RyanWrightRNG
Photo credits: Raymond Joyce Photography
Twitter: @RJPSports
With more and more camps and combines opening up and more and more quality quarterback coaches making their services available for kids of all ages, the world of football is being put into overdrive with some players developing at a faster rate than in years past. One area where young talent is stepping up to make a mark earlier than expected that quickly draws the spotlight is at quarterback. One freshman player that drew attention to himself with his play on the field in 2017 creating waves on the recruiting trail was Chayden Peery.
Peery was put into a unique situation out of need during his freshman season. Sierra Canyon was fresh off a 16-0 Division-IV California state title in 2016 with senior quarterback Mason Quant taking over for graduated dual-threat Niko Harris and backup signal caller Johnathan Hawkins. Not only were the Trailblazers defending champs, but they were also making the move up a classification from Division-IV to Division-III. All the excitement of another big Trailblazers season was quickly suspended when Quandt, a UPenn commit, was hurt for the season on the second drive of the team's opening game.
Like all great teams, Sierra Canyon regrouped under head coach Jon Ellinghouse posting an 8-3 season with a tough 21-7 playoff out against Hart High School. Over the course of the schedule, Ellinghouse took a freshman quarterback with no previous varsity experience into one of the more widely talked about 2021 recruits in Southern California. Peery excelled in the role of starting quarterback completing 113-of-173 passes for 1,685 yards with 14 touchdowns and four additional scores on the ground. The 6-2, 197 pound, rising talent is far from a finished product but has a great foundation to work from with ideal size, a strong arm, and footwork ahead of schedule.
The upside Peery possesses has college coaches clamoring. Nevada has already dropped an offer with UCLA, Washington, BYU, Cal, San Jose State, Washington State, and USC all showing varying signs of interest.
In a Recruiting News Guru exclusive interview, I sat down with one of the rising stars in Los Angeles' 2021 class covering Peery's freshman season on the field and his offseason workouts.
Interview
Chayden, you were put into a unique situation in 2017 getting to start as a freshman. Going into the season, did you have any idea that you would be in the mix for such a big role with the Trailblazers' offense?
"Coming into the season, Coach Ellinghouse said as long as I seize my opportunities I would have a chance to play in 2017. The plan was for Mason to start and I was to learn from him. My hope going into the season was to get in for the third or fourth quarter of blowout games."
We all have it, but what was your welcome to the varsity level moment?
"In the Calabasas game (26-14 win), No. 56 (Peter Briggs) hit me pretty hard. That was my first time to take a big hit. I had never been hit like that."
How did you adjust your game to be able to compete against California varsity competition?
"In the offseason, I was working out a lot with quarterback and weight lifting coaches. I was working out six to seven days a week. I knew it was going to be a big jump in the talent level. The whole summer I worked with Coach Ellinghouse learning the offense and working on understanding it better. He broke down all the plays so I could understand the reads and the progressions that I needed to make. By Game 2 of the season, I knew what I was doing and I knew how fast I had to get the ball out. Working against varsity all summer helped me prepare for the speed of the game."
Which areas of your game got better as the season went along?
"I understood what I needed to do with the ball. My understanding of the offense got better. I was making the correct reads. Knowing when to stay in the pocket or escape the pocket got better. My understanding of defenses and my arm strength are things I will work on that this offseason."
What do you consider the strengths of your game?
"I believe that my toughness is one of my strengths. I've been playing football for six years, I have never come out of the game. I take the tough hits and get back up."
Which game was your best in 2017, and why do you consider that your best game?
"The Calabasas game was my best. My stats were pretty good in that game. In the Calabasas game, I was able to manage the game on a big stage."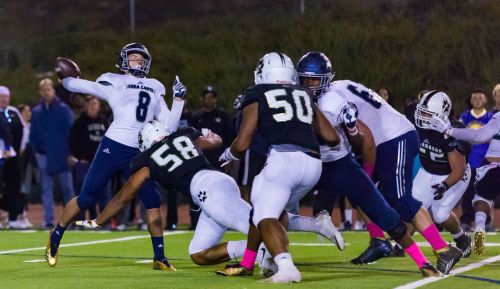 You mentioned understanding defenses and improving your arm strengths as things you will work on this offseason, what else might you work on ahead of you sophomore season?
"Everything honestly. One thing I will work on a lot is on the move stuff. This year I was sacked too much and too easily. Escaping and making moves in small space are areas of my game I will focus on this offseason."
Are you playing 7v7 ball this spring?
"Yes. I am playing with ProWay."
With your play on the field as a freshman, are you drawing any recruiting interest?
"I have interest from Penn State, UCLA, San Jose State, BYU, and Arizona. There are a lot of schools following me on Twitter but I don't know if they are interested in me or not."
Did you get to take any unofficial visits during the fall?
"I took one to UCLA."
How did that go?
"It was cool. It was fun and a good experience for me."
Do you have any upcoming visits planned?
"None planned yet. There are some camps I want to go to this summer. I want to go to a UCLA camp and maybe Washington's camp."
What is your favorite subject in school?
"History."
Last question. What is one thing off the field thing that most people would find interesting about you?
"I hang out with my family a lot. I speak Spanish with one side of my family."
Chayden, thanks for your time today and good luck with the 7v7 season and your workouts.
"Thank you."
Please help keep RecruitingNewsGuru.com a national site aiding in bringing exposure to amazing student-athletes!
If RNG has helped you, a friend, or a family member through an article, video, or stylized interview with our countless hours of free promotion for high school, junior college, and college athletes – please donate. Any amount is appreciated!