Interview with 3-Star 2019 TE Bradley Archer from Nike San Francisco Regional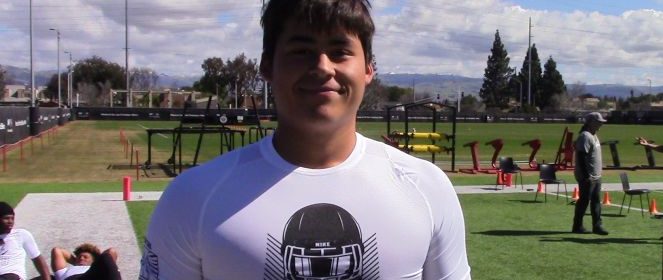 Written by Ryan Wright
Twitter: @RyanWrightRNG
Bradley Archer Profile
Position: Tight End
Height and Weight: 6-3.5, 230
Classification: 2019
Recruiting Ranking: 3-Star (247Sports)
2017 High School: Livermore – Livermore, California – Division II – East Bay League
2017 Cowboys Team Record: 4-8
2017 Stats (12 games): 30 receptions for 343 yards with four touchdowns – receptions and touchdowns were team-highs (MaxPreps)
Interest: Cal, Washington, UCLA, and Air Force
Offers (4): Fresno State, San Jose State, Howard, and Dartmouth
2018 Unofficial Visits Taken: San Jose State and Cal
Potential 2018 Visits: USC and Washington
Please help keep RecruitingNewsGuru.com a national site aiding in bringing exposure to amazing student-athletes!
If RNG has helped you, a friend, or a family member through an article, video, or stylized interview with our countless hours of free promotion for high school, junior college, and college athletes – please donate. Any amount is appreciated!
Photo credit: recruitingnewsguru.com; Bradley Archer at the 2018 Nike Regional Opening in Santa Clara – San Francisco 49ers practice facility.