Interview with "Fastest Man" from Nike LA Regional 2019 ATH Jamar Simpson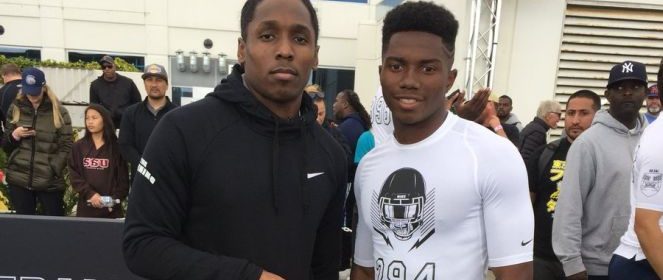 Written by Ryan Wright
Twitter: @RyanWrightRNG
Speed kills on the gridiron, and Jamar Simpson slayed them on Sunday at the Nike Opening Regional Los Angeles. On the practice fields of the Los Angeles Chargers, Simpson flashed NFL caliber speed taking home "Fastest Man" honors after winning a three-man race predicated off top 40-yard dash testing times. The display of speed and athleticism comes on the heels of a breakthrough junior campaign for Simpson and has caught recruiting attention in a hurry.
Simpson made the most of his opportunities on the field in 2017, helping Rancho Verde High School to a 12-3 record by being a playmaker on offense. In the passing attack, Simpson pulled down 26 receptions for 491 yards with five touchdowns. The 19-yard per reception average catches attention, along with his five carries for an additional 51 yards with another visit to the end zone.
Early interest was coming in for Simpson from Fresno State, Northern Arizona, Colorado, UCLA, and USC. As one may have guessed, after showing out at the Nike Regional college programs across the country have taken notice seeing the 5-10, 155-pound, talent slide up recruiting boards in a hurry.
In a Recruiting News Guru catch-up interview, I sat down with Simpson after the Nike Regional getting his thoughts on the camp and the race that put his name on college scouting boards nationwide.
*Click link for previous RNG interview with Jamar Simpson
Interview
Jamar, congratulations on a successful Nike camp.
"Thank you."
You won the fastest man competition, what did you lay down during your initial 40-yard dash?
"It was a 4.57 laser."
On Sunday at the camp, everyone was saying how slow all the times were that were going up. Was your 40-yard dash time the fastest of the day?
"I think it was, but I'm not sure. I know it was one of the fastest."
When you won the actual race, at what point did you know you had won the race?
"Yes. I knew I won the race when we first started. As soon as we started I knew I had won."
What was your final SPARQ score?
"107-something. 107.97. I was really happy with my vertical. I jumped 40.1 inches."
Nice. Congrats.
"Thank you."
How did the rest of the camp go for you?
"It went well. I won fastest man and I got to try on some new Nike shoes. During the one-on-ones, no one could guard me. I did well on all my reps but one, and I got to meet Adore Jackson (Tennessee Titans)."
What did you do well at the camp?
"I did well in the skills competition. When we were working on our drills, they said I had good agility, used my hands well, use my feet to get open, and utilize my speed."
Do you have any camps upcoming?
"I have a couple in mind, but I'm not sure yet where all I may go. We'll see how it plays out. I'm planning on attending a Washington camp and maybe an Oregon camp, but I am not 100 percent sure."
If you will, update me on your recruiting interest.
"I have the same interest from before, Fresno State, Northern Arizona, Colorado, UCLA, and USC, and now I am receiving interest from Notre Dame, Washington State, Oregon State, Army, and Michigan State."
Of the new programs, how many of those started showing interest after you won the race?
"All of them, and more coaches started following me on Twitter."
Have you taken any unofficial visits in 2018 yet?
"No. Not yet."
Do you have any unofficial visits planned?
"I am planning on attending a Junior Day at Washington State on April 14. That is the only one for sure so far."
Jamar, congrats on the showing at the Nike Regional, and thanks for your time today.
"Thank you."
Please help keep RecruitingNewsGuru.com a national site aiding in bringing exposure to amazing student-athletes!
If RNG has helped you, a friend, or a family member through an article, video, or stylized interview with our countless hours of free promotion for high school, junior college, and college athletes – please donate. Any amount is appreciated!
Photo credit: Bobby Pleasant; Jamar Simpson and Adoree Jackson at the Nike Regional LA