Interview with Under the Radar 2019 Oklahoma OL Daxton Byers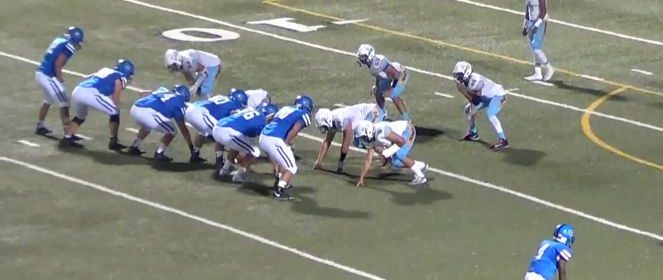 Written by Ryan Wright
Twitter: @RyanWrightRNG
True football fans love watching the big guys in the trenches mix it up. The gladiators up front go at it for four quarters working one technique after another on the opposition hoping to get enough "wins" in the process to make an impact on the game. One Class of 2019 offensive lineman more than holding his own for four quarterbacks against opposing Oklahoma 6A competition is Daxton Byers.
Byers has several things going for him as an offensive line, most importantly he looks the part. At 6-5, 290 pounds, Byers is the ideal sized high school lineman college coaches seek out for an interior position. Size cannot be taught, and, for the most part, neither can a nasty streak. After watching reel on the Deer Creek High School standout, one can tell he relishes finishing plays with a defender on roller skates or with a firm pancake takedown.
In a Recruiting News Guru exclusive interview, I sat down with the Edmond area product in hopes of learning more about his game and his offseason goals.
Interview
Daxton, how did your junior season go overall?
"It went well. Our football program, we didn't win many games (4-6) but our offensive line performed well and I got better last season."
What type of offense do the Antlers run?
"We are in the Pistol."
It looks like the coaches move you around a lot or you guys employ a line shift to the power side, which is it?
"We shift. Two of us go to the strong side of every play."
What are you asked to do as an offensive lineman within the offense?
"They use me on pulls and traps, we run a lot of traps and counters. I am basically used as a seal on the play side or on the outside edge."
The team was fairly well-balanced in 2017 but hedging towards more of a passing team. How did your pass blocking improve last year?
"My pass blocking improved a ton. I asked my trainer a lot of questions during the offseason when I was working on my technique. My stride improved lot, I was faster with my feet, had better leverage on the inside, and I used my legs a lot better during my junior year."
What about your run blocking, what improved in that area?
"I've always been a high player. I can overpower defensive players with my size. Last year I improved a lot on staying low, getting my hands where they need to be, and playing with my hips and legs."
What are you working on this offseason?
"I'm going to a session a week with JR Conrad working on blocking techniques. I've been told that I am built like a tight end. I've been working with Tom George as a tight end to learn more about the position."
Have you maxed out in the weight room this offseason?
"I have maxed out. My squat is 405 and my bench is 300."
Nice. Are you attending any national camps or combines this offseason?
"I got invited to the Nike Opening (Dallas) and I am going to the Dallas Blue-Grey All-American camp. This Saturday, I am going to Rivals camp in Dallas and on Sunday I am going to the NUC camp."
Are you eyeing any college camps this summer?
"I was invited to Eastern Michigan's camp. I will probably attend an Oklahoma State camp and a Fort Hayes State camp as well."
Which schools are showing recruiting interest in you?
"I am receiving interest from UTEP, Eastern Michigan, and Fort Hayes State. I have Junior Day visits planned to Missouri State (March) and Southern Illinois (April)."
Have you taken any unofficial visits yet?
"I took a visit to Fort Hayes State."
How is everything going in the classroom?
"I have a 3.84 GPA and I scored a 24 on the ACT."
Very nice. Last couple of questions. If college coaches were to look at a single game reel of yours from last season, which game best represents your overall talents on the field?
"I'd say the Stillwater game."
What did you do well in that game that would make college coaches want to watch?
"I was going against a faster defensive end. I kept good leverage against him, used my legs, had quick feet, and had some good run blocking against him as well."
If a college coach reads this interview and becomes interested in recruiting you, what type of student-athlete are they going after for their program?
"I'm a hard worker on and off the field. I'm a leader, and I'm a determined individual. I have great effort and I never give up."
Daxton, thanks for your time today.
"Good luck with all of the upcoming camps.
"Thank you."
Please help keep RecruitingNewsGuru.com a national site aiding in bringing exposure to amazing student-athletes!
If RNG has helped you, a friend, or a family member through an article, video, or stylized interview with our countless hours of free promotion for high school, junior college, and college athletes – please donate. Any amount is appreciated!
Photo credit: hudl.com; No. 68 Daxton Byers in the trenches
Photo credit: Hunter Anthony; Daxton Byers workout out