Kansas Jayhawks 2018 Recruiting Class Overview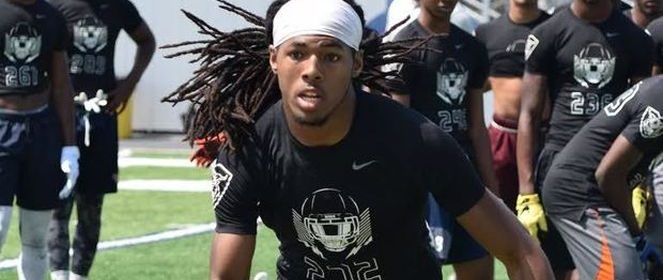 Written by Charlie Beuttel
Twitter: @charlie_cds3
The University of Kansas football program is heading into their fourth season with David Beaty at the helm. Unfortunately, the Jayhawks' overall record during that span is 3-33. However, the athletic director, Sheahon Zenger, is still confident with Beaty leading the charge and gave him a two-year extension through 2021 which doubles his salary.
Despite Zenger's confidence in Beaty, fans are still waiting for the program to turn in the right direction after a miserable showing in 2017 where the team finished 1-11 with their only win coming against Southeast Missouri in the opener. But, is there reason for fans to share the same optimism in Lawrence going forward as Zenger?
The 2018 rankings have put Kansas' recruiting class in eighth place in the Big 12 ahead of Texas Tech and rival Kansas State. Overall, the Jayhawks were able sign 19 new recruits highlighted by two 4-star Louisiana prospects, running back Anthony Williams from Hahnville and cornerback Corione Harris from Landry-Walker in New Orleans. Williams finished 2017 with 3,128 rushing yards and 37 touchdowns. Harris is the highest ranked cornerback signed by Kansas since they began tracking rankings in 1999.
Another signee from Louisiana to watch for is Cecilia safety Ryan Malbrough. Malbrough played just eight games in his senior season before suffering a knee injury. Before the injury, the senior posted 43 total tackles, three interceptions and one fumble recovery.
Not only did Kansas grab some recruits out of the high school ranks but also did well scooping up some promising JUCO recruits. Some notable JUCO prospects who are headed to Lawrence includes offensive lineman Reuben Lewis, who played at Coffeyville Community College in Coffeyville, Kansas. Two other notable JUCO signees are cornerback Elijah Jones, from Ellsworth Community College in Iowa, and Azur Kamara, who played at Arizona Western College in Yuma, Arizona.
Two other local Kansas JUCO recruits that signed with the Jayhawks program are cornerback Elmore Hempstead, from Fort Community College, and defensive tackle Charles Cole, a Butler Community College product in El Dorado.
With another National Signing Day coming to a close, fans can only hope that this year's recruiting class can come into Lawrence and help bring some wins and memorable moments to the Jayhawks' program.
Kansas Jayhawks 2018 Recruiting Class
Quarterback Miles Kendrick, 5'9" 193 pounds, College of San Mateo (San Mateo, CA)
Quarterback Torry Locklin, 6'2" 190 pounds, Rockdale High School (Rockdale, TX)
Running back Anthony Williams, 5'8" 165 pounds, Hahnville High School (Hahnville, LA)
Wide Receiver Stephon Robinson, 5'10" 165 pounds, El Camino College (Torrance, CA)
Offensive Lineman Nick Williams, 6'7" 267 pounds, Ritenour High School (St. Louis, MO)
Offensive Lineman Jacobi Lott, 6'5" 308 pounds, Tascosa High School (Amarillo, TX)
Offensive Lineman Mac Copeland, 6'5" 250 pounds, Wichita Collegiate School (Wichita, KS)
Offensive Reuben Lewis, 6'4" 330 pounds, Coffeyville Community College (Coffeyville, KS)
Defensive End Najee Stevens-Mckenzie, 6'4" 215 pounds, ASA College (Brooklyn, NY)
Defensive End Azur Kamara, 6'6" 230 pounds, Arizona Western College (Yuma, AZ)
Defensive End Foster Dixon, 6'5" 250 pounds, West Los Angeles College (Culver City, CA)
Defensive End Miles Emery, 6'5" 235 pounds, Blue Valley North High School (Overland Park, KS)
Defensive Tackle Charles Cole, 6'3", 280 pounds, Butler Community College (El Dorado, KS)
Linebacker Kenny Bastida, 6'2" 230 pounds, Deerfield Beach High School (Deerfield Beach, FL)
Linebacker Ryan Malbrough, 6'2" 200 pounds, Cecilia High School (Cecilia, LA)
Cornerback Elijah Jones, 6'2" 180 pounds, Ellsworth Community College (Iowa Falls, IA)
Cornerback Elmore Hempstead, 6'0" 190 pounds, Fort Scott Community College (Fort Scott, KS)
Cornerback Corione Harris, 6'1" 170 pounds, Landry-Walker High School (New Orleans, LA)
Safety Jeremiah McCullough, 6'0" 200 pounds, Hartnell College (Salinas, CA)
Safety Davon Ferguson, 5'11" 190 pounds, Hartnell College (Salinas, CA)
Photo credit: NOLA.com; Landry-Walker CB Corione Harris