Louisiana Division I Semifinal Review and Championship Game Preview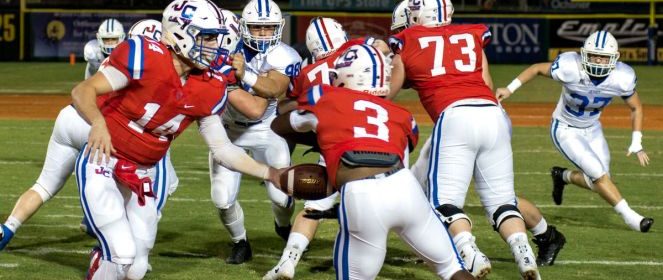 Written by Ryan Wright
Twitter: @RyanWrightRNG
In the highly competitive Louisiana Division I classification, a proverbial dogfight took place in the semifinal rounds seeing No. 4 seed Catholic-Baton Rouge upend No. 1 Evangel Christian Academy 14-6 and No. 2 John Curtis (11-1) get past No. 3 Scotlandville (9-2) 29-8. The final is set up to be an explosive gridiron showdown in the Superdome.
At halftime, Evangel appeared to be on their way to another defensive shutout win heading into the locker room up 6-0. But, in the second half, the Bears scored a touchdown in the third and in the fourth while the defense came up big putting the clamps on the Bears for the win.
No. 4 Catholic-Baton Rouge vs. No. 1 Evangel Christian Academy
To say this was a defensive game would be putting it mildly. Offense was hard to come by for either team but big plays on defense was showcased for all four quarters. The Bears are heading to the Dome behind the defensive efforts of the entire team but the big plays of senior Noah Broussard.
The start of the game gave the appearance of a potential shootout but both teams put the hammer down on the opposition's offense throughout. The Eagles scored on their first possession, a four-play 80-yard drive highlighted by a 69-yard Elijah Chatman run with the punctuation on a two-yard Na'Drain Dizadare run.
Broussard earned Player of the Game honors after picking up a blocked Evangel punt returning it 14 yards for a score in the third quarter. On the following Evangel possession, Broussard once again rose to the occasion picking off a Blake Shapen pass taking it the other way for a 28-yard pick-six. The Bears picked up the improbable victory despite coming up with just 105 yards of total offense.
No. 3 Scotlandville vs. No. 2 John Curtis
John Curtis stuck first on a 34-yard Darryan Washington touchdown run in the first quarter. The Patriots went into the locker room up 8-0 at half then stormed out in the second half for three scores. Malik Wells took the second snap of the third quarter 70-yards for a score bringing extra momentum John Curtis' way. A 36-yard touchdown run by quarterback Collin Guggenheim and a 61-yard Corey Wren touchdown run put the game out of reach for the Hornets.
The Patriots defense employed the "bend but don't break" mentality to perfection allowing 392 total yards but stepping up big in the red zone twice forcing a turnover on downs. The Hornets posted their lone score of the game with 3:12 left on the game clock.
Up Next
Division I Championship Game
No. 10 Catholic-Baton Rouge vs. No. 4 John Curtis (MaxPreps' state rankings)
Date: Dec. 9, 2017
Time: 12:00 p.m. CT
Location: Mercedes-Benz Superdome in New Orleans
Key Players
John Curtis Patriots
Offense
Sophomore dual-threat quarterback Collin Guggenheim – 57-of-108 passing for 967 yards with seven touchdowns against two picks, 845 yards rushing off 97 carries with a team-high 17 scores
Senior running back Darryan Washington – 137 carries, team-high 867 yards, and 12 touchdowns
Senior running back Earnest Jones – 73 totes, 433 yards, and four touchdowns
Senior receiver Tyrone Legette – 24 receptions for 476 yards with five touchdowns
Defense
Senior outside linebacker/tight end Jay Curtis – team-high 77 tackles, 20 tackles for a loss, six sacks, four forced fumbles, three fumble recoveries, and an interception
Senior defensive back Brandon Davis – 27 tackles, six interceptions, a forced fumble, and a fumble recovery
Sophomore defensive lineman Angelo Anderson – 71 tackles, 12 tackles for a loss, four sacks, five quarterback hurries, and two forced fumbles
Catholic-Baton Rouge Bears
Junior quarterback Cameron Dartez
Senior receiver Vernon Langley III
Senior running back Branson Johnson
Senior linebackers Andrew Gauthier and Jack Ducote
*Season statistics not posted for the Bears squad
Game Worthy Notes
Catholic-Baton Rouge won a state title in 2015 beating Archbishop Rummel 31-28
The Bears were ousted from the playoffs in 2016 by Brother Martin (28-0)
The Patriots defeated Archbishop Rummel 34-20 in last year's playoffs before falling to Evangel Christian 27-6
Please help keep RecruitingNewsGuru.com a national site aiding in bringing exposure to amazing student-athletes!
If RNG has helped you, a friend, or a family member through an article, video, or stylized interview with our countless hours of free promotion for high school, junior college, and college athletes – please donate. Any amount is appreciated!
Photo credit: theadvocate.com; No. 3 Darryan Washington takes a handoff from No. 2 Collin Guggenheim