Recruiting Update Interview with 21-Offer 4-Star 2019 OL Jonah Tauanu'u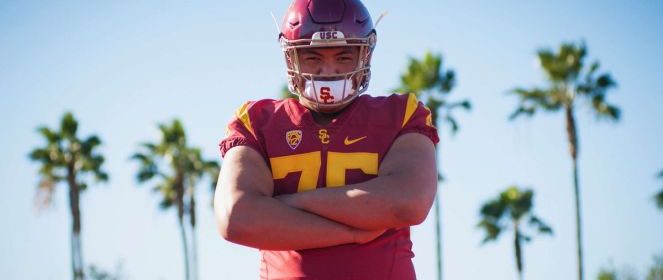 Written by Ryan Wright
Twitter: @RyanWrightRNG
Perhaps of all the positions on the gridiron, the toughest to adjust from the high school level to the collegiate game is along the offensive line; with all due respects to quarterbacks. The speed of the game is an adjustment for pocket passers but the same holds true for offensive linemen while battling 6-4, 300-plus pound, defensive linemen that many times are three to five years their senior. Few high school linemen present college scouts with a near complete package that includes height, size, technique, upside, and strength. At Narbonne High School, Jonah Tauanu'u is that standout capturing the imagination of college coaches giving good reason to visit Los Angeles' Harbor City area.
Tauanu'u is the anchor on the Narbonne line that has contributed to a two-year 26-4 record that has included back-to-back state title runs claiming a 2017 trophy with a hard-fought 28-21 win over Pittsburg. Narbonne's offense was about as balanced as it gets last season with 3,300-yard passer Jalen Chatman and a backfield that amassed 3,253 yards led by senior tailback Jermar Jefferson.
While playing against some of the top competition California has to offer, the 6-6, 310 pound, lineman has worked his way into four-star status picking up 21 scholarship offers along the way. Some of the hopefuls extending offers to Tauanu'u includes USC, Auburn, LSU, Michigan, Arizona, Washington, Oklahoma, Tennessee, Boston College, Ole Miss, Colorado, Nebraska, Purdue, Washington State, Utah, Oregon, and UCLA.
In a Recruiting News Guru stylized interview, I sat down with one of the more highly recruited offensive linemen in California's 2019 recruiting class learning more about his game and recruiting prospects.
Interview
Jonah, when the 2017 season ended, which aspects of your game did you have going full-tilt?
"My pass blocking and pulling."
Which technical parts of your game are you working on this offseason?
"I am working on my explosion off the ball. Run blocking is the harder part for us. We are always in a 3-point stance we are never in a two-point. I'm working on that."
Are you attending any national camps or combines this spring?
"I just went to Under Armour and I had the Adidas Three-Stripe camp on Sunday. This Sunday, I am attending the Nike Opening Regional in LA."
How did the Under Armour camp go for you?
"It was good. They said I did well with my pass blocking during the one-on-ones and in the games they set for us."
You're a hit on the recruiting trail, which schools are showing interest but have not offered yet?
"Georgia, Alabama, Florida State, and Arkansas are showing interest but have not offered."
How many offers do you have now?
"I have 21 offers."
Which are the latest schools to offer you?
"Florida, Missouri, and Auburn."
Are any showing more interest than the others?
"The school that stands out that way is Oregon."
Have you taken any unofficial visits in 2018?
"I took a visit to USC (Jan. 20)."
How did that go?
"It was nice. My mom and I talked to Coach (Clay) Helton (head coach) and met with my position coaches. We also took some pictures with the jersey on."
Do you have any planned visits upcoming?
"No. I don't have any set right now."
This is the time of year when juniors start thinking about being an early enrollee. Have you made a decision on that yet?
"No. I have not made up my mind on that yet."
Last question. When you take the various unofficial visits, what are you watching or looking at while there? What is important to you on these visits?
"Honestly, the environment. I am seeing how I feel with the coaches and my comfort with the area."
Jonah, thanks for your time today and good luck at the Nike camp this weekend.
"Thank you."
Please help keep RecruitingNewsGuru.com a national site aiding in bringing exposure to amazing student-athletes!
If RNG has helped you, a friend, or a family member through an article, video, or stylized interview with our countless hours of free promotion for high school, junior college, and college athletes – please donate. Any amount is appreciated!
Photo credit: Tauanu'u family; Jonah Tauanu'u at USC