Rising 2019 Arkansas DB Donte Jones Updates Recruiting and Razorbacks Visit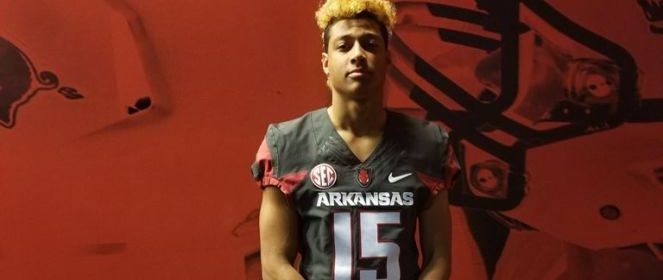 Written by Ryan Wright
Twitter: @RyanWrightRNG
The recruiting stock in Class of 2019 defensive back Donte Jones is rocketing in the right direction. After a standout junior season with Bentonville High School, Jones is beginning to receive his due off the field in the form of college football scouting looks. His latest push forward on the recruiting trail was an unofficial visit to in-state powerhouse Arkansas.
Jones' play on the field speaks volumes. Alternating between corner and safety, Jones tallied an estimated stat line topping out at 50 tackles with roughly 10 passes broken up helping Bentonville to a 10-3 season with a run to the 7A state title game. Early interest for Jones came in from Harding, Samford, and Tulane, but things have changed since the start of the new year. College coaches taking a closer look see the talents in the 5-11, 170 pound, athlete and are happy to learn he carries a 3.5 GPA and has an ACT super score of 21.
In a Recruiting News Guru catch-up interview, I sat down with one of the Natural State's rising stars to find out about his recruiting process and weekend visits with the Hogs.
*Click link for Jan. 26, 2018, RNG interview with Donte Jones
Interview
Donte, how are the offseason workouts coming along?
"My workouts are going pretty good. My maxes are increasing. We will start maxing out again this week. We test on vertical and broad jump today (Monday)."
What was your vertical and broad jump numbers?
"On my vertical, I jumped 35 inches and on my broad jump I got nine-feet, nine-inches. I know my broad jump can be better. I've broad jumped 10-feet in previous testing."
Where are you seeing the greatest growth in your workouts?
"My squat and bench have gone up a lot. I have added 75 pounds to my squat max 35 pounds to my bench press max. We're testing again this week, we'll see if it goes up this week."
When we last spoke, you were playing 7v7 ball with Fast Arkansas, how is that going?
"We've been to two tournaments and we have one coming up in Houston in April. In our first tournament (New Orleans), we went 2-1 in pool play. We lost in the first round in bracket play. The game was supposed to go into overtime but the refs got the score wrong. In our last tournament in Dallas, we beat a nationally ranked team in first one, but lost our second game to team that won the whole tournament."
Sounds like you guys had a tough draw. Have you set any camps and/or combine dates?
"I am going to Rivals Three-Stripe in March. Memphis is having a satellite camp, I might go to that one."
If you will, update me on your recruiting interest.
"Since our last interview, Cornell, Harvard, Yale, Princeton, and Arkansas Baptist started talking to me. I have also started receiving interest from Colorado State and Arkansas."
Over the weekend, you took an unofficial visiting the Hogs. How did the unofficial visit to Arkansas go?
"It was fun. They showed us the academic building, as a freshman we have to have eight hours in there. They make sure you graduate and come out with a degree. We also went to the weight room and toured that. They talked about their nutrition program. They showed us players that have put on weight and the gains they've made within their program. Their nutritionist was with Dallas Cowboys. They also showed us their in-door facilities. We watched their practice and they took pictures of us with the jersey."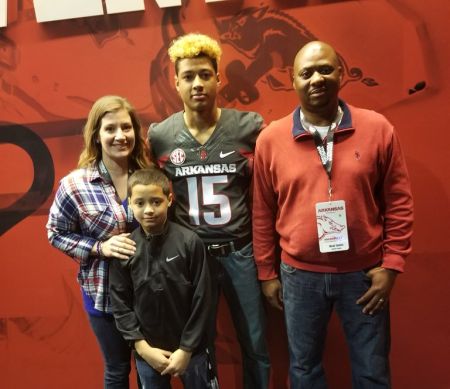 What was your lasting impression of the visit?
"I hadn't looked at their facilities like that before this visit. I was impressed. The new addition to the stadium, they showed us a video of the new look, that will be really nice when it is completed."
Did the staff talk to you about your recruiting process going forward?
"No. Chad Morris (head coach) spoke with everyone at the end, then the recruiting coordinator talked to each person."
What did Coach Morris and the recruiting staff talk to you about before you left?
"Coach Morris talked about the program. The recruiting coordinator said, 'if we wanted to speak with him to direct message him and he will get back to us.' He said he would be at our school for spring practices."
Do you have any other visits upcoming?
"I am waiting on Samford for Junior Day invite and Colorado State for a Junior Day invite from them."
Last question. I know you are a track guy running the 110 and 300 hurdles, how is track season going?
"I haven't PR-ed (personal record) yet, but I have been running better since last year. In our last meet, I was third in the 300 hurdle and fourth in the 110. My goal is 39 seconds in the 300 this year."
Donte, thanks for your time today and good luck with the rest of your offseason workouts and track season.
"Thank you."
Please help keep RecruitingNewsGuru.com a national site aiding in bringing exposure to amazing student-athletes!
If RNG has helped you, a friend, or a family member through an article, video, or stylized interview with our countless hours of free promotion for high school, junior college, and college athletes – please donate. Any amount is appreciated!
Photo credit: Jones family; Donte Jones at Arkansas