Top Rated JUCO DE Dorian Gerald Signs with Arkansas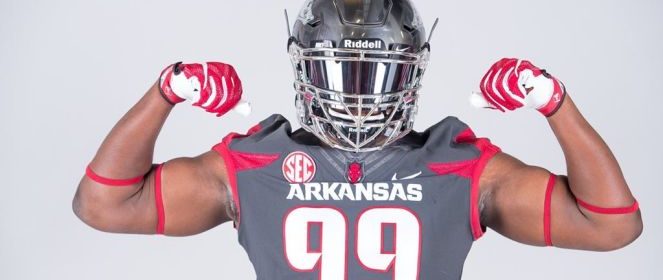 Written by Ryan Wright
Twitter: @RyanWrightRNG
On Wednesday, college football fans received an onslaught of recruiting news all day long finding out which top players were committing to their beloved programs, and how the rest of the competition faired. Even though National Signing Day has come and gone with its thrills and excitement, there is still more ground to cover for some high school and junior college recruits, and various college football programs. On Friday, the Arkansas Razorbacks quietly landed the top rated junior college defensive end in the nation, Dorian Gerald.
Gerald (6-3, 260) helped College of the Canyons (Valencia, CA) to a 9-2 record in 2017 coming up with 42 total tackles, tied for third-best on the team, along with 19 tackles for a loss and 10 sacks, two forced fumbles, and fumble recovery. His recruiting process peaked with 26 reported offers coming from teams like Miami, Oregon, Alabama, Arizona State, Louisville, Florida State, Georgia, and LSU. The final three teams in the mix included the Hogs, Texas A&M, and Florida.
Arkansas got one of Gerald's final official visits hosting him on Jan. 31. The Razorbacks landed him during a signing ceremony from his hometown of West Florence, South Carolina. Gerald posted his commitment to the nation on Twitter writing, "Signed, Sealed… its Done… I'm a RAZORBACK!"
Gerald's signing pushes the Razorbacks' 2018 class to 17 recruits while increasing the overall ranking. The Hogs entered National Signing Day with a No. 57 ranking (247Sports) but have moved up the board to No. 49. The ranking is more of a reflection of limited scholarships to hand out than quality of the class. Per the "star average", the Hogs have an average rating of 86.16, which would place them ahead of Vanderbilt, Missouri, and Kentucky in the overall SEC recruiting rankings. Even though Dorian Gerald is the No. 1 rated JUCO defensive end in the nation, he is only given a three-star ranking.
Photo credit: twitter.com; Dorian Gerald at Arkansas