Arkansas 5A Championship Game Preview: McClellan vs. Pulaski Academy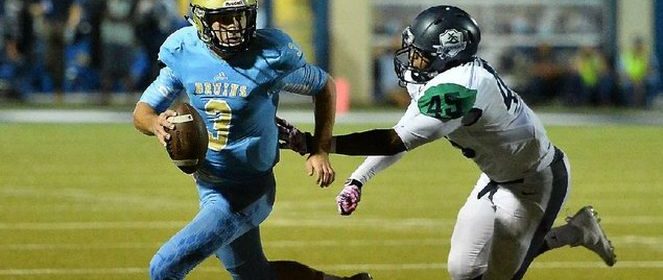 Written by Ryan Wright
Twitter: @RyanWrightRNG
Rarely does a road to a state title offer redemption for one squad and dynasty connotations for another, but when the No. 14 McClellan Lions (10-3) line up against the No. 4 Pulaski Academy Bruins (13-0) on Saturday more than an Arkansas 5A state title is on the table.
McClellan's season has been full of big wins and narrow losses making a three-game run into the state title game. The Lions upended Batesville (16-12), Alama (60-52), and Wynne (22-14) in the playoffs for the championship game berth. During the regular season, the Lions were tested against No. 1 North Little Rock going up two classifications showing heart in a hard-fought 48-30 defeat. McClellan stumbled before the playoffs posting a 1-2 record over their final three games but worked out the kinks in time to march to War Memorial Stadium.
There has been little doubt about the explosive offensive abilities brought to the field by Pulaski Academy this season. The Bruins have rolled over the competition notching big early season wins against Oklahoma' Page (59-21), Tennessee's Ridgeway (56-20), and Louisiana's Parkway (62-21). The only close game PA had this season was a three-point win over Parkview coming away with a 43-40 win in War Memorial Stadium.
The Lions have ebbed and flowed on offense and on defense this season. Through all the tough games, McClellan is averaging 41 points per contest while the defense is holding teams to 23 points each time out. On the other side of the field, PA has been impossible to keep out of the end zone blistering teams to the tune of 57 points per game with a defense that has capitalized on the pressure put upon opposing offenses to keep the pace holding teams to 25 points a game.
In the semifinal round, McClellan was down 6-0 to Wynne before getting on the board just before the end of the first quarter. Jaylin Cunningham hauled in a 24-yard pass tying the game at 6-all. Early in the second quarter, McClellan pulled ahead 8-6 on a safety and minutes later got a 1-yard Tommy Crumpton touchdown plunge to go up 14-6. Crompton struck again mid-way through the third quarter with a 2-yard score with Tyrse Lair adding the two-point conversion. Wynne scored midway through the fourth quarter on a 13-yard touchdown pass posting the final score of the game.
Pulaski Academy went full-tilt in their semifinal round scoring 43 points in the first half on way to a 50-28 win over Nettleton. Senior quarterback Layne Hatcher completed 22-of-28 passes for 402 yards with five scores without throwing an interception and ran for another. Trajen Johnson was Hatcher's leading receiver with seven passes caught for 138 yards with two touchdowns. Junior tight end/receiver Hudson Henry was second on the team with four receptions for 69 yards and one receiving score.
Key Players
McClellan
Senior dual-threat quarterback Bennie Kemp
Senior running back Tommy Crumpton
Senior receiver/athlete Jaylin Cunningham
Pulaski Academy
Senior quarterback Layne Hatcher
Senior receiver Trajen Johnson
Senior receiver Brett Lynch
Junior tight end/receiver Hudson Henry
Game Notes
Pulaski Academy has claimed three consecutive Arkansas state championships
The two teams faced one another in the 2015 title game with PA winning 50-30
The two teams squared off on Oct. 27 with the Bruins winning 61-29 – Layne Hatcher completed 30-of-43 passes for 386 yards with four touchdowns and one pick. Hudson Henry led all receivers with eight receptions for 134 yards with one touchdown in that game
The Bruins have scored 50 points or more in all three playoff games this season
The Lions have played to their competition winning by 4, 8, and 6 points
Game Details
Date: Saturday, Dec. 2
Time: 6:30 p.m. CT
Location: War Memorial Stadium in Little Rock
Please help keep RecruitingNewsGuru.com a national site aiding in bringing exposure to amazing student-athletes!
If RNG has helped you, a friend, or a family member through an article, video, or stylized interview with our countless hours of free promotion for high school, junior college, and college athletes – please donate. Any amount is appreciated!
Photo credit: Arkansas Democrat-Gazette; No. 3 Layne Hatcher rolls out