Interview: 2018 California QB Devan Freeland was Brilliant in Pocket Guiding Run-First Offense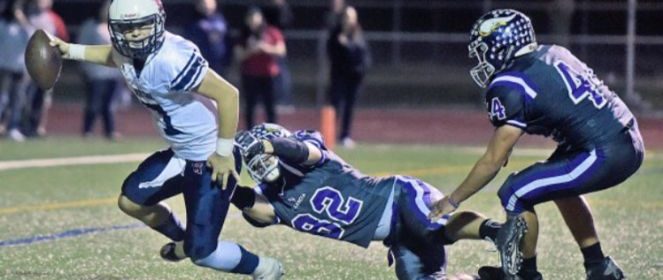 Written by Ryan Wright
Twitter: @RyanWrightRNG
The coaches at Heritage High School were caught between a rock and a hard place during the 2017 season. Tough to truly feel bad for them, but what do you do when you have two standout senior tailbacks in Sherod White and James Phillips and a quarterback like Devan Freedland that throws darts in the pocket? Any coach would try their best to balance out the offense but Freedland took matters into his own hands, he went out and made every throw count hitting 67 percent of his pass attempts.
All high school seniors want to trend upward with their game, Freedland's projection during his senior season was angling up comparable to his completion percentage. During his junior campaign, he had a solid year in his first full-time duty in the pocket hitting 62-of-116 passes for 1,050 yards with 12 touchdowns tossed. The Patriots stuck with the same game plan as the year before, but Freedland turned it out. With six less pass attempts in one less game, the 6-3, 190 pound, field general hit 74-of-110 passes for 2,049 yards with 27 touchdowns. He also carried the pigskin 20 times for 105 yards with two more scores posted. Worth noting, in 226 pass attempts, Freedland only threw three picks over two seasons.
Despite the great senior season and all the wins posted, a career 22-3 record under center, the college ranks have been slow to find Freedland. Interest has come in from Dixie State and Azusa Pacific with an offer from a D-II school in Ohio.
In a Recruiting News Guru exclusive interview, I sat down with the overlooked 2018 quarterback learning more about his senior season and his recruiting process.
Interview
Devan, either from watching your game reel or just looking at your stats, there are a couple of things that standout, your upward trend in improving your game and your accuracy. How did you prepare yourself for your senior year?
"Going into my junior season after transferring from Norco, the coaches did not know what to expect from me. We had two crazy talented running backs, so we did not throw that much. This year, we did 7v7 again in the offseason. I was connecting really well with my receivers, especially with Rashoud Shelton and Rickie Johnson, and Sherod White in the slot. We worked on our routes. We hated dropping passes. We made it to where we had high expectations of each other. Every time we had a miss or a dropped pass, we took it serious. Because of that, we did not have a lot of drops this year. The throws were on point and they caught them and made big plays."
What type of offense did you execute for the Patriots?
"A pro-style offense. I was under center, in the Pistol, and in the shotgun."
Which routes are your favorite to throw?
"I like the 20-yard comeback and the 15-yard comeback, that is probably my favorite. The deep post and the fade I like as well."
Which areas of your game showed the most improvement this season?
"My throwing. Last year I was not the leader of the team after transferring. This year they were looking at me to lead. I showed them I had their backs and helped lead the team. My accuracy got better this year. We don't throw a lot, I think there were five games when I threw the ball more than 10 times. Because of that, I knew I had to make every play when the coaches called for a pass so the coaches would know they can rely on us when needed."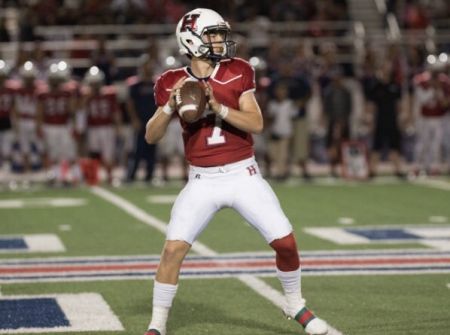 Which areas of your game get overlooked in your opinion?
"On film, we throw the deep ball a lot. We run a lot and once we see the safeties and corners come up, we throw the deep ball. The dig, 5-yard route, and comebacks, there is not a lot of that on my film but I can throw those. My running game, I think that gets overlooked a lot. With the backs we have, I didn't need to run the ball much."
Which game was your best this season?
"La Mirada, the first game of the playoffs. I had five touchdown passes. That was a good game because of the touchdown passes, but our last game was one of my good games too. They were stopping our run. I had to step up and throw the ball a lot more. That was a good game for me, but not good when you come out with a loss."
All competitors work on their game year-round, which areas of your game will you continue to work on in the offseason?
"Throwing the ball and have my receivers run routes. I'll work on everything, especially my footwork. Colleges expect your footwork to be on point."
Which schools are showing recruiting interest in you?
"I've talked to Dixie State a lot. Azusa Pacifica is showing interest. I went on a few visits there. I'm starting to send out season highlights to schools. We'll see what happens."
You mentioned visiting Azusa Pacific, how did those visits go?
"They were good visits. I love the campus. I was there for a team-on-team scrimmage and for homecoming. I was on the field and on the sidelines. The team was really cool. They came over to talk to us. All the players spoke well of the coaches. They took us on a tour of the campus. The coaches came up to talk to us. I talked to their quarterback coach for a little bit."
What are you looking for in an ideal next level fit?
"I don't care that much about the style of the offense, I know I can run any type of offense. I am a very coachable player. I always connect with my coaches. I just want to play football. It doesn't matter about the offense, I just need to study it."
Do you plan on playing any winter or spring sports for Heritage?
"Basketball."
Which position do you play in basketball?
"Both forward positions."
Are you any good?
(Laughs) "I'm pretty good. I am more of a defensive player. Rashoud and I both play basketball. We practiced on Monday and played on Tuesday. Coach threw us in right away. I'm starting now. I'm always guarding their big guy down low."
What is your cumulative GPA?
"3.24."
What is your favorite subject in school?
"History."
Looking back, what are you most proud of during your time in the pocket for Heritage?
"Making everything count and knowing that the coaches had trust in me. I'm proud of having 27 passing touchdowns. The coaches were joking around that I broke the school record at Heritage. The ultimate goal was a championship, but I am proud of the season we had and that I had. I'm proud of my team."
Devan, thanks for your time today and good luck with basketball this season.
"Thank you."
Please help keep RecruitingNewsGuru.com a national site aiding in bringing exposure to amazing student-athletes!
If RNG has helped you, a friend, or a family member through an article, video, or stylized interview with our countless hours of free promotion for high school, junior college, and college athletes – please donate. Any amount is appreciated!
Photo credit: Dan Watson; No. 7 Devan Freedland escapes pressure
Photo credit: Amber Garcia; No. 7 Devan Freedland in the pocket