2018 Greenwood RB Kenny Wood Covers Season and Arkansas 6A Championship Win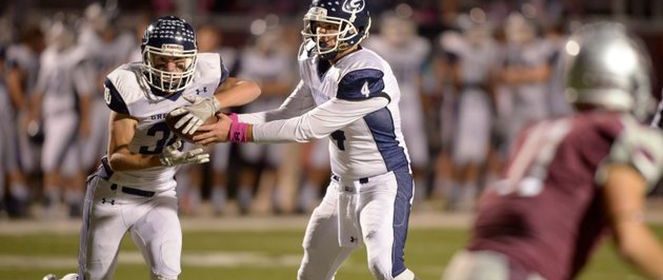 Written by Ryan Wright
Twitter: @RyanWrightRNG
One by air and one by ground, that has been the offensive production of dynamic senior duo of Connor Noland and Kenny Wood for Greenwood High School throughout the 2017 season. The Bulldogs offensive line hustled across the board allowing 44 points per game to be posted on the opposition with Noland picking apart defenses and Wood running over and past defenders aiding in a championship season.
The culmination of years of hard work came to fruition on Friday, Dec. 1, when Greenwood trounced Pine Bluff 52-14 for the Arkansas 6A state title. The 13-0 season has landed the Bulldogs as MaxPreps' No. 12 ranked team in the nation, No. 2 in Arkansas. The euphoria experienced by the team is well-deserved after back-to-back 12-1 finishes ending on sour notes in the state title game.
Wood started his ascension towards Arkansas fandom during his sophomore year as a backup running back rushing 39 times for 228 yards with five scores and four passes caught for 39 yards. The early beginnings shed little light on what was to come. In 2016, Wood had a breakout season earning All-State honors after carrying to rock 1,164 times for 18 touchdowns with 34 passes hauled in covering 461 additional yards with five more trips into the end zone.
With Wood and Noland lacing up the cleats for their final high school season, the time was now for head coach Rick Jones to capitalize on his athletic playmakers. Noland completed 70 percent of his passes covering 2,801 yards with 34 touchdowns while Wood raced to 1,721 yards on the ground off 245 totes with 29 rushing scores. Keeping the all-purpose back theme in play, the 5-11, 192 pound, talent secured 34 passes for 508 yards with seven more scores posted on the board.
In a Recruiting News Guru exclusive interview, I caught up with Wood after the Bulldogs hoisted up the Arkansas 6A trophy getting a recap on the perfect season.
Interview
Kenny, congratulations on the 6A championship win. With a little time behind you, how does it feel to be the best 6A team in Arkansas?
"It feels really good. It feels good knowing that we accomplish our goal. It feels good knowing our senior class had that in us. We had 16 senior starters. We grew up playing together from the third grade. It feels good knowing we can accomplish that."
What did you do to celebrate your championship?
"After the game, I went and hugged everyone I saw – my coaches, teammates, parents, everybody. It was a touching moment winning the state championship."
How did the championship game play out for you on the field?
"I feel like it played out really well. Our offense, defense, and special teams all clicked well. Offensively, I feel like everything worked as planned. Our offense had one of our best games this year against Pine Bluff. Everyone executed and got the job done. It felt easy almost."
What was working for you in the playoff wins against Arkansas and West Memphis?
"Our run game clicked really well in both those games. Our offensive line was amazing. They made my job easy. Our outside run zones worked really well in the playoffs."
Your workload increased this year, especially carrying the rock. Did you know more would be expected of you before the season kicked off?
"I figured it would. I figured I would have to step up this year. Being my senior year and with the experience I had under my belt, I figured they would have higher expectations of me this year."
How did your game improve throughout your senior year?
"I feel like it improved greatly. From Game 1 to the championship game, I feel like I have gotten a lot better and more mature. Experience makes a big difference. I felt stronger and faster. I felt on top of my game this year."
What are the strengths of your game?
"I feel like I am good at reading the holes and establishing where I need to hit the hole. My explosiveness got better throughout the year. On outside runs and zone plays, usually when I get the edge I am gone. Catching the ball, I am confident doing that. My hands have gotten better this season. Strength wise, I was power housing through on goal line or short-yardage runs. I am good at that."
Is there an area of your game that often gets overlooked?
"I feel like my speed and explosiveness gets overlooked. I feel like I have what it takes to play at the next level with my speed."
Your game speed on film looks great. What is the best 40-yard dash time you posted?
"A 4.56 at school."
Which schools are showing recruiting interest in you?
"I am in communication with Arkansas Tech. I have taken a game day visit there."
How did that visit go?
"It went really well. That experience with my family, getting to see a college game, watching them play, knowing they have interest in you, and thinking you can play there, it felt really good. It was a great time."
What is your cumulative GPA?
"3.25."
What did you score on the ACT or SAT?
"I scored an 18 on the ACT."
Are you going to play winter or spring varsity sports for Greenwood?
"I'm on the wrestling team. I have done that the last couple of years."
How have you performed in wrestling the last couple of years?
"My sophomore year I was All-State. I took third in the state that year."
It seems there is no such thing as an offseason anymore, after a little time to rest your body, when will you get back in the weight room or on the field getting ready for next year?
"About the middle of next week, Tuesday or Wednesday, I will get back at it again."
Lastly, not sure if you are aware but MaxPreps has ranked the Bulldogs No. 12 in the country. That is an amazing achievement. How does that feel to be the No. 12 team in the country out of the thousands of high school teams in the U.S.?
"That is amazing. When you told me, I got a butterfly feeling in my stomach. I can't explain that. That is awesome to know that. To know my senior class was that good. It feels like we won state all over again."
Kenny, again, congratulations on your championship win and good luck with your wrestling season.
"Thank you."
Please help keep RecruitingNewsGuru.com a national site aiding in bringing exposure to amazing student-athletes!
If RNG has helped you, a friend, or a family member through an article, video, or stylized interview with our countless hours of free promotion for high school, junior college, and college athletes – please donate. Any amount is appreciated!
Photo credit: Arkansas Democrat-Gazette; No. 30 Kenny Wood takes a handoff
Photo credit: Kim Singer; Kenny Wood raises championship trophy