Interview: 2019 Florida Talent Xavier Weaver Showcasing Skills Beyond a Playmaking Receiver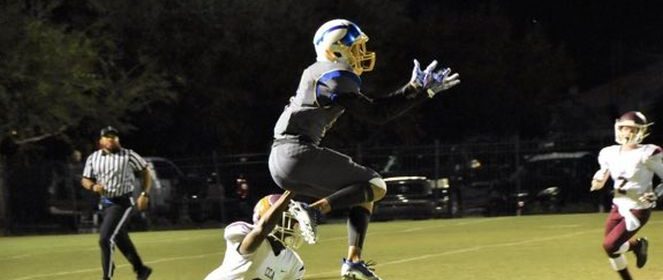 Written by Ryan Wright
Twitter: @RyanWrightRNG
The high school career of Xavier Weaver became even more interesting to track in 2017 seeing his skillset grow at receiver while adding an overall playmaker label to his resume. The Orlando Christian Prep rising star is under the radar now, but all of that is sure to change during the spring evaluation period.
When watching the Warriors play, it is easy to find Weaver. The 6-2, 165 pound, receiver stands out against smaller defensive backs and with his next level speed blowing past those hopeful defenders. Watching him grow into his budding talents in 2016, Weaver hauled in 27 passes for 529 yards with six touchdowns becoming a key target in the passing game leading to a big junior year.
When the 2017 season started, much was expected of Weaver to expand his game as a receiver, but he blew everyone away with the season he produced. Weaver's receiving numbers were cut short, not by his own doing but out of the team-first mold. With 43 passes secured for 929 yards and 11 scores, once the Warriors' starting quarterback went down, Weaver stepped in. Weaver ran the Wildcat offense helping Orlando Christian Prep to a 6-4 season with a heartbreaking 49-48 playoff loss to Windermere Prep. Weaver added 105 rush yards to the stat line with three more touchdowns scored.
If that was not enough, Weaver flipped the field playing free safety for the Warriors. Total stats have not been updated, but he did turn in 17 solo tackles with a tackle for a loss and an interception collected during his first half of play at safety.
In a Recruiting News Guru exclusive interview, I sat down with the rising Florida talent covering his junior campaign and offseason goals.
Interview
Xavier, your role with the Warriors picked up in 2017 adding some Wildcat QB to your game. What was that like for you getting extra opportunities to showcase your play-making skills?
"It was awesome. The coaches gave me a chance to play multiple positions. I wanted to do whatever it took to help my team win when our quarterback went down. When he went down, that is when we went into the Wildcat."
How did your game improve as a receiver this year before moving over to quarterback?
"It improved a lot. We had a new quarterback in 2017, I had to rebuild trust with him. I trained a lot to prepare for the season. My hands got better – I was better all-around. Last year, I was not as good on releasing off press coverage, I got better at that. When they bump now, it is second nature to me. With my speed, I can get open easily."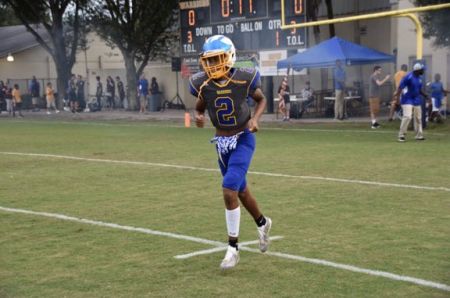 Is there an area of your game on offense that you feel gets overlooked?
"My blocking. I'm not a heavy receiver, so they don't think I will come down and block."
You got some snaps in on defense this year at safety, how did the season go for you on the other side of the ball?
"Our starting safety was injured, that is when I stepped in at safety for three or four games. I also played some corner this year."
What was that experience like for you getting to play some defense?
"It went really well. When I stepped in at defense, I learned our coverages in one week. We had two starting defensive backs that were hurt. During one of our games, the coaches told me everything I needed to do at halftime. I got a pick in the second half after they coached me up. It went really well."
Between playing receiver and safety, which position do you like best?
"Receiver."
Where all might we see you on the field during your senior year?
"I think mostly the same thing – free safety and receiver. Hopefully I can stay at receiver if we have a quarterback step up."
What will be the focus of your offseason workouts?
"I need to get stronger and faster. I will work on anything to improve my game."
The Warriors gave eventual state runner-up Windermere Prep a run for their money in the playoffs in a 49-48 contest. How has that game helped motivate the Warriors going into offseason workouts?
"Oh, that game was crazy. We were down 34-7 at halftime. Our coach gave us a speech at halftime telling us we did not come all this way to get blown out. We fought back. That game brought us closer as a team. We did not have that many seniors in 2017, we have the whole team coming back next year. That game made us stronger as a team going into 2018."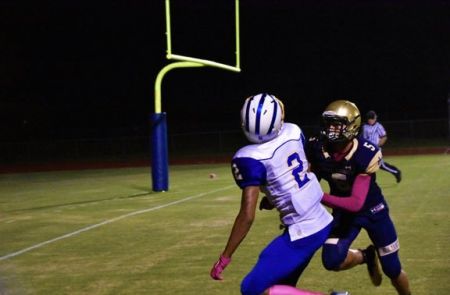 Are you receiving any recruiting interest yet?
"Eastern Carolina is showing interest."
Are you playing any other sports for Orlando Prep this winter or spring?
"I'm playing basketball and running track."
Which events in track do you plan on running?
"The 100, 400, 800, 4×4, 4×1, and 200."
Wow, Xavier – add an event (he laughs). How is basketball going?
"Basketball is going really well. We are undefeated. I am on the JV team. When our JV season is over, I will go up to varsity. Our varsity team is stacked. They won state last year."
Do you plan on attending any camps or combines this spring or summer?
"Yes, sir. I sent my Hudl to Adidas camp. I plan on going to as many camps as I can, all that I can afford."
What goals have you set for your offseason?
"This offseason… I want to make it to the championship this year. I want to learn how to read defenses better and get more physical. I want to prepare for a championship season."
Xavier, thanks for your time today and good luck with your workouts, track, and the rest of your basketball season.
"Thank you."
Please help keep RecruitingNewsGuru.com a national site aiding in bringing exposure to amazing student-athletes!
If RNG has helped you, a friend, or a family member through an article, video, or stylized interview with our countless hours of free promotion for high school, junior college, and college athletes – please donate. Any amount is appreciated!
Photo credits: Vic Lamonte Carr; No. 2 Xavier Weaver