Interview: 2019 University High Louisiana OT Dylan Rathcke Updates Recruiting and Workouts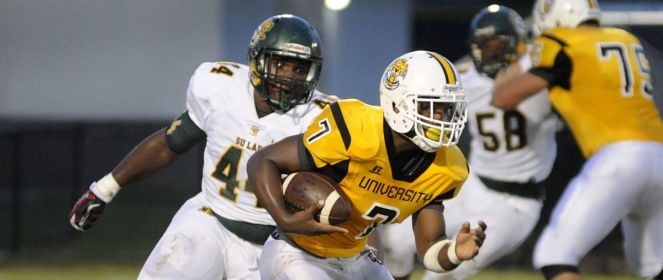 Written by Charlie Beuttel
Twitter: @charlie_cds3
University Lab High School, located in Baton Rouge, had an amazing season as the Cubs capped off their undefeated season by winning the Division II state championship 45-19 over De La Salle. During U-Lab's memorable season, the Cubs' offense averaged a whopping 42.7 points a game. One of the many reasons for their great success was the play of their offensive line which was anchored by junior offensive tackle Dylan Rathcke.
The 6'5", 290 pound, junior had a monstrous campaign and never missed a practice or a game despite dealing with a nagging knee injury all year. After the season, Rathcke received numerous individual honors including All-State.
The Class of 2019 prospect already has a handful of college offers which includes Southern Miss, Louisiana-Monroe, and Arkansas State, but is drawing interest from numerous powerhouses such as LSU, Oklahoma, and Ole Miss.
The star offensive lineman not only stars on the football field but also in the classroom where he has a 3.18 GPA.
In an exclusive Recruiting News Guru, I sat down with Dylan to discuss his career at University Lab and his recruiting process.
Interview
Dylan, first off, congratulations on the state title.
"Thank you."
What were your overall thoughts on the 2017 season?
"We had an amazing season. We went undefeated from spring to the state championship game. We also beat three other teams that won state in their divisions. I feel that we will have an even better year my senior year."
What were your thoughts on your individual performance during your junior year?
"I was really happy with my junior season. Two days before our third game, I suffered a deep bone bruise above my right knee. I had never even heard of that injury before and it was tough. I went to the trainers two times a day for most of the season. I never missed a play much less a practice or game. It slowed my first step down a little but I was still able to achieve 116 knockdowns and was graded at 95 percent. I also had five yards positive offense from a stripped interception during the championship game. I know it's not a lot but for a lineman it's a dream!"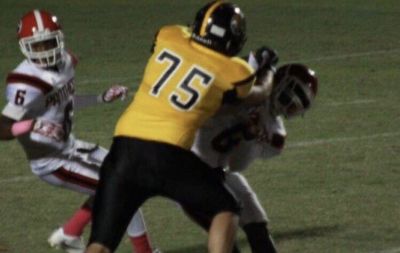 What was your most memorable moment in 2017?
"My most memorable moment of the season was beating De la Salle for state. We were both undefeated and just about everyone had us picked to lose. We beat them 45-19."
After the season did you receive any individual honors?
"I was honored to make the following: All-District, All-State and USA Today All-USA Louisiana Team."
Do you have any college offers?
"I have offers from the following schools: Louisiana-Monroe, Louisiana-Lafayette, Texas State, Southern Miss, South Alabama, Arkansas State and Tulane."
Are you receiving interest from any other colleges?
"I have lots of other schools that are interested. The following schools stay in contact with me: Tulsa, SMU, TCU, Oklahoma, Virginia, Missouri, Georgia Tech, Memphis, Southern Alabama, Kentucky, Rice, University of Texas-San Antonio, Ole Miss, Army, and LSU."
Have you been on any college visits?
"I have visited the following schools: LSU, Alabama, Ole Miss, Auburn, Georgia, Penn State, Southern Miss, University of Texas-San Antonio, Texas State, Houston, Nicholls State, Southeastern, Louisiana Tech, Louisiana-Monroe, Louisiana-Lafayette and Tulane."
What is your max bench and max squat in the weight room?
"My bench max is 295 pounds and my squat is 415 pounds."
What is your current GPA?
"My GPA is a 3.18."
Do you know what you want to study in college?
"I'm not 100 percent sure what I want to study in college. I had originally thought about engineering or sport medicine but I'm also considering business."
Do you have any hobbies outside of school and football?
"Outside of football and training, I enjoy the outdoors. I love hunting and fishing and ATV riding. I also enjoy bowling and video games."
Who is your favorite football player?
"My favorite football player is JJ Watt from the Texans."
What are your biggest strengths on the football field?
"I think my conditioning and my technique are my biggest strengths on the field. I am very athletic and have always worked on technique first. I love running down linebackers and backs."
Do you have a current football player that you try to model your game after?
"I don't have a current player that I try to model my game after. I have been blessed to have four trainers and coaches that have all played professional football. I try to model my game after them. I have been working with Coach Keith Ballard since I was 6-years-old at speed and agility. I also started working with Kevin Mawae in the 8th grade and Dillon Farrell last year. Recently, I've started powerlifting with Gary Frank. They all were amazing at their positions."
Who has had the biggest impact on your football career?
"Coach Keith, Coach Mawae, Coach Dillon Farrell, and my dad. I couldn't really choose one."
Do you have a favorite Bible verse?
"Some of my favorite verses are: Chronicles 15:7. But, as for you be strong and do not give up, for your work will be rewarded. And my favorite is Psalm 23:4 18."
Do you have any early goals for your senior season?
"My goals for my senior year are to get stronger and more aggressive. I believe these two things will bring my game to the next level."
Thank you for your time.
"Thank you, sir.
Please help keep RecruitingNewsGuru.com a national site aiding in bringing exposure to amazing student-athletes!
If RNG has helped you, a friend, or a family member through an article, video, or stylized interview with our countless hours of free promotion for high school, junior college, and college athletes – please donate. Any amount is appreciated!
Photo credit: recruittheboot.com; University Lab OT Dylan Rathcke
Photo credit: theadvocate.com; No. 75 Dylan Rathcke