Interview: 2019 WR Ahmad Lipscomb Lining Up to be Next Cathedral Breakout Player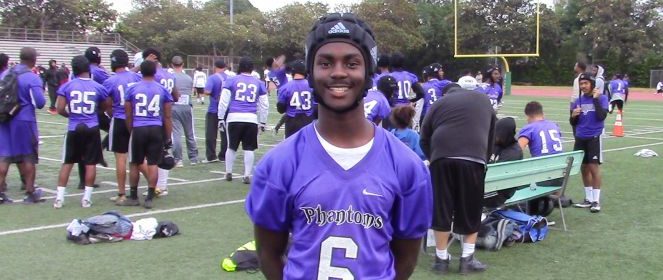 Written by Ryan Wright
Twitter: @RyanWrightRNG
If stats, productivity, and wins marked on the left side of the column against top California competition account for anything in college football recruiting – mark down Ahmad Lipscomb as a potential breakout recruit in the 2019 class.
Lipscomb was part of a Cathedral offense that averaged 291 yards per game in the passing attack with their speedy junior accounting for 503 yards off 39 receptions with a team-high eight trips to the end zone. The Phantoms followed up an 11-1 2016 season with a 10-2 run in 2017 before running into a buzz saw that was Upland High School seeing Lipscomb turn raw talent into playmaking abilities.
With the camp and combine season around the corner, growing interest in Lipscomb could quickly turn to scholarship offers. The 5-11, 150 pound, athlete has an unofficial visit to USC under his belt and programs like BYU, Purdue, and Washington State taking a closer look. In a Recruiting News Guru exclusive interview, I sat down with one of the Los Angeles area rising stars gaining insight on his junior campaign with a look at his offseason workouts and recruiting interest.
Interview
Ahmad, how did the 2017 season go for you?
"Personally, it went okay for me. I felt that I still needed to prove myself. I feel like I could have done more with the opportunities given to me. I feel like I could have done a lot more. I'm not satisfied with my season. Next year will be a very strong season for me."
The Phantoms were prolific on offense this year averaging 38 points per game, where all did you lineup on the field to help make the offense so dangerous?
"I bounced back and forth from outside to slot. Some games I started at slot and some I started on the outside."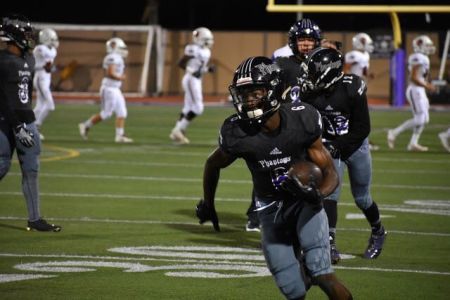 You led the team with eight receiving touchdowns, what was working for you on the field allowing for you to be so productive?
"When teams went into man coverage that was a big advantage for me. I feel like I can get off the line with anyone in front of me. Going deep – I love going deep and using my speed to break free."
How did your game improve on offense?
"My game improved on offense mostly by learning defensive coverages. My hands and route running were up to par. Studying coverages helped me a lot. I truly realized the game is a lot more mental than physical. That sent me over the edge, just by studying."
Which areas of your game are key for you to work on this offseason?
"The area I will focus on the most is my hands. I dropped three passes this year, my goal was to drop none. That is my job as a receiver, catch the ball and not have any drops. Another goal is to get stronger and dominate the competition from start to finish next year."
Will we see you playing other positions next season, on offense or on defense?
"Next season I would love to play outside, slot, and play safety or corner on defense. I want to play both sides of the ball to show colleges how athletic I am."
Are you playing any 7v7 ball this spring?
"Yes, sir. I will play with Rise Up, Rose City Boys, and Team D-1."
Have you started an offseason workout program, if so, what all are you doing to stay in shape?
"I started my offseason workout two days after our loss to end the season – I started that Monday. I'm doing all explosion work with the coaches at Extreme Athletics. We are running our routes and I am working on my explosion out of cuts and breaks."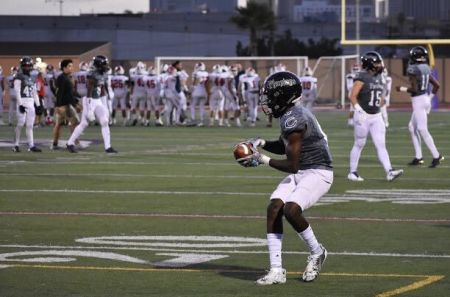 Which schools are showing recruiting interest in you?
"The main schools showing interest are Washington State, Wyoming, BYU, and Purdue – I'm getting a lot of love from them."
Did you get to take any unofficial visits this fall?
"I took one to USC."
How did that go?
"It was nice. I loved USC. Their facilities, coaches – everything was very nice at USC. I love the competitiveness their players bring to the game."
Do you have any planned visits in 2018?
"I plan to go to Washington State's Junior Day, BYU's Junior Day, and to San Jose State."
What is your cumulative GPA in the classroom?
"I have a 3.25 GPA."
Have you taken the ACT or SAT yet?
"No, I am taking the SAT in March."
Are you playing any other sports for Cathedral this winter or spring?
"Track."
Which events?
"The 200, 100, and 4×1."
Nice. I have one last question for fun. What is one thing most people don't know about you that others may find interesting?
"One thing people don't know about me… I love turtles."
How did your love for turtles come about?
"When I was young, my mom and dad got me three turtles. I loved them and have loved turtles since then."
Ahmad, thanks for your time today and good luck with your offseason workouts.
"Thank you."
Please help keep RecruitingNewsGuru.com a national site aiding in bringing exposure to amazing student-athletes!
If RNG has helped you, a friend, or a family member through an article, video, or stylized interview with our countless hours of free promotion for high school, junior college, and college athletes – please donate. Any amount is appreciated!
Action photo credits: Cathedral High School; No. 6 Ahmad Lipscomb
Featured photo credit: RecruitingNewsGuru.com; No. 6 Ahmad Lipscomb 7v7