Interview: 3-Star 2019 Washington ATH Daeshawn Wayne Readies for Big Senior Season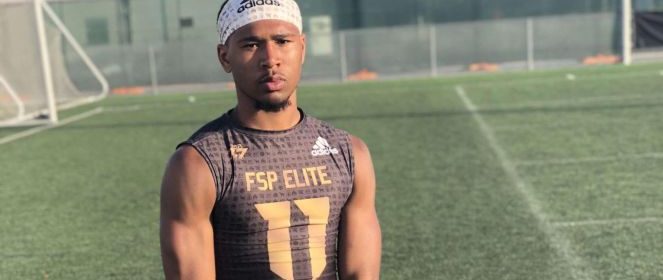 Written by Ryan Wright
Twitter: @RyanWrightRNG
Every senior season is a big one for any athlete in every sport. But, perhaps the upcoming 2018 campaign means a little bit more to Daeshawn Wayne than most. The Lakes High School star was limited to two games last year, but wowed in those two games, putting a big emphasis for tape during his senior year. Although the Lakewood (WA) area standout at corner and receiver is considered a three-star recruit with interest from Pac-12, Mountain West Conference, and Ivy League programs, his recruitment is still largely under the radar. In a Recruiting News Guru stylized interview, I sat down with the 5-11, 165-pound, athlete for a one-on-one learning more about the 3.9 GPA student on and off the field with an update on his recruiting process.
Interview
Daeshawn, how did your game develop as a corner in 2017?
"I worked with FSP on my footwork, that got a lot better. I was more physical at the line jamming guys. My backpedal got better; I was not good at that in 2016. Overall, I was a lot faster and made better reads breaking on the ball."
When you got snaps playing receiver, how did your showcase your talents on that side of the ball?
"At receiver, when I get the ball I am shifty. If I make the first guy miss, I am gone."
Between receiver and corner, which position do you like best?
"That is a hard one. I probably like offense a little more. I like making guys miss and making the crowd go ohhh."
Is there an area of your game you feel is overlooked?
"My size. I'm at 165, but I am gaining weight and trying to get to 180 by the start of season."
Where all might we see you on the field during your senior year?
"I am playing a lot of positions this year. I will be at kick and punt return, slot receiver, receiver, Wildcat QB, and at safety and corner."
That is a lot. How are you preparing for your senior year this offseason?
"I am working on gaining weight. If I am bigger I will be more dominating. My speed, the quick acceleration and my breakaway speed."
Is there anything with your fundamentals you are specifically working on before your senior year?
"Routes. I am working with my coach at Lakes, Coach Matt Johnson. I've also been training with Desmond Trufant (Atlanta Falcons). We've been working on footwork."
How did the 7v7 Adidas National Championship go?
"It was great. We came in third. There was a lot of great competition there. There were great 5-star players on both sides of the ball. I felt ready. I felt as good as them if not better."
How did you showcase your talents against some of the best players in the country?
"Playing at safety, my athleticism, speed breaking on the ball, and going for 50-50 balls. I broke up a lot of passes and got a few INTs."
Which schools are showing recruiting interest in you?
"I'm getting a lot of Ivy League interest. Pennsylvania, Harvard, Cornell, Holy Cross, Utah State, Portland State, Washington State, Oregon, USC, and Princeton are all showing interest."
Have you taken any unofficial visits?
"I have been to USC, Oregon, and UCLA."
How did the USC visit go?
"It was great. We tried on jerseys, toured the campus – it was beautiful. The weather was great. I give it a plus."
How about Oregon, how did the visit with the Ducks go?
"Oregon had the nicest campus and their football facility was a amazing. A big plus to Oregon."
Do you have any planned visits upcoming?
"In May, I am planning on visiting Harvard and Utah State."
Have you set any college camps for this summer?
"Not yet. I'm trying to figure it out now."
What is one thing most people would be surprised to find out about you?
(laughs) "My grades. That stands out. Most people are surprised after all the sports that I play that I have such a high GPA."
Last question. What type of player are you on the field, are you a talker or the strong silent type?
"I'm the strong silent type, but I bring out the talker once the game gets going. Beforehand, I am focused on the game. After a couple of nice plays, I'm talking a lot of smack."
Daeshawn, thanks for your time today and good luck with the rest of your offseason workouts.
"Thank you."
Please help keep RecruitingNewsGuru.com a national site aiding in bringing exposure to amazing student-athletes!
If RNG has helped you, a friend, or a family member through an article, video, or stylized interview with our countless hours of free promotion for high school, junior college, and college athletes – please donate. Any amount is appreciated!
Photo credit: Wayne family; Daeshawn Wayne at the Adidas 7v7 Championship and at USC