Interview: All-CIF Junior Season Attracting West Coast Interest for ATH Rolandiss Whitener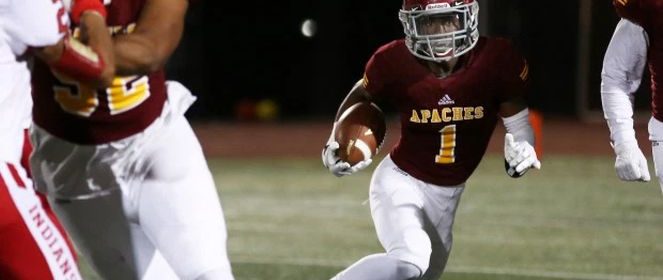 Written by Ryan Wright
Twitter: @RyanWrightRNG
Nothing illustrates success on the gridiron like a bunch of gaudy stats, and Rolandiss Whitener has that in bunches. Whitener's 2017 campaign was a great success across the board firmly cementing himself as a playmaking athlete in California. Fans of Arcadia High School football are all wondering what he will do during his senior season with another chance to make great southern California talent look foolish under the bright Friday lights.
Tracking No. 1 on the field during the 2017 season was not easy, but one could just follow the ball and chances are Whitener was there. Lining up at safety, receiver, and as a punt and kick returner, Whitener used all his opportunities to turn in an All-CIF, All-Area, and first team All-Pacific League season. Tough to delineate where Whitener stood out more, on offense, defense, or special teams. On defense, the hard hitting safety came up with 47 tackles with two tackles for a loss and four picks. On offense, he secured 34 passes for 766 yards putting 12 scores on the board. Whitener also carried the pigskin 35 times for 139 yards with three more reasons to celebrate.
College scouts are now finding their way to Arcadia High School. The 5-9, 145 pound, speedster represents mismatches across the board for defenders and in the return game. Adding a talent that took five punts back for 119 yards and 12 kicks the other way for 305 yards can flip the field and change the momentum of any game in a heartbeat. Teams taking an early look at Whitener includes Washington, Pennsylvania, and BYU.
In a Recruiting News Guru exclusive interview, I sat down with one of California's overlooked all-around athletes to learn more about his on the field success and offseason workouts.
Interview
Rolandiss, before we get into the nitty-gritty of the interview, how many receivers did you knock out of the game last season?
"I knocked two receivers out of the game last season."
Okay, now we can get into it. I had to know. How did your junior season overall go on the field?
"It was very good. It was a successful season. If we had won a ring it would have been even more successful (8-4)."
Did you receive any post-season honors?
"I was named All-Area, All-CIF, and first team All-Offense."
It seems that you played just about every skill position possible last year, where all did you line up on the field in 2017?
"I played a little bit at corner, safety, receiver, running back, and kick and punt returner."
Where all might we see you on the field in 2018?
"Everywhere. The same places, but I might play a little bit at QB next season too."
Do you have a favorite position?
"I like playing free safety and receiver. But, I like receiver more than free safety."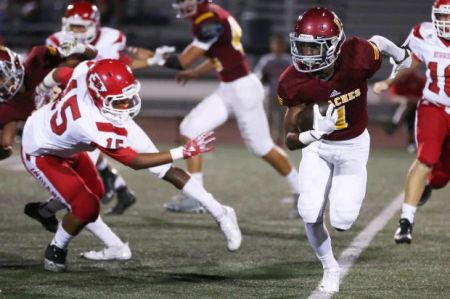 What are the strengths of your game as a receiver?
"My speed. My football speed, my cuts, my hands, and my routes."
What about on defense at safety, what are some of the things you do well on that side of the ball?
"My hands – getting picks, one-on-one coverage, tackling, and deep ball battles."
Another area of your game that pops is your abilities in the return game. How many special teams touchdowns did you have last year?
"I think I had four. All on punt returns."
Do you have a secret strategy on returns? What's your secret strategy?
(Laughs) Uhhh. I don't think I should tell my secrets (laughs). No secrets really. I just use my vision, follow my blocks, and turn on the speed."
What are you working on this offseason?
"I am working on my footwork and getting faster, stronger, and bigger."
Have you set any goals for yourself this offseason?
"Bigger, stronger, faster."
Are you playing 7v7 ball?
"I am playing with the Rose City Boyz, party of ProWay."
How is that helping you?
"It is good. The coaches provide a lot of help. They set everything up just like practice helping us get ready for the season."
Which schools are showing recruiting interest in you?
"Washington – they came to visit me at school, BYU, and I have talked to Pennsylvania on the phone."
Do you have any camps and/or combines set yet?
"I have a lot of camp invites. I went to the U.S. Army All-American combine already and a camp in Louisiana. I'm not sure where else I will camp yet this spring or summer."
Rolandiss, thanks for your time today and good luck with the rest of your offseason workouts.
"Thank you."
Please help keep RecruitingNewsGuru.com a national site aiding in bringing exposure to amazing student-athletes!
If RNG has helped you, a friend, or a family member through an article, video, or stylized interview with our countless hours of free promotion for high school, junior college, and college athletes – please donate. Any amount is appreciated!
Photo credits: San Gabriel Valley Tribune; No. 1 Rolandiss Whitener in action