Interview: Cisco JUCO to Unleash Scary Talented DE/OLB Michael Clemons in 2016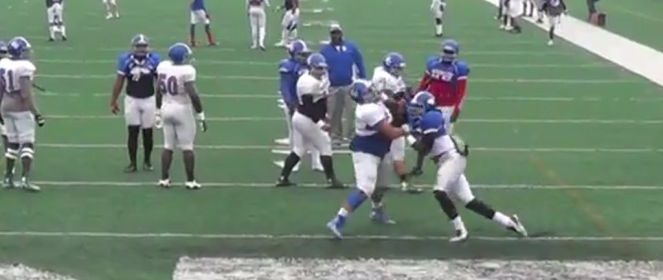 Written by Ryan Wright
Twitter: @HogManInLA
Every football player at any level is a beast in shorts and cleats. The beastliness lessens a little in shells and the true nature starts to emerge in full pads when the action goes live. The final mark is productivity on the field time and time again separating the pretenders from playmakers. By all accounts everything is still in the early stages for Michael Clemons but if his spring football is a measuring stick of what is to come – junior college teams opposing Cisco (Texas) in 2016 better watch out.
There are under the radar players and then there are the forgotten players – players no one has heard of before for one reason or another. Clemons is all of the above. During his junior year in high school a move from Texas to Oklahoma put his season on the shelf. One game into his senior season a groin injury put him on the sidelines making him a great unknown but someone with the potential to make a lot of noise in the upcoming season.
Clemons graduated from Sachse High School and spent his freshman season at Cisco as a redshirt. He has emerged as a legitimate 6'6", 241 pound, scary athletic talent who can play defensive end or outside linebacker. An unfair comparison, to all involved but to serve the purpose, for Clemons in the 2017 class would be UCLA four-star commit Jaelan Phillips. Both are rangy, strong, and quick. Clemons, like Phillips, is fast, for any size, running a reported 4.53 in the 40-yard dash and has posted a 4.08 shuttle.
A little more time in the trenches and with a lot of on the field productivity, Clemons could be that immediate difference maker for a Division-I team as part of the 2018 class. With spring football wrapped up for Cisco, I sat down with Clemons getting a little more of his background story and got caught up on his offseason workouts.
Interview
Michael, you pose a unique interview for me. Other than seeing spring football film on you, I don't know that much about you. Catch me up on the last couple of years of your football career.
"I missed time during my junior season because I was trying to move from Texas to Oklahoma. My senior year I was playing SAM (strong-side linebacker) but then hurt my groin muscle. When I came back after two or three games they moved me to defensive end because I was not at full speed. I ended up missing the rest of the season after aggravating my injury.
"None of the schools were showing interest in me because of my injury so I ended up at Cisco. The coaches redshirted me so I could work on my technique more. I needed to refine my fundamentals and I was playing too high."
You mentioned refining your skill set, what all did you work on to be ready for the 2016 season during your redshirt year?
"I worked on my fundamentals and technique. I worked on getting off blocks, worked on my speed, and basically that was it. Speed and technique. I'm a long outside linebacker and a hybrid defensive end. I worked on my technique dropping into the flats and worked on getting off the offensive tackle from the snap of the ball."
Are you ready to show your stuff in 2016?
"Oh, yes sir! I have spent the last seven or eight months and this offseason working on my craft. I've done a lot of work. I have gotten bigger, faster, and stronger. I'm ready to Rock 'N Roll."
Have you maxed out in any of the football lifts this offseason?
"Yes. My bench is 325, my squat is 500, and my power clean is 275."
Have you ran a 40-yard dash this offseason?
"I ran a 4.53 in the 40 and my shuttle was a 4.08."
That's crazy, especially for your size. Since spring ball is over, how does the team look going into 2016? Does the team look good?
"Yes sir, we look really good. Coach (Skylar) Watson, he is our defensive coordinator, he will put us in a position to win. We are looking really good."
After spending the last year working on your technique, what are some of the things you will bring to the field as an outside linebacker/defensive end for Cisco in 2016?
"As a defensive end, I'm strong at attacking the tackle. If I can get my hands on him first, he's beat. They can't match my speed. I can get around that corner easily. I'm good at that. I'm good at getting off blocks. At outside linebacker, I can play the flats well. I'm a big guy so it is hard to get around me. I use my speed to get out there and cover."
What are your goals for the 2016 football season?
"Basically, just to be as dominate of a hybrid end and outside linebacker as I can be. I want to be the best in our conference. I want to help my team win. That's my goal."
Are you already getting really excited for any game on the 2016 schedule?
"Week 1 against Trinity Valley (Lions Bowl). We are talking about that game here at Cisco already."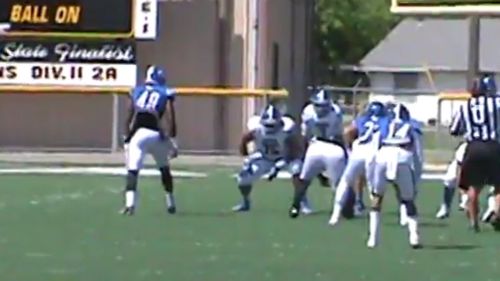 Are there any schools already showing interest you after your spring practices?
"SMU, Abilene Christian, and UMass. There may be other schools but my coach has not been specific with me on that."
Are you going to take any unofficial visits this offseason?
"I've talked to one coach about a visit, UMass' Coach (Charles) Walker (recruiting coordinator/inside linebackers coach). That's the only coach that I have talked to about that."
Are there any college or NFL players you model your game after?
"I like Jadeveon Clowney (Houston Texans). He's explosive, a speed guy, and a dominating defensive end. I model my game after him. I like to watch Randy Gregory (Dallas Cowboys) from Nebraska. He's another speed guy off the end and a dominating defensive end."
Have you thought about what you want to major in once you go to a four-year school?
"Criminal justice."
What is your favorite subject in school?
"I like math. I've always liked math."
Last question, what is your favorite part about playing football?
"I can be aggressive on the field. That is one time when you can line up and get as aggressive as you want without getting in trouble while being an athlete. I love the aggressiveness of the game."
Michael, thanks for your time today and good luck with your offseason workouts.
"Thank you."
Photo credit: Cisco; No. 48 Michael Clemons.