Interview: Former Bellevue Washington Standout RB Christoph Hirota Applying Trade for Santa Monica JUCO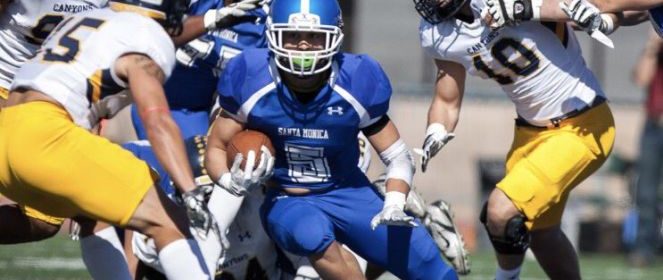 Written by Ryan Wright
Twitter: @RyanWrightRNG
One never knows where the world will take you, and for Christoph Hirota, one can easily guess he did not see himself at Santa Monica College after standout junior and senior seasons with Washington powerhouse Bellevue High School. The high school running back was an Arizona State preferred walk-on commit but was forced to go a different direction by the former Sun Devils staff. The change in plans has not slowed Hirota down earning All-Conference honors during his freshman season with the Corsairs working his way back to the Division-I level.
Wolverines head coach Butch Goncharoff never gives out team stats, so fans, media, and college recruiters alike are left in the dark when wanting to crunch the numbers on Bellevue stars. But, at the California JUCO level, all stats and information are available allowing better access to information to college recruiters. This slight change might just make all the difference in the world for Hirota the second time around on the recruiting trail.
There is no easy way to express it, but perhaps the nicest way to look at the Corsairs' 2017 season is to say it was a challenging one. The team posted a 1-9 mark, worlds away from Hirota's 2015 and 2016 seasons when the Wolverines posted a combined 24-3 record. Without a doubt, one of the bright spots for Santa Monica on the field was Hirota. In incomplete stats posted for the 2017 campaign, the 5-10, 180 pound, mix of speed and power fought for 441 yards off 122 carries with three scores.
The tough yards gained have already drawn the eye of next level teams with Northern Colorado, University of San Diego, West Texas A&M, and Stetson showing varying levels of interest. In a Recruiting News Guru exclusive interview, I sat down for an interview with Hirota for the first time since his high school days catching up with his recruiting process and growth on the field.
Interview
Christoph, it has been a while. Catch me up on what happened in 2016, did you redshirt?
"No. I was a preferred walk-on at Arizona State but there was a change on the staff. Right before I got there I received an email cancelling my walk-on status. I went through the entire school year at ASU and then transferred to Santa Monica."
Did you stay focused during that offseason?
"Yes, sir. I worked out with my roommate the entire year. The same thing happened to him with the ASU staff."
How did the 2017 season go for you?
"It was a good experience. Coming from a winning program to a one-win season, you learn a lot. Knowing what you have to do to be successful, you learn that you have to work hard to achieve the success you want. It was an eye opener. You learn what to do to be successful and what not to do. Overall it was good. I did not get the stats I wanted, but I was named second team All-Conference."
What type of offense does SMC run?
"We run a spread offense. That was an adjustment, we ran a Wing-T in high school. Reading the holes at Bellevue, you had to hit a specific hole. You had to hit the hole hard at right time. Now you have to read it on your own."
How were you utilized in the offense?
"Mainly at running back on first, second, and third downs. I was used on some screens and a lot of inside and outside runs."
How were you able to showcase your skills this season?
"Coming from Bellevue and hitting the hole a specific way, I learned from them you see the whole that you have to go. This season, I was able to showcase my field vision, making different cuts based on the linebackers. I am hard to bring down. I ran hard and made it a battle to get me down. I was able to get to the outside with my speed. I was able to fight for yards and get to the outside to get 10 to 15 more yards. I was balanced this year. I was able to showcase my power, speed, and quickness."
Which areas of your game improved the most?
"Definitely my vision. Reading holes, I'm looking to go inside or outside. I did a different type of running this year as I mentioned. I'm watching where the linebackers are going on inside runs and watching the ends biting from the edge on outside runs."
Which areas of your game are you planning on working on this offseason?
"My balance. There were a couple of times I felt like I was pushed and it would slow me down, allowing defenders to catch up if I was off-balanced. I am running track this offseason. I am focused on getting my speed up. I want a better second gear going into the secondary next season."
How is everything going in the classroom for you?
"I had a 3.0 at ASU and I am carrying a 3.4 at SMC. I had 30 credits at ASU and 21 of those credits transferred. I was happy about that."
Chris, great catching up with you. Thanks for your time today and good luck with your offseason workouts.
"Thank you."
*Click link to see Christoph Hirota's Hudl highlight reel
Please help keep RecruitingNewsGuru.com a national site aiding in bringing exposure to amazing student-athletes!
If RNG has helped you, a friend, or a family member through an article, video, or stylized interview with our countless hours of free promotion for high school, junior college, and college athletes – please donate. Any amount is appreciated!
Photo credit: Santa Monica College; No. 5 Christoph Hirota in action