Interview: Hawaii Class of 2017 Recruit Adam Stack a Rare 5-Star Kicker and Punter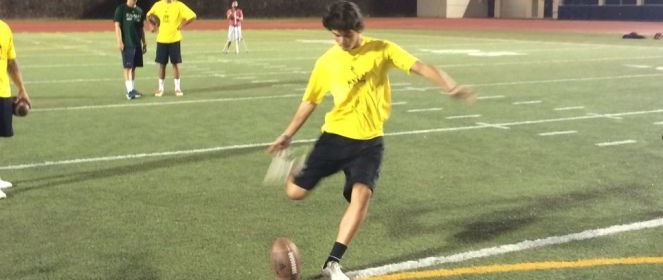 Written by Ryan Wright
Twitter: @HogManInLA
Football fans either love or hate their special teams performers. Rarely is there any middle ground for the long snappers, punters, and kickers of the beloved sport. The task of kicking is typically minimalized as if booting a 50-yard punt downing it inside the 10 yard line or kicking a 45-yard field goal is a run of the mill everyday chore. Sure, arm chair quarterbacks do it every Saturday and Sunday with a hot-wing in one hand and the TV remote in the other but the reality is much different.
Kicking maybe simple at the core but being good or even great at the job is akin to completing a fourth and goal pass from the 35 yard line – every time. Point being, there is no room for error and mistakes are magnified. For punters, field position is at stake with the notion of putting the defense into a position to succeed and for field goal kickers putting points on the board to reward the offense for the drive and perhaps take some pressure off the defense at the same time is all on the line. At the end of the game, with seconds remaining, one snap, one hold, and one kick can be the difference between a win or a loss.
Being great at either one is difficult. Being great at both is even more challenging. There are no real comparisons in sports. Perhaps an analogy that would work would be a MLB player that hits 30-plus homeruns a year and lays down 20 punts to get on base. Or a 7'2" NBA player that grabs 10 boards a game, blocks four to five shots, and nails 3-pointers 45 percent of the time.
Players at all levels specialize in one thing or the other but rarely multiple things which makes Adam Stack such a unique Class of 2017 recruit.
Stack is rated as the No. 1 field goal kicker and No. 1 punter in the nation by kicking guru Chris Sailer. Stack had a breakout junior season connecting on 10 of 15 field goals twice hitting for a long of 43 yards, hit 34 of 36 PATs with both "misses" being blocked, and booted 47 of 55 kickoffs as touchbacks negating any sort of return. Equally as impressive was Stack's ability to flip the field as a punter averaging 46.2 yards per kick while putting 15 of 20 punts inside the 20.
The 6'2", 175 pound, Kamehameha High School star has been showcasing his skill set at the highest of levels for a couple of years now. His list of accomplishments are long, really long, but some of the highlights include 2015 Vegas XXVI Class of 2017 Punt Champion, 2015 FBU Top Gun Class of 2017 Field Goal Champion, 2015 FBU Top Gun Class of 2017 Kickoff Champion, 2015 FBU Top Gun Class of 2017 Punt Champion, 2015 FBU Top Gun Class of 2017 MVP, 2016 Vegas XXVII Class of 2017 Field Goal, Champion, 2016 Vegas XXVII National Kicking Champion, and 2016 Vegas XXVII National Punting Runner-Up.
Interest is starting to build for Stack with offers sure to follow after an impressive one-day college camp schedule planned taking him from Honolulu to Miami, Tennessee, Wisconsin, Alabama, and Washington among others.
In a Recruiting News Guru exclusive interview, I caught up with Stack to talk about his junior season, his offseason workouts, and his offseason camp schedule.
Interview
Adam, you do a lot of things well with the ball on special teams. As a kicker, what are your strengths on the field?
"I feel like I am good at staying consistent. I have the same kick every time. I hit the ball consistent and always try to be efficient with my power."
What distance can you hit from consistently on field goals?
"I feel comfortable from 55 to 60 yards. All those kicks inside the 50 are important. I'm getting stronger and more consistent from all distances."
What is the furthest you have connected on in a game?
"The longest I have connected on is 48 yards."
What about in practice or at a camp?
"The longest was 65 yards at practice. I had a little wind helping me."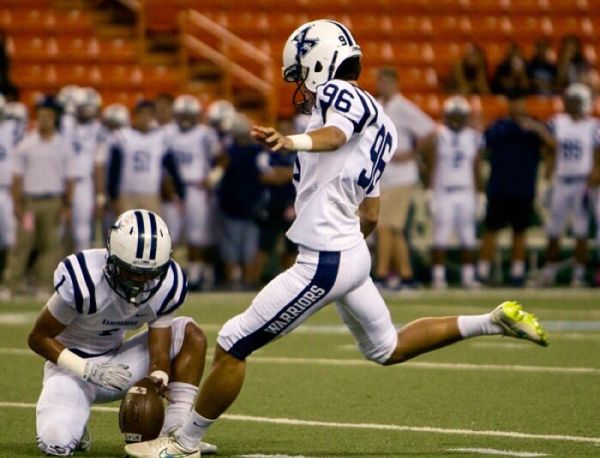 What makes you the No. 1 rated punter? Or phrased another way, what are the things you do well as a punter?
"I feel like with punting it is the same thing as with field goal kicking, I stay consistent. With punting, I'm interested in improving and getting better. I work on my swing through a lot and practice getting the ball inside the 20 a lot. I think putting is a lot of fun. It is a challenge to find ways to drop the ball in the corner of the field at the 5-yard line. The other thing I like about punting, you can help your team instantly. I can help the offense and the defense with a great punt giving the team good field position."
What is the longest punt you've registered in a game?
"The longest punt was 83 yards, but it had a good roll on it."
Your average is 46 yards per punt, but that can be limited by field position. What range are you consistent at with your punts from kick to the ball being fielded?
"I would say 45 to 50 yards."
The speed a field goal kicker gets the ball off is important. What is your average speed per field goal?
"For field goals, the whole operation from snap, hold, to kick has to be quick. Last year we had a good coordinator on our team, Dennis McKnight. He was at UH (Hawaii) a couple of years ago. Our unit had it down to under 1.2 seconds from snap to kick."
I have to ask you about the fake punt you guys ran where you threw the ball for a first down. How was that play for you?
(Laughs) "That was to be our first punt of the season. I would have gotten us the first down but we lined up in formation wrong so the play was called back."
That's no fun. At least you showed you could do it if needed. What are you working on over the offseason in preparation for camps and your senior year?
"This offseason I am focused on getting stronger. I'm lifting a lot. I've been working out with Jet Toner (Stanford 2016 signee) and Kekoa Sasoka. We've been working on being consistent, improving, and not being complacent with where we are at with our kicking. We are working on directional kicking and Aussie style punts. We are really detailed in what we do and what we are trying to do to get better."
What camps are you going to coming up?
"I'm going to a bunch of Chris Sailer camps and to the Top Gun camp."
Are you going to any college camps or taking any unofficial visits to any colleges?
"I'm going to Alabama, Oregon, Miami, and Wisconsin. I will probably take visits to Washington, Oklahoma, and Tennessee. All of these visits will be during my spring break which is the last two weeks of March."
Have you taken any unofficial visits yet?
"Yes. I've visited Washington for their game against Washington State over Thanksgiving."
The Apple Cup, that had to be fun.
"It was."
During your trip was there anything that jumped out at you about the college experience?
"I really liked the game day environment. The fans were excited and they were nice. They were all supportive of the team and the university. It felt like a good place to be."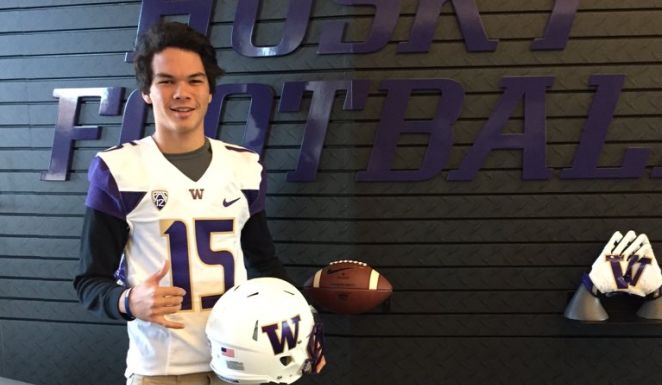 When you start taking the various visits coming up seeing the campus and facilities, what are some of the things you are going to look for with each visit that is important to you?
"Can I see myself there for four years? Does it feel like home? I want a place where I can play football and enjoy school. I'm very interested in the academics side. Getting a degree is important to me. Also, I really want to start as a freshman and be an impact player right away."
What is your current GPA?
"3.2."
Have you taken the ACT or SAT yet?
"I take the ACT in April and the SAT in May."
Have you thought about what you want to major in while in college?
"I'm leaning towards business."
Are you playing any spring sports for your school?
"No. I used to play soccer and run track. But the kick in soccer is different and I don't want to mess my swing up so I am focused on football."
Adam, good luck with your upcoming camps and with all of the visits you are taking.
"Thank you."
Photo credit: scoringlive.com; No. 96 Adam Stack kicks a field goal.
Photo credit: chrissailer.com; Adam Stack gets work in at a Chris Sailer camp.
Photo credit: Stack family; Adam visiting Washington.