Independence 2018 All-KJCCC DB DJ Williams Updates Buffalo Official and Recruiting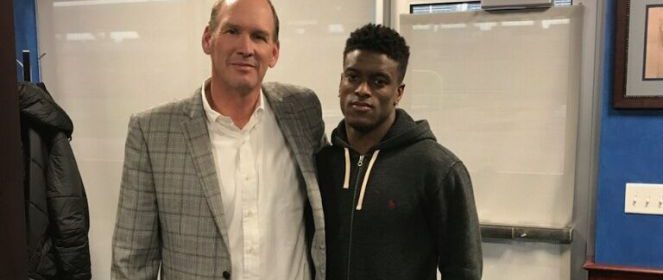 Written by Ryan Wright
Twitter: @RyanWrightRNG
Success has a way of attracting others, and Independence Community College has shinned bright throughout the 2017 season pulling in the spotlight. The team posted an 8-2, 6-1, record claiming a Kansas Junior College Conference title earning a berth in the Midwest Bowl Classic against Northeastern Oklahoma A&M (9-2). One of the talents helping push the Pirates forward this season has been All-KJCCC safety Dorian "DJ" Williams.
Williams (5-10, 185) carried his do-everything athletic talents from Smyrna High School in Tennessee to Independence earning the respect of opposing coaches in 2017. After posting a stat line of 47 tackles, two sacks, two tackles for a loss, one forced fumbles, two fumble recoveries, and three passes broken up, coaches in the KJCCC agreed he was one of the best they had seen all season. That same sentiment has echoed down from the Division-I ranks with offers coming from Tulsa, Southern Mississippi, UMass, Miami (Ohio), Southeast Missouri State, Tennessee-Martin, North Illinois, Tennessee State, Nevada and Buffalo, just to name a few.
Over the weekend, Buffalo brought Williams in for an official visit hosting him for a 31-24 bowl clinching berth victory over MAC rival Ohio. In a Recruiting News Guru exclusive interview, I got a few minutes in with Williams getting the inside story on his first official visit of the season.
Interview
DJ, before we get into recruiting, how did the season end up for you?
"It went well. We won our conference, that was one of my main goals. We've been working since January for it. We came together and played hard, and now we are getting a ring for that. We made a bowl game, we play NEO on Dec. 3. That'll be a good game."
What are you guys expecting of NEO in the bowl game?
"From what our coaches said, they will be the best team we have played all year. I love these types of games. I love being tested. One last ride with my teammates. I want to make history here at Independence."
Did you earn any postseason honors?
"Yes, sir. I was named first team All-Conference at safety."
Which schools have been showing interest in you without offering?
"Toledo, they have been in contact with me and love my film. Arizona State was on me but the coaches were fired."
How many offers do you have now?
"I think I have 15 or 16 offers."
Which schools were the latest to offer?
"Tulsa, they are in the American Conference and a very good school. I like their safety coach, he is recruiting me. Buffalo, UMass, Miami (Ohio), and all the schools in the MAC."
You took a visit to Buffalo over the weekend, how did it go?
"It went great. They treated my mom (Razani Jones) and I great. They showed us around, made us feel at home. They won the game. They are bowl eligible now."
Which coaches did you meet with?
"I met with Coach (Brian) Borland (defensive coordinator), Coach (Taiwo) Onatolu (corners), and head coach Lance Leipold."
What did the coaches talk about with you?
"They let me know I could come in as an immediate impact player. They said I am the first safety on their board. The safeties starting now are seniors. They need someone to come in and play next year."
Did you have any one-on-one meetings with the coaches going over the defense and/or schemes?
"In my meeting with Coach Borland, he was watching my film, he let me know what he liked about my game. He said he loved how physical I am on the field and he loves my speed too."
Do you see yourself fitting in with the team's defense?
"Oh yeah. They run a very similar scheme to the defense we run at Independence. I don't think there would be a big difference for me. I would just have to learn the new names."
What was your overall impression of the campus and facilities?
"The campus was nice. The school enrolls 30,000 people, I did not know that. The campus is also about 10 minutes from Canada, I thought that was cool."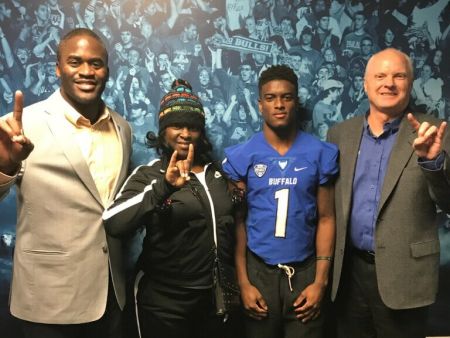 What did your mom think of Buffalo during the visit?
"She liked it. They treated her well. She liked it. It was good to see my mom happy, that is for sure."
Do you have another visit scheduled?
"I'm not sure yet, we are trying to figure that out. I want to go to Tulsa but Northern Illinois, Southern Miss, and Tulsa all want me to visit on the same day. Hawaii is another school I'd like to visit. I know I will visit Tulsa for sure."
Do you have any schools coming by campus to see you during the contact period?
"Hawaii's coach is coming today (Monday). Tulsa is coming today, UT-Martin and Buffalo are coming by during the contact period as well."
DJ, thanks for your time today and good luck with all the upcoming visits.
"Thank you."
Please help keep RecruitingNewsGuru.com a national site aiding in bringing exposure to amazing student-athletes!
If RNG has helped you, a friend, or a family member through an article, video, or stylized interview with our countless hours of free promotion for high school, junior college, and college athletes – please donate. Any amount is appreciated!
Photo credit: Williams family; DJ Williams with mom and Buffalo staff