Interview: 2019 Arkansas Speed Rushing DE Marquez Casey Updates Visit to Tennessee-Martin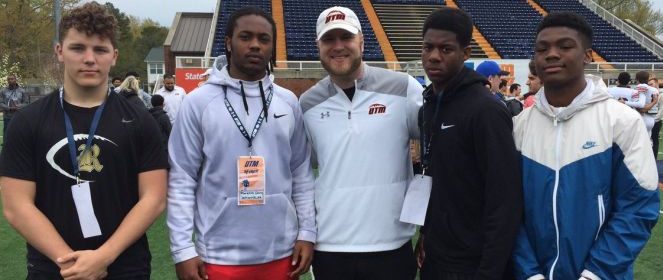 Written by Ryan Wright
Twitter: @RyanWrightRNG
Word is getting out on Class of 2019 defensive end Marquez Casey. An under the radar recruit for now, but college coaches are catching on about the speed rushing end from Jacksonville High School who put up a ridiculous stat line of 105 tackles, 10.5 sacks, 11 tackles for a loss, 13 QB hurries, two forced fumbles, and blocked a field goal during his junior campaign. Early interest has come in from in-state powers Arkansas and Arkansas State with word spreading to Memphis, Central Arkansas, East Central University and to Tennessee-Martin. Casey visited the Skyhawks on Saturday getting a first-hand look at UT-Martin's defense during a spring scrimmage.
In a RNG exclusive, I sat down with Casey (6-3, 235) to get the inside scoop on his visit to UT-Martin with an update on his overall recruiting process.
Interview
Marquez, you visited Tennessee-Martin on Saturday, how did the visit go?
"It was a good visit. I like their energy. Their assistant coaches were talking to me about the program. They had high interest in me. I liked it."
What all did you do?
"We toured their nutrition center and weight lifting facilities, and we visited the campus."
Did you get to watch a practice?
"We watched them scrimmage."
What were your thoughts of their defense?
"They have similar features to how I play. They came with energy; a defense is nothing without energy, and they have it."
How did you see yourself fitting in with their scheme?
"I see myself fitting in because I can play in the 5- or 4-technique. I am able to pass rush either way."
You mentioned the coaches talked to you during the visit, did they talk to you about your recruiting process with them?
"They talked about coming to see me in a couple of weeks during a spring practice."
Since we last spoke a couple of weeks ago, have you picked up any new recruiting interest?
"Arkansas Tech, Tennessee-Martin, and Missouri are the new schools showing interest."
Do you have planned visits to any other schools upcoming?
"I have visits set with East Central University, Delta State, and Arkansas Tech."
Do you have any camps upcoming?
"I just got invited to a camp at USC camp put on by 247Sports; a two-part camp. The first part is in Arkansas and then you can be invited to the second part. I'm planning on camping at Arkansas State, Memphis, UCA, and Arkansas Tech this summer."
Marquez, thanks for the update on your UT-Martin visit. Good luck with your spring ball workouts.
"Thank you."
Please help keep RecruitingNewsGuru.com a national site aiding in bringing exposure to amazing student-athletes!
If RNG has helped you, a friend, or a family member through an article, video, or stylized interview with our countless hours of free promotion for high school, junior college, and college athletes – please donate. Any amount is appreciated!
Photo credit: Casey family; Marquez Casey at UT-Martin