Interview: 5-Star 2019 LS/TE Simon Samarzich Updates Recruiting and Camps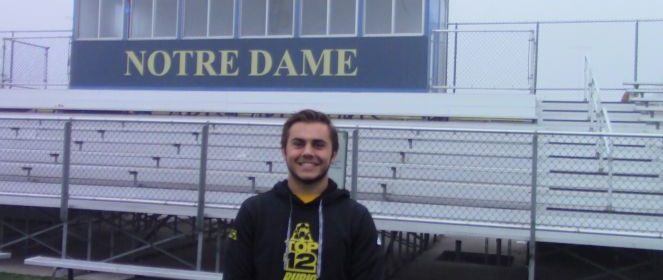 Written by Ryan Wright
Twitter: @RyanWrightRNG
On the gridiron, perhaps the most overlooked position at any level is the long snapper. Coaches at all levels seemingly take for granted the importance of getting the ball back on a line consistently and quickly come time to punt or put the ball through the uprights. When the time comes for Class of 2019 long snapper Simon Samarzich to pick the college of his choice, one lucky football program will not have to worry about the snap for four golden years.
Samarzich has worked his way into the upper-echelon of 2019 special teams recruits by showcasing his skills and talents for Upland High School. The Scots were one of the toughest teams in California during the 2017 schedule running their record to 12-1 earning a post-season Top 20 in-state ranking by MaxPreps. Upland only punted 20 times in 13 games, attempted 82 point after attempts, and four field goal attempts. In the trenches, firing off a perfect spiral with precise placement each time was Samarzich.
In this day of high school football and college recruiting, more is asked of players beyond game time with their high school. Players across the country take their game to another level competing at national camps and/or combines putting their skills to the test against their peer group. Competing at Chris Rubio long snapping camps, Samarzich has earned a five-star status and is ranked as the No. 2 overall snapper in the 2019 class. More goes into his ranking than his snap speed and accuracy. His athleticism plays a big part. The 6-0, 210 pound, overall athlete also starts at tight end for the Scots were he hauled in 11 passes for 169 yards with four scores last season. He may get to further showcase his on the field versatility during his senior year with some expected time at outside linebacker.
Ahead of a big national Chris Rubio and Chris Sailer snapping and kicking camp coming up in Las Vegas the weekend of May 12, I sat down for a catch-up interview with one of the nation's best long snappers learning more about his offseason workouts and recruiting process thus far.
Interview
Simon, how are your offseason workouts coming along?
"They are coming along well. We started spring ball last week. We are doing basic stuff right now, but it is going well. We are having fun getting after it. We've been lifting everyday working hard in the weight room."
Have you maxed out in the weight room this spring?
"I have. I am benching 265, cleaning 245, snatching 185, and squatting 335."
Nice. Where are you seeing the biggest improvements in your game as a long snapper this offseason?
"I am snapping the ball harder and with more accuracy. The strength work in the weight room is helping me right now with my snaps."
What about at tight end, how have you pushed your skillset forward this offseason there?
"Right now, with the weights that helps with blocking. I am working on route running. I am hopeful to get more opportunities this season. I had four touchdowns last season, I am getting polished up for my senior year."
You lined up all over the field in 2017 playing tight end, fullback, receiver, and even practiced at quarterback, where all might we see you during your senior year?
"This year, I know when we go to our spread sets they will flex me out to the slot. That way we can keep our personnel. I might play some outside linebacker this season."
Are you excited about playing outside linebacker during your senior year?
"Yeah. I have not played defense in forever. They want to try me out there. We'll see how it goes."
Have you attended any camps or combines in 2018?
"I am planning on going to the Rubio/Sailer Camp in May in Vegas. I went to Rubio's spring camp in March."
How well did you do at that camp?
"I was consistent. I like to pride myself on consistency. Some guys can do average balls maybe a good one here and there. I snap it right every time. That helps the punter and the holder do their job every time."
Besides the camp in May, do you have any other upcoming camps you may attend?
"We are feeling it out. I will try to hit some college camps over the summer. I will try to go to some satellite camps. Azusa Pacific is having one and Redlands has a few, but I am not too sure where I will go yet."
Which schools are showing recruiting interest in you?
"Washington State, Utah, UCLA, and USC are all showing interest."
Which schools have offered you so far?
"I have offers from Army and Fresno State."
Do you have any planned visits upcoming?
"I am going to Utah on the 14th, On the 20th, I am going to Washington State. I am trying to go to Fresno State again and my high school may go to UCLA this year."
What has you excited about the Utah visit?
"I'm excited to see what the culture is like there. I like to see how everyone does their job and how they go about things. I like to see what different guys are doing well so I can learn from that."
What has you excited about visiting Washington State?
"I'm excited to meet Coach (Matt) Brock, he's from Bowling Green. He's Washington State's special teams coach and long snapper coach. I am excited to spend time with him."
Simon, I know you are getting it done in the classroom as well as you do on the field. If you will, update me on your GPA and test scores.
"I currently have a 4.0 GPA and scored a 1310 on the SAT."
Fantastic. Simon, thanks for your time today and good luck with spring ball and the upcoming camps and visits.
"Thank you."
Please help keep RecruitingNewsGuru.com a national site aiding in bringing exposure to amazing student-athletes!
If RNG has helped you, a friend, or a family member through an article, video, or stylized interview with our countless hours of free promotion for high school, junior college, and college athletes – please donate. Any amount is appreciated!
Photo credit: recruitingnewsguru.com; Simon Samarzich
Photo credit: Samarzich family; No. 35 Simon Samarzich