Louisiana Football: Interview with Basile 2019 Dual-Threat QB Dawson Ashford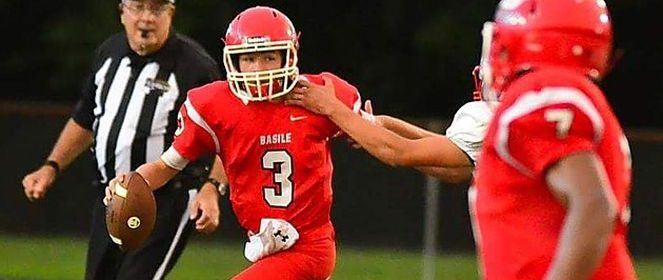 Written by Charlie Beuttel
Twitter: @charlie_cds3
When most people think of Louisiana high school football, they think of the talent that comes out of the Baton Rouge, New Orleans or northwest Louisiana. However, in the small town of Basile, located two hours west of Baton Rouge, Dawson Ashford, a dual-threat quarterback, at Basile High is proving that even small 1A schools can produce college talent.
Ashford had a big junior campaign throwing for 1,566 passing yards, ran for 326 yards, and scored 22 total touchdowns. The 5'11", 165 pound, playmaker helped lead the Bearcats to a 9-4 record and a trip to the state quarterfinals where they suffered a heartbreaking 34-6 loss to Oak Grove.
The Class of 2019 recruit is currently drawing interest from colleges of all levels and has taken visits to Louisiana Tech and Nicholls State. Ashford is not only a star on the football field but also in the classroom where he has 3.3 GPA and has plans on studying mechanical engineering in college.
In an exclusive Recruiting News Guru interview, I sat down with Dawson to discuss his career at Basile and his recruiting process.
Interview
First off, what are your thoughts on the 2017 season?
"The 2017 season was a learning season for us as we only had five seniors and mostly juniors and sophomores starting. Our goal was to go undefeated every week. We made it to the quarterfinals and finished the season 9-4."
What are your thoughts on your individual performance in your junior season?
"Before my junior season started, my goal was to reach a thousand passing yards in the regular season and I've accomplished my individual goal. I don't really worry about my stats or the spotlight. It's a team sport and I'll do whatever it takes to get the win in the end."
What are your strengths on the football field?
"My strength on the football field is speed, which makes me a dual-threat. It's hard for some teams to stop a quarterback who can run and throw. Another one of my strengths is the awareness of the blitz and my ability to read the coverages of a defense."
Did you receive any individual honors?
"I received honorable mention for my district and first team All-Parish."
Are you receiving any interest from any colleges?
"I'm receiving interest from D-1, D-2, and D-3 colleges."
Have you been on any college visits?
"I've visited Louisiana Tech and Nicholls State University."
What was your most memorable moment in the 2017 season?
"My most memorable moment in the 2017 season was beating the No. 1 team in the state at their home field in a close game."
What is your current GPA?
"My current GPA is 3.3."
What do you want to study in college?
"I want to be a mechanical engineer."
Is there a current quarterback that you try to model your game after?
"I try to be like Russell Wilson, the Seahawks' quarterback. He's dual-threat and can make anything happen on any play. I try to make my game play like his."
Who has had the biggest impact on your football career?
"My mom and dad have the biggest support on my football career. Without them I wouldn't have had the opportunities that I have today."
Who is your favorite football team?
"LSU Tigers."
Who is your favorite football player?
"Drew Brees (quarterback – New Orleans Saints)."
Do you have a favorite quote?
"Never let people's negative thoughts about you hinder you from accomplishing what God put in your heart. Dare to dream and dare to live it."
Do you have any early goals for your senior season?
"My 2018 season goals are to reach 2,000 passing yards in a season and to lead my team to a state championship in my senior season."
Thank you for your time and good luck in your senior season.
"Thank you, sir."
Please help keep RecruitingNewsGuru.com a national site aiding in bringing exposure to amazing student-athletes!
If RNG has helped you, a friend, or a family member through an article, video, or stylized interview with our countless hours of free promotion for high school, junior college, and college athletes – please donate. Any amount is appreciated!
Photo credit: The Ashford Family; Basile QB Dawson Ashford