Interview with 2019 RB Darrell Page after 2,300-Yard Breakout Junior Season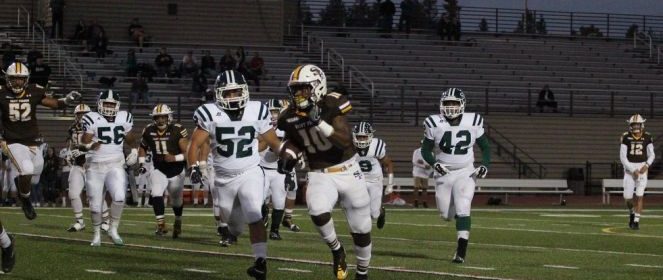 Written by Ryan Wright
Twitter: @RyanWrightRNG
Success on the gridiron at any level draws a crowd. Class of 2019 running back Darrell Page is drawing a crowd off the field, but leaves the crowd in the rearview mirror on it. After a sneak peak of things to come in 2016, Page exploded onto the California high school football scene in 2017 running rough and past the competition for just about every post-season honor one can achieve drawing college football recruiting eyes along the way.
After a two-game stint as a sophomore, one jokingly has to ask what took the coaches at St. Francis High School so long to call Page up? Page picked up 20 carries turning in a 174 yard two-touchdown performance during his sophomore season. With all eyes on the 5-10, 185 pound, rising star in 2017, Page did not disappoint. The West Catholic League had no answer for Page seeing him amass 2,380 rushing yards off 282 carries with 26 trips into the end zone. Showing his all-purpose talents, he added an estimated 10 receptions for 155 more yards. The end result for St. Francis was an 11-4 record and a run to a CIF title beating Grace Brethren 22-13 for the trophy.
All the hard work on the field, that included breaking the Lancers' single-season rushing record, led to a flood of post-season honors racking up 2017 League MVP at running back, first team All-League, Bay Area News Group Offensive MVP, and San Francisco Chronical first team All-Metro. With the focal point of California recruiting fixated on the Los Angeles and Orange County areas, college coaches are overlooking the Mountain View area product. So far, offers have come in from San Jose State and Howard.
In a Recruiting News Guru exclusive interview, I sat down with Page for an in-depth one-on-one conversation about his breakout season, offseason workouts, and recruiting process.
Interview
Darrell, you had a breakout season in 2017 rushing for over 2,300 yards. What all was working for you on the field allowing you to be so productive?
"A lot of practice. Our coach pushed us a lot in practice. The whole offensive line pushed me throughout the season. If I got upset with myself if I missed a cut or hole, they kept me motivated. They kept pushing me to do better."
Of all the great games you turned in, which was your best overall?
"My best game was against Serra. That was at our house. We were down 21-0, but came back in the second half. I laid out a safety for a touchdown. We kept coming back. We lost (31-30), but it was fun. We worked hard and came back. That showed a lot of heart."
How would you describe your running style?
"I don't know. I let people critique me for areas to improve on."
What type of offense do the Lancers run?
"We run some Shotgun and I-formation. Our go-to is 96 Power, that is our bread and butter.
What type of plays do the coaches call for you?
"96 power, 93 lead, 94 blast, and 97 power. Power plays are our bread and butter plays. We had a new play, 96 counter, I love that play. I ran 97 counter against (Archbishop) Mitty, that is the second play on my highlight tape."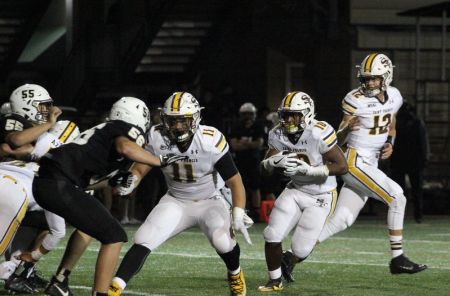 Will your role on the team change at all in 2018?
"You never know. I have no problem returning kicks, but it is all up to coach. Andrew Bishop is coming up. I'd love to return kicks, but he might be our kick returner. I could be in the slot some next year. You never know."
How are you preparing for your senior year?
"I'm running track. That's fun. On the side, I train with Coach Gaines. I work with my uncle as well. He has me doing a lot of foot work and running hills. Coach Eric is also working with me. I'm doing a lot of speed training this offseason."
Is there one aspect of your game that is your key focus to improve upon this offseason?
"Speed. Speed kills. You can have the best cuts and vision, but you have to pull away from defenders. I got a lot of critiques on that."
Are you attending any national camps or combines this spring?
"I attended the Nike Opening (San Francisco) and I am going to Rivals on Sunday. I was supposed to go to Under Armour but was not able to go. I plan on competing at the Polynesian Bowl camp. I want to go to that one. I'm not sure if I will make it, but I want to be at that one."
Are you doing anything different with your workouts to prepare for the camp?
"I am working hard on my 40 and shuttle. Those test are the two main things that are big at those camps. And the three-cone drill. I know they eye that."
Do you plan to attend any college camps?
"I haven't registered for any yet, but I hope to sign up for some."
Which schools are showing recruiting interest in you?
"I am talking to Oregon State, Montana State, and UC-Davis invited me to their spring game."
Which schools have offered you?
"Howard and San Jose State."
Have you visited any schools yet?
"I took an unofficial to San Jose State."
How did that go?
"It was fun. It was fun seeing the running backs up there. They have some beasts up there."
Do you have any planned visits upcoming?
"UC-Davis, Oregon State for a practice or their spring game, San Jose State, and the Fresno State coaches want to see me up there on April 7."
Nice. Last couple of questions, some fun ones. What was your most memorable moment on the field last year?
"Going to state. I'll never forget that. After we won, we were so excited. I will never forget that. I'll never forget that moment. That was a lot of fun."
What is the driving force for you that motivates you to work so hard to succeed playing football?
"My mom. I appreciate all she does. I want to play big time football one day. I want to buy her a house one day. That would be cool."
Darrell, thanks for your time today and good luck with all the upcoming camps and visits.
"Thank you."
Please help keep RecruitingNewsGuru.com a national site aiding in bringing exposure to amazing student-athletes!
If RNG has helped you, a friend, or a family member through an article, video, or stylized interview with our countless hours of free promotion for high school, junior college, and college athletes – please donate. Any amount is appreciated!
Photo credits: Juan Otero; Darrell Page in action