Lightning Fast 4-Star 2018 Florida WR Anthony Schwartz Commits to Auburn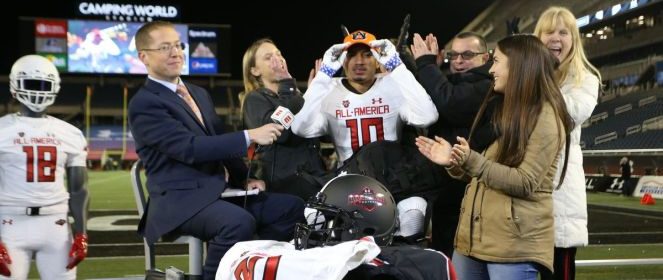 Written by Ryan Wright
Twitter: @RyanWrightRNG
Auburn added their 21st recruit to the 2018 class on Thursday when Florida four-star receiver Anthony Schwartz announced his commitment to the Tigers. The addition of Schwartz to the class arguably gives Auburn the best receiver corps in the nation heading towards National Signing Day.
Schwartz was part of an American Heritage squad that one three of the last four Florida 5A state titles. The Patriots were a fairly balanced attack leaning more towards the run than the pass along the way to a perfect 14-0 season in 2017. Schwartz had team-highs in receiving yards (507) and receiving touchdowns (7) off just 25 receptions. Before committing to the Tigers, the 6-0, 172 pound, athlete was pushing 30 scholarship offers from top teams across the country including Alabama, Florida, USC, Tennessee, Mississippi State, Oregon, Nebraska, Virginia Tech, Miami, Michigan, Georgia, LSU, and Notre Dame.
Most highly recruited high school receivers are fast, but Schwartz is a whole other level of fast. In March, he broke the world 100-meter youth record running a blistering 10.15. That speed was put on display at the Nike Opening in Miami clocking a 4.3 in the 40-yard dash.
Schwartz made his commit on ESPN during the telecast of the 2018 Under Armour All-American Game.
Looking at Auburn's class overall, they are absolutely loaded at receiver. The list of high-impact potential includes four-star Richard Jibunor (6-4, 200) from Athens Christian in Georgia. Jibunor is capable of playing receiver or linebacker for the Tigers. Another four-star talent heading to Auburn from Georgia lining up at receiver is Matthew Hill (6-2, 185) from Brookwood High School in Snellville. Perhaps the most intriguing Tigers' commit is Kolbi Fuqua out of Cordova, Alabama. At 6-1, 210, Fugua is the definition of athlete capable of playing safety, linebacker, or receiver at the next level.
Of the 15 players that signed with Auburn in the early signing period, Joey Gatewood, a quarterback at the high school level for Bartram Trail, is a pure athlete who could play a number of positions once on campus. At 6-4, 230 pounds, a very bright future is up to Gatewood and the War Eagles' staff. Another recruit listed as an athlete but played receiver in high school is Carver's Quindarius Monday. Monday (6-3, 185) snagged 46 passes for 1,012 yards and 15 scores during his senior year. He was also a leader for the Panthers on defense with 72 stops, 47 solo, three tackles for a loss, and a team-high seven picks during his senior year.
There is little doubt where four-star Cottondale talent Seth Williams and three-star Hoover product Shedrick Jackson will lineup once on campus. Jackson was part of a Buccaneers team that went 11-3 capturing a 7A state title with a win over McGill-Toolen. Williams was a play-maker for the Stampede with prototypical size listed at 6-3, 200 pounds.
Auburn's 2018 recruiting class is now ranked No. 9 in the country with 15 4-star recruits and six 3-star prospects by 247Sports. Alabama, at No. 5, and Georgia, at No. 1, are the only SEC teams ranked ahead of the War Eagles.
Please help keep RecruitingNewsGuru.com a national site aiding in bringing exposure to amazing student-athletes!
If RNG has helped you, a friend, or a family member through an article, video, or stylized interview with our countless hours of free promotion for high school, junior college, and college athletes – please donate. Any amount is appreciated!
Photo credit: ESPN; Anthony Schwartz commits to Auburn