Los Angeles Elite 11 Camp Interview with 2019 QB Chris Venegas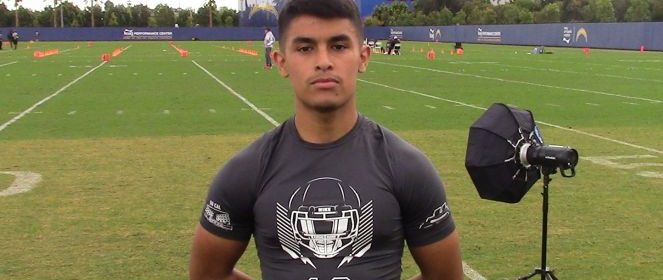 Posted by Ryan Wright
Twitter: @RyanWrightRNG
Chris Venegas Profile
Height and Weight: 5-9, 165
Position: Quarterback
Classification: 2019
High School: Warren – Downey, CA – San Gabriel Valley League
2017 Bears Record: 6-4
2017 Stats (9 games): 153-of-258 for 2,548 yards with 34 touchdowns against just four interceptions and 234 rush yards with another score (MaxPreps)
2016 Stats (10 games): 105-of-217, 1,222 yards, 11 touchdowns and 220 yards rushing with five scores
College Interest: Army, Cornell, San Jose State, San Diego, Sacramento State, and Utah
2018 Unofficial Visit: Fresno State
*Click link for Jan. 20 RNG interview with Chris Venegas
Please help keep RecruitingNewsGuru.com a national site aiding in bringing exposure to amazing student-athletes!
If RNG has helped you, a friend, or a family member through an article, video, or stylized interview with our countless hours of free promotion for high school, junior college, and college athletes – please donate. Any amount is appreciated!
Photo credit: recruitingnewsguru.com; Chris Venegas at the Elite 11 Camp (March 11, 2018).