One to Watch Interview with 2019 Oklahoma QB Calyn Halvorson
Written by Ryan Wright
Twitter: @RyanWrightRNG
The world of sports has turned into a stat dominated view with coaches, players, fans, and the media alike crunching and twisting every moment and number for relevance. Statistics have always been important in football, but not all stats equal out the same from one team to another and more importantly from one player to the next. Oklahoma Christian quarterback Calyn Halvorson is not going to dominate a box score with gaudy stats but the Class of 2019 rising star is getting it done on the field with a stat line showing great improvement.
The biggest marked improvement on the field was in the win-loss column. As a team, the Saints took lessons from a four-win 2016 season making a big turnaround for a 10-3 run that ended in the quarterfinals against Beggs. During Halvorson's sophomore season, he completed 99-of-179 passes for 1,607 yards with 14 touchdowns and ran for another 60 yards with three more scores. After an offseason working with his team and quarterback coach Tom George, Halvorson displayed his growing talents in the pocket passing for 1,718 yards with 24 touchdowns and added a dual-threat weapon rushing for 615 yards off 151 totes with eight more trips into the end zone.
Parts of the improvement in the stat line are noticeable from the jump, but others take some digging. One important stat, Halvorson jumped his completion percentage from 55 to 61 percent. The increased passing yards was not overwhelming but was on track with opportunities presented during his sophomore campaign hitting 112-of-184 attempts. Beyond the six percent rise in completion percentage, in five more attempts than the year prior, Halvorson accounted for seven more passing touchdowns showing great efficiency when called to action.
The 6-0, 200 pound, Edmond area talent is starting to attract attention, which should be bolstered by spring and summer camps and combines. Pulling the 2017 season and 2018 offseason together, I sat down with Halvorson for a Recruiting News Guru one-on-one interview gaining insight on the Oklahoma product.
Interview
Calyn, how did the 2017 season go for you and the Saints?
"It went really well. We ended the year 10-3. We made it to the quarterfinals but were beat out by the eventual state runner-up. It was a close one. We had a great year after we started off 1-2. We picked it up and went on a nine-game winning streak. I was proud of us for going undefeated in conference play. We were ranked as 10th ranked team in state and beat Kingfisher, the fifth ranked team (28-22) for in the district championship game. I had a really good game against Kingfisher. That was listed as the Game of the Week, and I won Player of the Week for that game."
There was a big improvement for the team in the win-loss column going from four wins in 2016 to 10 in 2017. What was the biggest difference on the field for the team in 2017?
"We bought in. Our seniors led the team and everyone bought in. We had a lot of players playing, we had a lot of freshman up on varsity. All the guys, they loved the game and cared. We had really good coaching. We were thankful for that. It all started in the summer working hard."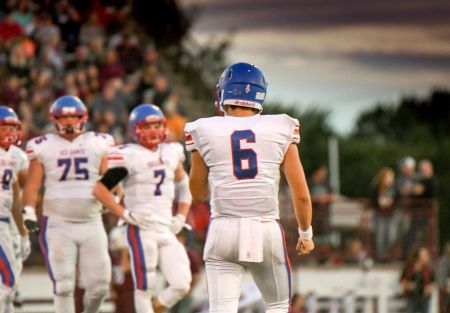 As you mentioned, the Saints had a great three-game run into the playoffs in 2017 before a tough 32-26 loss to eventual state runner-up Beggs. How did the playoff experience help push your game forward?
"It was great. I learned a lot more. The year before, we lost in the first round. This year, we had momentum coming in. We knew what we could do. It was a lot of fun. We rolled in our first game (Little Axe) and then had a tough second game against Seminole. Because we had a great regular season, our playoff games were all home games due to seeding. I am proud of what we accomplished in the regular season. The experience was fun growing as a player and being able to rise to the occasion. In the Seminole game, I was nominated for Player of the Week. Against Seminole, my team helped me out a lot there."
Looking back at the season, what led to the improvement for you and the team on the field?
"Our coaching staff was phenomenal preparing me each week. The players were coming through for me, I knew I could count on them. There was big improvement for all of us this year. Our team did their job. I would not be the player I am without them. During my first year, I was young and not really as focused. I was focused this year. I understood defenses better thanks to our coaches, and I had a better understanding of our schemes each week."
Your ability to make a play when things broke down appears to have improved a lot from your sophomore to junior year, what was the difference for you in that area of your game this season?
"I was able to rely on guys getting open and finding space. If I was scrambling around, I could dump off the pass. The line was keeping me up in the pocket. Me being aware of the situation and me being more focused was a big part of it. Staying calm helped me out a lot too."
Which areas of your game will you work on this offseason?
"I will work on arm strength, you can always get better and stronger. I want to get stronger overall, improve my conditioning, and get faster. I will work on rolling out and throwing on the run and setting up on the run."
Are you working with a quarterback coach, if so, what specific drills are you doing to enhance your skill level?
"Yes, sir. I am working with coach Tom George. He is the best I could ask for. He has tremendously helped me as a quarterback. It was a great eye opener working with him. I am thankful he came into my life. He is helping me roll out, throw on the run, and throwing over a 10-foot net. He is helping me get a live look at what I need to do to improve as a quarterback. We are doing a lot of ball placement drills and working on my drops. I am also working on keeping my arm angles great on my throws."
Are you playing 7v7 ball this spring or summer?
"Yes, sir. I am playing with my high school team."
Are any schools showing recruiting interest in you?
"Fort Hayes State is showing interest."
Did you get to take any unofficial visits during the fall?
"Yes, sir. I took an unofficial to Fort Hayes State. They were one of the top D-II schools in the country this year."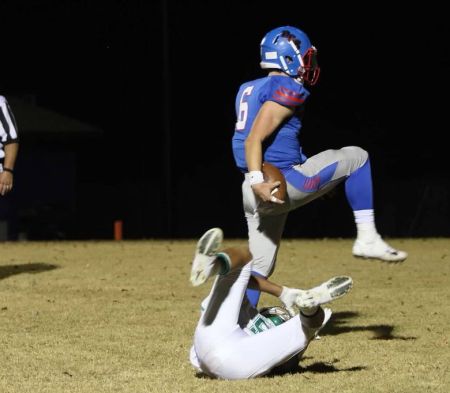 How did the visit go?
"It went really well. My mom, dad and I went to game. It was a packed house and a great game. I love the program at Fort Hayes State. They have a nice new weight room and the facilities were great. I had a good time on my visit."
Are there any camps or combines you might attend this spring or summer?
"I plan on going to the Elite 11 in Dallas."
Are you playing other varsity sports?
"Baseball and basketball."
How is basketball going?
"It is going really well."
Which positions do you play in baseball?
"I am a middle infielder, at third, and a pitcher."
Are you a starting pitcher, a closer, or a relief pitcher?
"I'm a starter."
What kind of stuff do you throw?
"I throw a fastball, curve, and a change-up."
What is your GPA?
"I have a 3.2."
Have you taken the ACT or SAT yet?
"I took the ACT. I did not prep for it, but got a 19 on it. I know I can do better next time I take it."
What goals have you set for yourself this offseason?
"One of my goals is to become a better leader. I want to pave the way for the younger guys. We expect big things next season. We know big things will happened. I want to become a better quarterback and prepare myself for years to come."
With the talent coming back on the roster for 2018, what kind of expectations can the fans put upon the Saints for the 2018 season?
"Out of the roof. We expect big things. We will lose some starters but we have young guys that we know will get the job done. We are happy about that. We expect a state championship. That is the goal. We know we have to put in the work this offseason so we are ready."
How do you plan to lead the team during your senior year?
"I plan to lead by showing up early every day and staying late doing extra work. I want to throw routes with the guys and work as hard as I can to lead this team to a championship. I am ready to go. I'm ready to get into the playbook even more this year. I am ready to go, and I know the guys are too."
Calyn, thanks for your time today and good luck with your offseason workouts.
"Thank you."
Please help keep RecruitingNewsGuru.com a national site aiding in bringing exposure to amazing student-athletes!
If RNG has helped you, a friend, or a family member through an article, video, or stylized interview with our countless hours of free promotion for high school, junior college, and college athletes – please donate. Any amount is appreciated!
Photo credits: Oklahoma Christian HS; No. 6 Calyn Halvorson in action